With the price of gold ($1,246.00) just below its recent all time high, the DOW:Gold ratio is approaching 20 year lows.
At 8.40, the Dow Jones Industrial Average (DJIA charts and quote) measured in how many ounces of gold it takes to buy the 30 stock DOW is up 19.5% from its 17-year March 6th, 2009 low of 7.03.
Despite good gains for the DOW since March 2009, the DOW-Gold ratio remains just above its March low and 81% below its 1999 peak of 44.77.
Here is a chart showing the current Dow to Gold Ratio, the ratio of the price of the Dow Jones Industrial Average to the price of gold. When measured in ounces of Gold, the DOW has been in a secular bear market since peaking in late 1999 at nearly 45.
click to enlarge images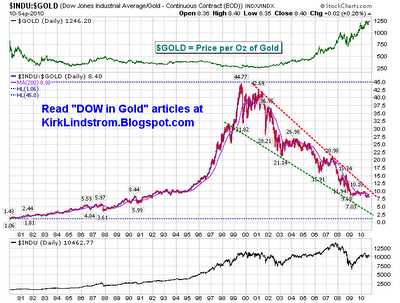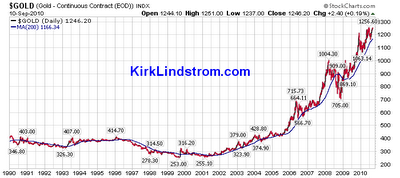 Gold - Continuous Contract (EOD) ($GOLD) DAILY bars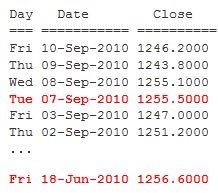 The markets, measured by the S&P500 (S&P500 charts) and DIJA (DJIA charts), may have recovered to new highs in 2007, but the DOW:Gold ratio told a different, truer story of just how unhealthy the US economy was.
Back in 1999, it took nearly 45 ounces of gold to buy the DJIA.
On Friday March 6 of 2009 the DOW-Gold ratio hit a low of 7.03
As of Friday (September 10, 2010) it only takes 8.40 ounces of gold to buy the DOW
All Time Lows:
The DJIA-to-Gold ratio got down near 1 in the early 1980s and was just under 0.2 in the early 1800s.
This 200 Year Dow/Gold Chart shows the DOW/Gold ratio from 1800 through August 2008.
Chart courtesy of sharelynx.com

With the DOW:Gold ratio now at 8.40, it is trading below the green zone in the second chart. The ratio is oversold, but nothing says it can't get more "oversold."
Disclosure: I own a very small amount of gold hidden in the house for bribes if we see Armageddon. For income plus inflation protection, I own and recommend in my newsletters TIPS, TIPS mutual funds and Series iBonds.