Deere & Company (NYSE:DE) has seen some rough times lately, and revenues are expected to decline in fiscal 2014 and 2015. However, in the long run, food production is clearly a solid growth industry, and DE is in a strong position to supply machinery to that industry.
In this article, I will first look at DE's valuation using common metrics, and I'll follow it up with a comparison to two of DE's peers: Caterpillar (NYSE:CAT) and AGCO Corporation (NYSE:AGCO).
Discounted Cash Flow [DCF] Valuation
The average estimate, as shown on Yahoo Finance, for DE's next five years' EPS growth is 8%. Using that figure for five years, followed by 5% for the next 20 years, and plugging in a discount rate of 10% gives us a Fair Value price of $148.50.
The DCF Fair Value calculation is only as accurate as its inputs, so it is important to weigh the odds of DE living up to the growth rates that I have assumed.
DE's revenue growth per share averaged 10% annually for the past 10 years.
DE's earnings growth per share averaged 13.3% annually for the past 10 years.
With the current slowdown that we are seeing, 8% seems a reasonable figure for DE in the near term. After that, I have assumed 5% growth for 20 years, which I think is a conservative estimate.
Dividend Discount Model [DDM] Valuation
The DDM method is a variation of the DCF method. The DDM was the brainchild of John Burr Williams in the 1930s, who thought that a stock's worth should be calculated as the present value of all the dividends to ever be paid on it.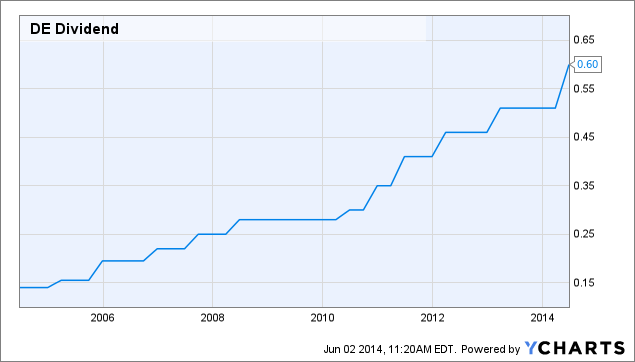 DE Dividend data by YCharts
The above dividend graph shows growth that should get dividend investors very excited. DE has a great dividend history, and on May 28th, it increased the quarterly amount 18% to $0.60 per share.
I am using DE's current dividend of $2.40 (annualized), which corresponds to a current payout ratio of 28.2% (using estimated fiscal 2014 earnings). I will assume 8% dividend growth for five years, followed by a terminal dividend growth of 5%, and an assumption of a terminal payout ratio of 70%.
Using those inputs gives a Fair Value for the stock of $125.49. The DDM valuation is a conservative method of valuing a stock, and almost always comes in below the DCF calculation. It is great to see that DE is considered a bargain, using my DDM model.
Graham Number Valuation
The Graham Number is a valuation metric that only takes current earnings and book value into account. Using DE's TTM EPS of $9.16 and a book value of $28.85, I calculate a Graham Number of $77.11.
The Graham Number is an extremely conservative valuation, due to the fact that so much depends on the book value of a company. Also, the quality of the book value of one company can often be very different from that of another. So looking at the figure in isolation is not very meaningful. However, comparing it to peers can be meaningful:
DE Graham Number = $77.11, or 84.2% of the stock price
CAT Graham Number = $65.60, or 64.2% of the stock price
AGCO Graham Number = $73.48, or 136.2% of the stock price
The AGCO number is rather impressive - it has a slightly lower P/E than DE, and a significantly lower Price-to-Book ratio. As stated above, the book value quality varies from one company to another, so more investigation should be given to AGCO for anyone considering that stock.
Other Peer Comparisons
I will now show comparisons between DE, CAT, and AGCO in several key categories over the last five years. The revenue graph is normalized to facilitate analogous measurement.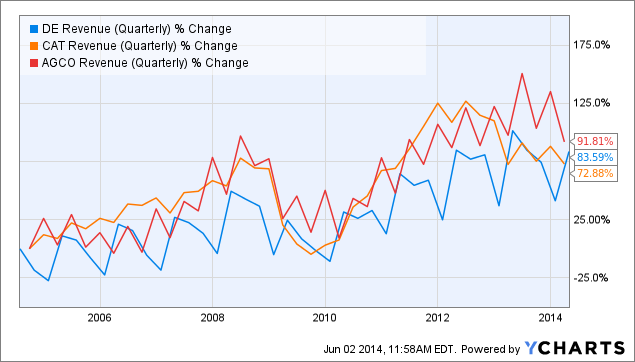 DE Revenue (Quarterly) data by YCharts
We can see that all three companies have similar revenue growth numbers. The guts of the financials (ROE and ROA) will tell us more: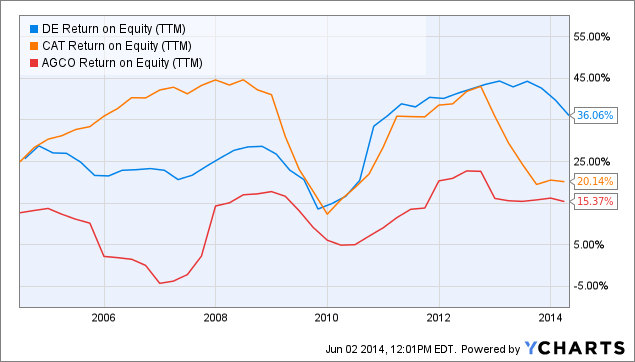 DE Return on Equity (TTM) data by YCharts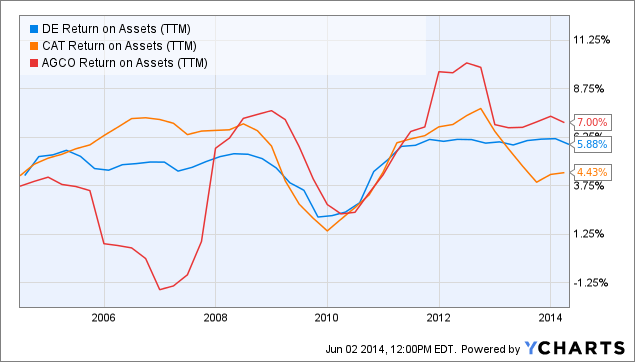 DE Return on Assets (TTM) data by YCharts
The above two graphs certainly tell a story about how these companies have been managing their businesses. I consider Return on Equity [ROE] to be the most important method of comparing peer companies. It basically is telling shareholders how well their money is being spent. A 20% ROE is generally considered very good. The ROE that Deere has attained since climbing out of the Great Recession has been phenomenal.
Now that I have looked at some financial comparisons, it is time for one last graph that will illustrate a valuation comparison.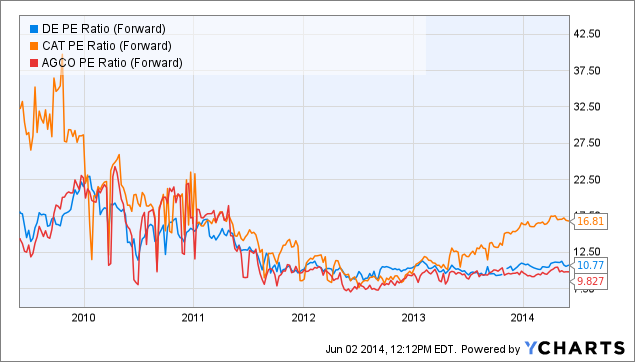 DE PE Ratio (Forward) data by YCharts
Note that the above graph is for the last five years, instead of the last ten like the others. This one highlights the more recent 18 months or so better. It can clearly be seen that DE, CAT, and AGCO were valued very similarly from 2010 through the beginning of 2013. Then, CAT got significantly more expensive.
Conclusion
Deere is clearly a well-run company in an industry that is practically guaranteed long-term growth. I cannot overstate the importance of the extremely strong ROE -- even at DE's worst over the last 10 years, its ROE was around 15%.
A company that manages its finances well is likely to return value to shareholders in the form of dividends and buybacks. Not surprisingly, DE has a strong track record in both of those areas.
With a payout ratio of only 28% and such strong financials, Deere's dividend is very safe. It has grown quite rapidly in the past, and DE should be a buy for dividend investors.
The average of my DCF and DDM valuation models gives a Fair Value of $137. DE is an easy buy to me as a value/growth investor. AGCO looks like it could be a buy as well. I have not researched it thus far, but I would be interested to see why the book value is so high.
Disclosure: I have no positions in any stocks mentioned, and no plans to initiate any positions within the next 72 hours. I wrote this article myself, and it expresses my own opinions. I am not receiving compensation for it (other than from Seeking Alpha). I have no business relationship with any company whose stock is mentioned in this article.