On May 21st, Target Corporation (NYSE:TGT) reported disappointing 1st quarter earnings, yet the stock has rebounded from its recent lows as the broad market indices have reached new highs. Target has a long road ahead of itself if it wishes to regain its momentum in the United States segment of its business while simultaneously right-sizing the Canadian segment of its business. Having over-estimated its operational, sales and gross margin capabilities in each of its 4 previous quarters, shares of TGT may be in the "show me" category of investors' speculative watch list over the next several months and/or quarters.
Target has recently embarked on its search for a new Chief Executive Officer given the resignation of its former CEO Gregg Steinhaffel. Target's Board, unfortunately, did not have an appropriate succession plan in place for such an event, but I would be of the opinion that the company understands the pressure to delivery shareholder returns and will aim to bring a high profile candidate to the company to fill the vacated position. Such a press release could provide shares of TGT with a much needed lift temporarily. Many institutional investors may be inclined to use the proposed announcement of a new CEO as a tool to reduce holdings and lock in long term profits. Short speculators may also use the proposed announcement as a tool to short shares in the company at higher levels.
In order for Target to regain its former momentum in the retail world, the company will have to right size its Canadian business segment while reestablishing its value orientation in the U.S. consumer's mind. Turnaround stories are never easy and investors may have to change their time horizons and expectations for return on investment (NYSE:ROI) given the current state of affairs for the company. In order for Target to regain its footing in the U.S., the company needs to refocus on sales. This focus on sales might result in margin contraction and lower operating profits for a period of time, but it is necessary to recapture the consumer's dollar and reinforce the company's value offerings. Target is well aware of this necessary driver of future sales and earnings growth and has already deployed initiatives to drive home their value message to the consumer. For example, in late February, Target offered five 12 packs of Coca-Cola (NYSE:KO) products for $10, the lowest price in more than a decade. In early March, the company featured a spring cleaning incentive, offering $20 in savings when guests spent $50 on cleaning products. Also in March, Target held a shoe sale which featured a buy one, get one half off promotion. Lastly, in April the retailer ran a Cartwheel offer to save an extra 10% on 42 of their biggest deals from the front and back cover of their weekly ad. As previously stated, such promotions and sales usually result in greater gross margin erosion which is necessary for future success. In the 1st quarter of 2014, Target's gross margins contracted by a full percentage point on a year-over-year basis.
We would suggest that investors accept that the aforementioned promotional pricing activities will remain in place for much of 2014 in order to regain positive foot traffic and conversion results for Target. On the Q1 2014 conference call, Target's Kathryn Tesija stated the following:
In the U.S., to help reinforce Target as the destination to shop for anything, anytime, anywhere, we've launched the year-long Target Run marketing campaign, featuring national and owned brand items across categories like food, personal care, baby, paper and pets.
While Target works on getting the consumer back into its stores, the company is also working hard to attract the consumer onto its digit platforms. Cartwheel just celebrated its one-year anniversary, having far outpaced the company's expectations. Cartwheel has attracted more than 7 million users in that time, most of whom continue to use Cartwheel after their first redemption. Cumulative Cartwheel savings have grown past $70 million and the active Cartwheel users have on average increased their trips and spend at Target by nearly 30%, driving hundreds of millions of incremental sales from these households. In the first quarter, Target saw a 33% increase in new Cartwheel users when after integrating the app into their weekly ad for the first time.
Target's problems as it pertains to attracting the consumer go far deeper than delivering on their value message and ensuring the consumer hears it loud and clear. As I outlined for investors last year, Target could be poised for a big retail bust in the future. My thesis surrounding the company's potential to witness a decline in earnings and sales come from a broad based understanding of the consumer and the retail industry as a whole. Target's retail segment and core demographic consumer segment is being squeezed dramatically and in increasing fashion over the last few years. Given the size of Target's retail footprint and operations, there simply aren't enough cost cuts the company can execute and still run its business at the corporate, logistic or store levels in order to maintain or increase sales profitably. A business can only cut so much cost out of the business model before it results in sales erosion. Target has a very large store format and it takes a sizeable staff to manage these stores. Additionally, the redundancies in its store operations and long-standing belief in their store operations "Best Practices" offers limitations for the company's ability to offset disruptions in its business as validated by the disruptive data breach last year.
Merchandising a large store footprint like that of a Target store is a daunting task, especially when it must be done so profitably. One of Target's worst performing departments continues to be its Men's Department. In 2008, the company reformatted the Men's Department to scale down its relative size and sku count. The department shrank by nearly 25% due to this initiative, yet results have not improved in the last 6 years. The photograph below is an example of low foot traffic in the Men's Department and a contributing factor towards these results.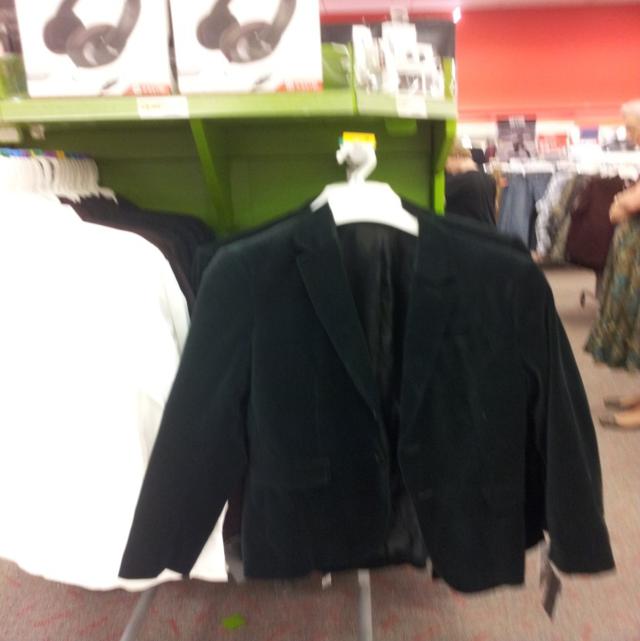 In the picture, investors and readers will notice the green sued jacket highlighted for sale during the Christmas holiday season. I remember when I first saw the jacket thinking to myself, "Who would buy this unappealing piece of clothing?" Several weeks later, of course, I found that the items were placed on clearance for 50% off.
Moreover, the Men's Department is not the only department which continues to avoid sales growth for the company. Home and Home Decor departments haven't shown positive comps in almost 2 years or 6 out of 8 previous quarters' results. During Q1 2014, once again the Home Department as a whole failed to positively compare to the previous period a year ago. Home is a very large category inclusive of many subclasses including small appliances and bed linens. Unfortunately, the issues regarding merchandising these categories and subclasses have also proved to negatively impact sales for Target. Take a look at the following pictures: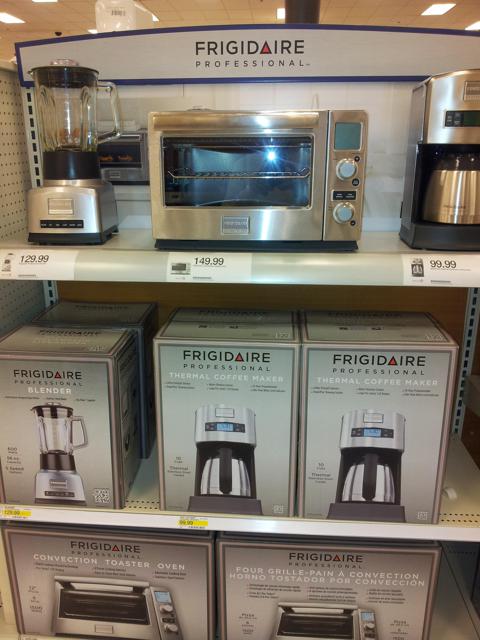 The this picture I took last year of the Frigidaire display offered shoppers a new, stainless steel small appliance offering. I had hopes for this new product offering, but like many other new ideas the company tried, this one also failed to impact consumers and shortly after launching the products, Target discontinued them due to poor turnover rates.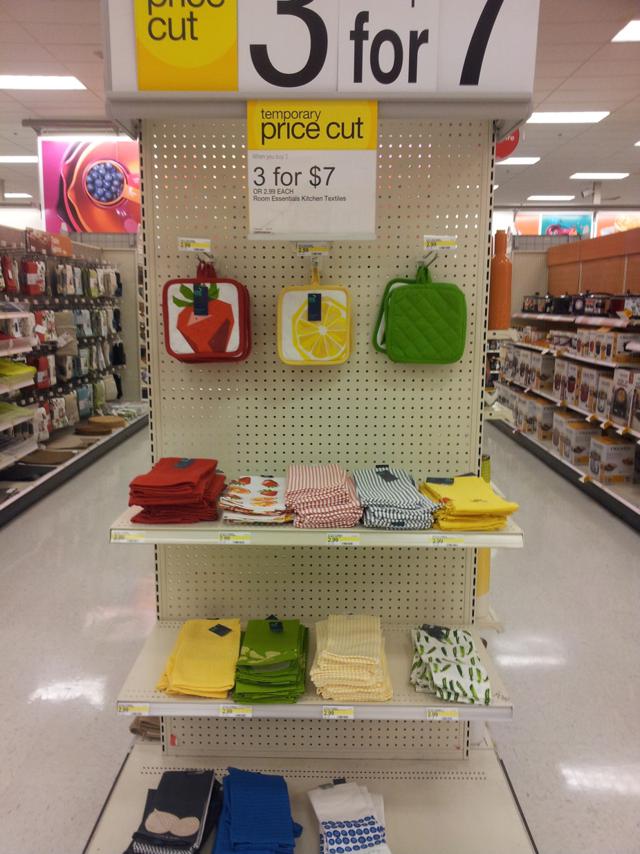 This is a photo of a recent April end-cap pricing promotion for pot holders and dish towels. Yes, a prime retail location being used for pot holders and dish towels. Most retailers hope to see $300-$400 worth of retail sales from an end cap in the home departments on a monthly basis. For this reason, most retailers employ a strategy of needs-based or high turnover product merchandising on end-cap locations. Given the promotional pricing of the Target pot holder end-cap and the more discretionary classification of this product end-cap, it is clear that Target has mismanaged this retail selling space. Unfortunately, there are many more examples of this merchandising deployment in Target stores, but I will leave investors with just one more for consideration.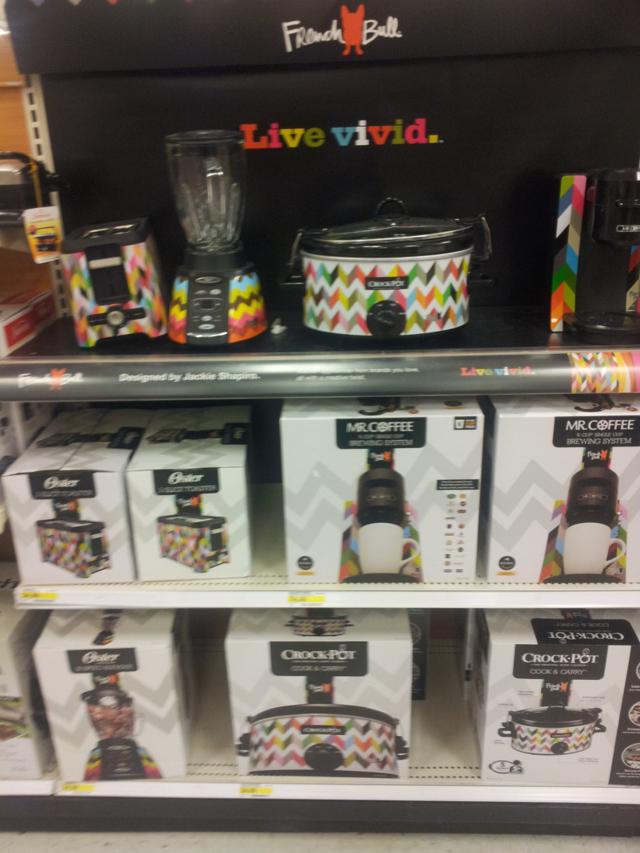 Much like the Frigidaire product line of small appliances, this poor merchandising decision also failed shortly after it launched late last year and early this year. So as Target is making decisions of employment as it pertains to its leadership team in the United States and Canada, who's watching and approving the buyer's decision and holding them accountable? I'm sure many buyers come and go at Target annually, but the key point of this portion of the article is that a company must be able to deliver on what the consumer wants and needs. Target has clearly demonstrated a lack of aptitude when it comes to this topic of concern in recent years as identified by same store sales, foot traffic and gross margin declines.
Moving forward, Canadian comparisons should continue to show sequential improvement as Target continues to streamline operations, right size the business, more appropriately deliver its value message to the consumer and increase its omni-channel efficiencies and offerings in the region. While investors should expect sequential improvement in sales, gross margins will likely remain under pressure due to promotional pricing and inventory management needs. Target has entered Canada during a rough economic cycle which has witnessed sequential drops in GDP and Retail Sales for the region. In the latest reported period, Canada's Retail Sales fell unexpectedly while GDP results missed expectations by roughly .5% during the 1st quarter of 2014. Target has embarked on Canada very late in the bullish consumer spending cycle and during a time where household formation growth has dramatically slowed year-over-year according to Canadian Statistics.
When making decisions related to investing in shares of TGT I would consider the following:
Current broader market levels compared to shares of TGT.
The state of affairs surrounding Target's business and prospects going forward.
Gross margin impact from promotional activities.
Competitive threats in Canada and United States (Loblaw (OTCPK:LBLCF), Sobeys, Wal-Mart (NYSE:WMT), Bed Bath & Beyond (NASDAQ:BBBY) etc.).
Channeling sales to e-commerce and cannibalization of brick and mortar sales.
Benefits from reinstitution of buy-back plan possibly later in FY14.
Easier comparisons later in FY14.
Share price valuation compared to peers.
Cash and cash equivalents are compelling aspects of Target's balance sheet and remain intact.
Future expansion efforts to come in both Canada and Mexico.
New CEO announcement and strategy deployment.
Historical company growth performance.
Disclosure: I am long BBBY. I wrote this article myself, and it expresses my own opinions. I am not receiving compensation for it (other than from Seeking Alpha). I have no business relationship with any company whose stock is mentioned in this article.