This view may come as a surprise to some holders of Philip Morris' (NYSE:PM) equity, but the company doesn't have the best dividend growth prospects in the tobacco group, nor does it have the best overall growth prospects in the industry. Let's first discuss the investment prospects of Philip Morris, and then reveal which tobacco giant we think is best positioned for dividend expansion and future growth. You're going to want to read this.
But first, a little background to help with the understanding of some of the terminology in this piece. At our boutique research firm, we think a comprehensive analysis of a firm's discounted cash flow valuation, relative valuation versus industry peers, as well as an assessment of technical and momentum indicators is the best way to identify the most attractive stocks at the best time to buy. We think stocks that are cheap (undervalued) and just starting to go up (momentum) are some of the best ones to evaluate for addition to the portfolios. These stocks have both strong valuation and pricing support. This process culminates in what we call our Valuentum Buying Index, which ranks stocks on a scale from 1 to 10, with 10 being the best.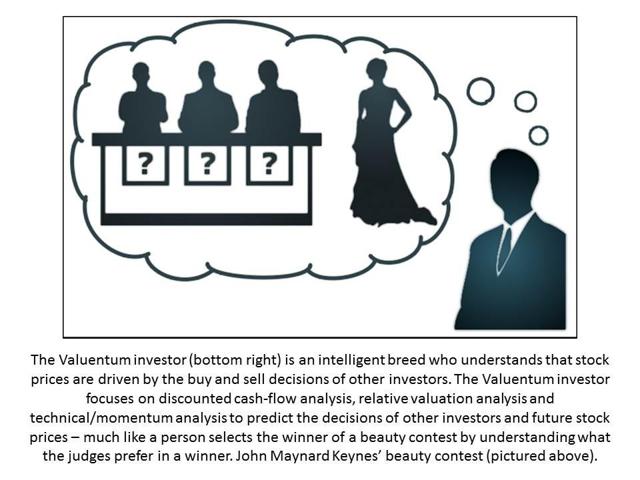 Most stocks that are cheap and just starting to go up are also adored by value, growth, GARP, and momentum investors, all the same and across the board. Though we are purely fundamentally-based investors, we find that the stocks we like (underpriced stocks with strong momentum) are the ones that are soon to be liked by a large variety of money managers. We think this characteristic is partly responsible for the outperformance of our ideas -- as they are soon to experience heavy buying interest. Regardless of a money manager's focus, the Valuentum process covers the bases.
We liken stock selection to a modern-day beauty contest. In order to pick the winner of a beauty contest, one must know the preferences of the judges of a beauty contest. The contestant that is liked by the most judges will win, and in a similar respect, the stock that is liked by the most money managers will win. We may have our own views on which companies we like or which contestant we like, but it doesn't matter much if the money managers or judges disagree. That's why we focus on the DCF -- that's why we focus on relative value -- and that's why we use technical and momentum indicators. We think a comprehensive and systematic analysis applied across a coverage universe is the key to outperformance. We are tuned into what drives stocks higher and lower. Some investors know no other way to invest than the Valuentum process. They call this way of thinking common sense.
At the methodology's core, if a company is undervalued both on a discounted cash flow basis and on a relative valuation basis, and is showing improvement in technical and momentum indicators, it scores high on our scale. Philip Morris posts a Valuentum Buying Index score of 6, reflecting our "fairly valued" DCF assessment of the firm, its neutral relative valuation versus peers, and bullish technicals. Generally speaking, we like firms that register a 9 or 10 on the Valuentum Buying Index (equivalent to our "we'd consider buying") ratings. Many of these highly-rated firms are held in the Best Ideas portfolio and Dividend Growth portfolio.
Philip Morris' Investment Considerations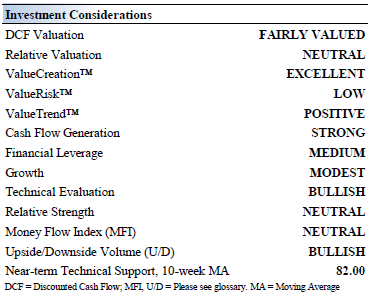 Investment Highlights
Philip Morris' business quality (an evaluation of our ValueCreation™ and ValueRisk™ ratings) ranks among the best of the firms in our coverage universe. The firm has been generating economic value for shareholders, with relatively stable operating results for the past few years, a combination we view very positively. We think the company has an Economic Castle.
Philip Morris benefits from its exposure to faster-growing regions of the world, including Asia and EEMA. Still, it remains exposed to regulatory risk and excise price shocks that may impact demand for tobacco in certain countries. Currency fluctuations can pose stiff earnings headwinds at times.
Philip Morris has a good combination of strong free cash flow generation and manageable financial leverage. We expect the firm's free cash flow margin to average about 12.6% in coming years. Total debt-to-EBITDA was 1.9 last year, while debt-to-book capitalization stood at 139%.
The firm's "Marlboro" brand continues its leading position in the EU region. The brand's share of the premium market in the EU has advanced steadily in recent years. In the EEMA region, its brand "Parliament" is gaining share in countries such as Kuwait, Kazakhstan and Turkey. The company's brand portfolio is solid.
Pricing will be the main driver of Philip Morris' income growth. We like the company's ability to raise prices, despite a challenging economic backdrop in several regions of the world. Productivity gains should help profits as well.
According to recent reports, tobacco giants Reynolds American (NYSE:RAI) and Lorillard (NYSE:LO) continue to work to tie the knot. The speculated deal is rumored to be a three-way transaction that involves Reynolds' shareholder British American Tobacco (NYSEMKT:BTI), but the timing of any deal is uncertain, and any specific pricing information has been limited. Usually, consolidation results in an industry with significantly more pricing power, but the tobacco makers already have substantial strength in this department. We would therefore expect the transaction, if consummated, to result more in cost savings than in revenue enhancements. We'd also expect the deal, if completed, to result in some divestitures to please regulators, and we think this could pave the way for either Philip Morris, Vector Group (NYSE:VGR), or even Altria (NYSE:MO) to pick up assets on the cheap.
Here's what you've been waiting for. In our view, Altria has the best dividend growth prospects and overall growth prospects in the group. We think many investors are forgetting that Altria holds a ~27% equity stake in global brewer SABMiller (OTCPK:SBMRF), which continues to grow lager volumes at a nice clip. The value of this stake is ~$20+ billion, and we think the financial flexibility offered by this "liquid holding" (it can be sold rather easily) offers Altria the greatest potential for future dividend growth in the tobacco industry.
Philip Morris has a ratio of 1 on the Valuentum Dividend Cushion.
Recent Quarterly Performance
To us, the best dividend growth idea in the tobacco space is Altria. Bulls of Philip Morris say the company has fantastic international growth potential, but so does Altria via SABMiller. Philip Morris' first-quarter performance also didn't spell expansion potential. Adjusted diluted earnings per share, excluding currency impacts, advanced less than 5%, while cigarette shipment volume tumbled more than 4%. The company is still expecting a 6%-8% increase in adjusted diluted earnings per share during 2014, and it may just hit that mark via pricing growth, but it is far from a fast-grower. Altria's stake in SABMiller gives it comparatively more flexibility to grow its dividend payout, and Altria already has a higher yield than Philip Morris. We're sticking with Altria in the Dividend Growth portfolio.
Business Quality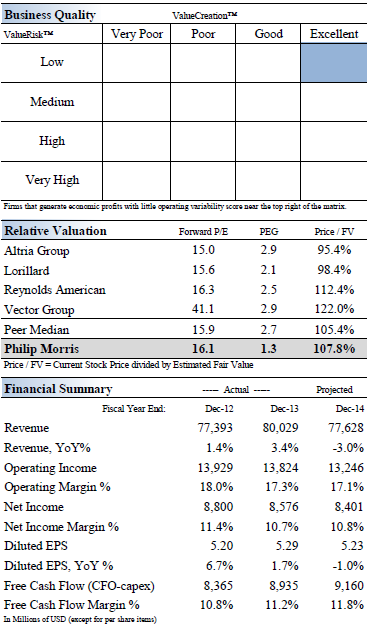 Economic Profit Analysis
The best measure of a firm's ability to create value for shareholders is expressed by comparing its return on invested capital with its weighted average cost of capital. The gap or difference between ROIC and WACC is called the firm's economic profit spread. Philip Morris' 3-year historical return on invested capital (without goodwill) is 81.2%, which is above the estimate of its cost of capital of 10.6%. As such, we assign the firm a ValueCreation™ rating of EXCELLENT. In the chart below, we show the probable path of ROIC in the years ahead, based on the estimated volatility of key drivers behind the measure. The solid grey line reflects the most likely outcome, in our opinion, and represents the scenario that results in our fair value estimate.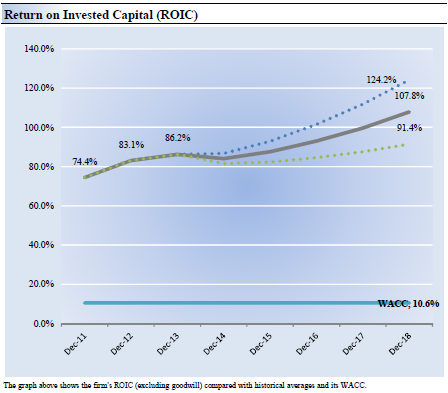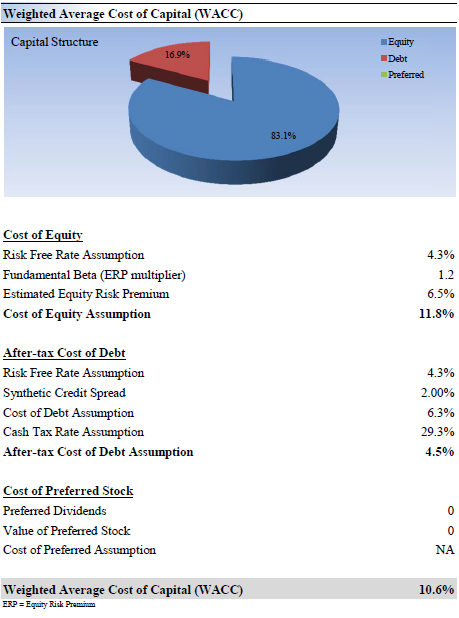 Cash Flow Analysis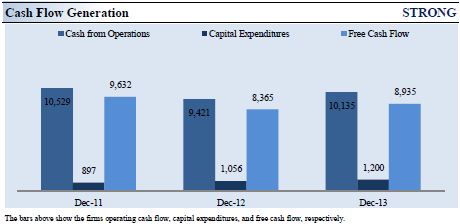 Firms that generate a free cash flow margin (free cash flow divided by total revenue) above 5% are usually considered cash cows. Philip Morris' free cash flow margin has averaged about 11.5% during the past 3 years. As such, we think the firm's cash flow generation is relatively STRONG. The free cash flow measure shown above is derived by taking cash flow from operations less capital expenditures, and differs from enterprise free cash flow [FCFF], which we use in deriving our fair value estimate for the company. For more information on the differences between these two measures, please visit our website at Valuentum.com. At Philip Morris, cash flow from operations decreased about 4% from levels registered two years ago, while capital expenditures expanded about 34% over the same time period.
Valuation Analysis
Our discounted cash flow model indicates that Philip Morris' shares are worth between $62-$94 each. Shares of Philip Morris are trading at roughly $88 each at the time of this writing. On the basis of the fair value range, this means that we think upside potential is limited. The margin of safety around our fair value estimate is driven by the firm's LOW ValueRisk™ rating, which is derived from the historical volatility of key valuation drivers.
The estimated fair value of $78 per share represents a price-to-earnings (P/E) ratio of about 14.8 times last year's earnings and an implied EV/EBITDA multiple of about 10.3 times last year's EBITDA. We think both of these multiples are reasonable. Our model reflects a compound annual revenue growth rate of 3% during the next five years, which may be optimistic given recent quarterly performance. Our model reflects a 5-year projected average operating margin of 18.7%, which is above Philip Morris' trailing 3-year average. Pricing growth, industry consolidations, and the resulting asset pick-ups may help drive margin expansion in coming years.
Beyond year 5, we assume free cash flow will grow at an annual rate of 2.7% for the next 15 years, and 3% in perpetuity. For Philip Morris, we use a 10.6% weighted average cost of capital to discount future free cash flows. We think both the long-term growth rate and discount rate applied are reasonable.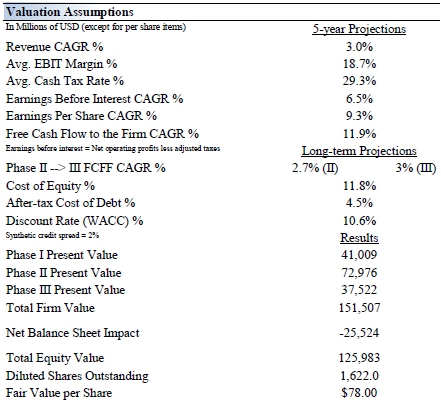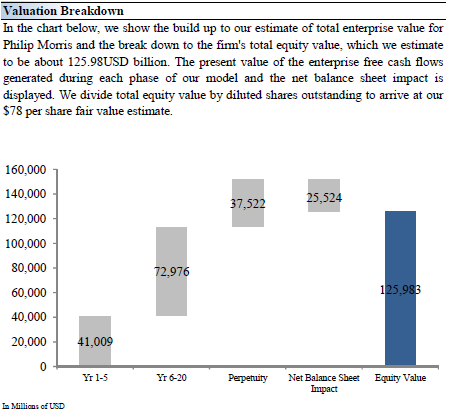 We understand the critical importance of assessing firms on a relative value basis, versus both their industry and peers. Many institutional money managers -- those that drive stock prices -- pay attention to a company's price-to-earnings ratio and price-earnings-to-growth ratio in making buy/sell decisions. With this in mind, we have included a forward-looking relative value assessment in our process to further augment our rigorous discounted cash flow process. If a company is undervalued on both a price-to-earnings ratio and a price-earnings-to-growth ratio versus industry peers, we would consider the firm to be attractive from a relative value standpoint. For relative valuation purposes, we compare Philip Morris to peers Lorillard and Altria.

Margin of Safety Analysis
Our discounted cash flow process values each firm on the basis of the present value of all future free cash flows. Although we estimate the firm's fair value at about $78 per share, every company has a range of probable fair values that's created by the uncertainty of key valuation drivers (like future revenue or earnings, for example). After all, if the future was known with certainty, we wouldn't see much volatility in the markets, as stocks would trade precisely at their known fair values. Our ValueRisk™ rating sets the margin of safety, or the fair value range we assign to each stock. In the graph below, we show this probable range of fair values for Philip Morris. We think the firm is attractive below $62 per share (the green line), but quite expensive above $94 per share (the red line). The prices that fall along the yellow line, which includes our fair value estimate, represent a reasonable valuation for the firm, in our opinion.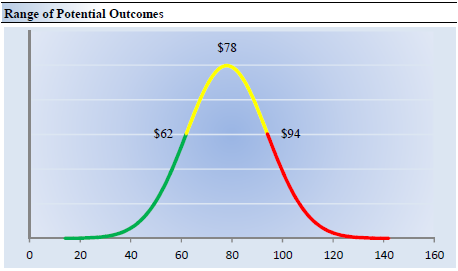 Future Path of Fair Value
We estimate Philip Morris' fair value at this point in time to be about $78 per share. As time passes, however, companies generate cash flow and pay out cash to shareholders in the form of dividends. The chart below compares the firm's current share price with the path of Philip Morris' expected equity value per share over the next three
years, assuming our long-term projections prove accurate. The range between the resulting downside fair value and upside fair value in Year 3 represents our best estimate of the value of the firm's shares three years hence. This range of potential outcomes is also subject to change over time, should our views on the firm's future cash flow potential change. The expected fair value of $96 per share in Year 3 represents our existing fair value per share of $78 increased at an annual rate of the firm's cost of equity less its dividend yield. The upside and downside ranges are derived in the same way, but from the upper and lower bounds of our fair value estimate range.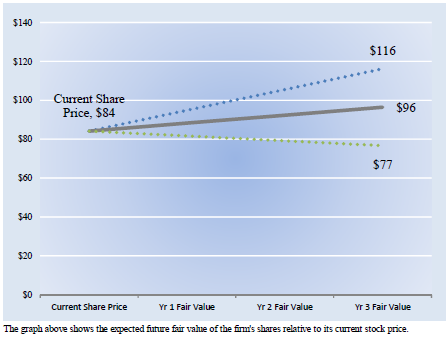 Pro Forma Financial Statements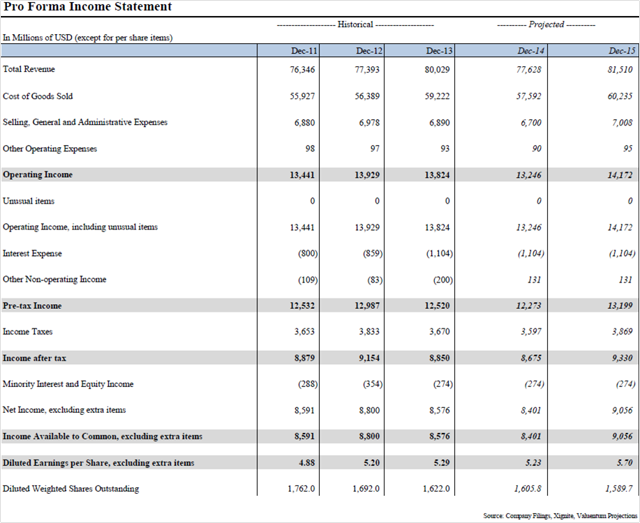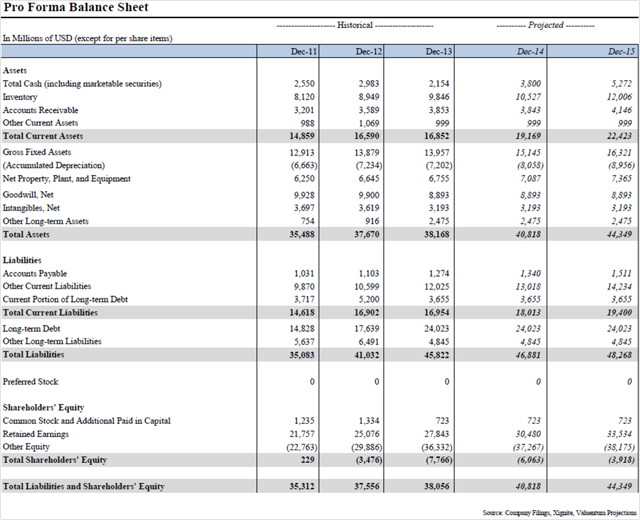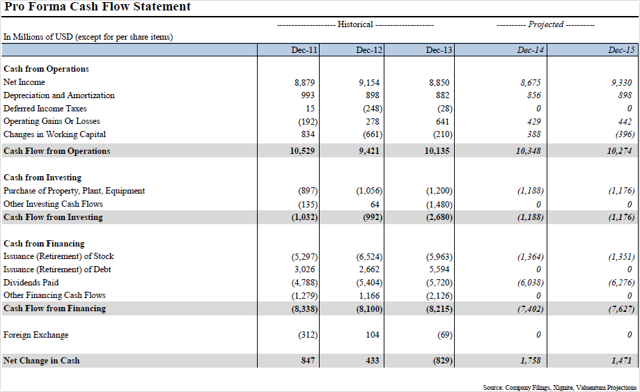 Disclosure: MO is included in Valuentum's actively-managed portfolios. I have no positions in any stocks mentioned, and no plans to initiate any positions within the next 72 hours. I wrote this article myself, and it expresses my own opinions. I am not receiving compensation for it (other than from Seeking Alpha). I have no business relationship with any company whose stock is mentioned in this article.