Stamps.com (NASDAQ:STMP), based in El Segundo, CA, is the leading provider of Internet-based postage solutions. According to their website, Stamps.com was the first company to be approved by the U.S. Postal Service® to offer a software-only postage service that lets customers buy and print postage online. They currently serve close to 500,000 subscribers who pay a monthly fee for the access.
Basically, they let subscribers purchase and print their own postage from the home or office, saving time and money. This is a simple and effective business model that has been working.
Stamps.com's stock is now trading a little under $32/share. This is well below its 52-week high of $49.40 reached in October of 2013. So now that it's 35% below its high, is this the right time to invest? Why did it fall in the first place? Let's answer those questions:
What happened since October 2013? Here is the chart: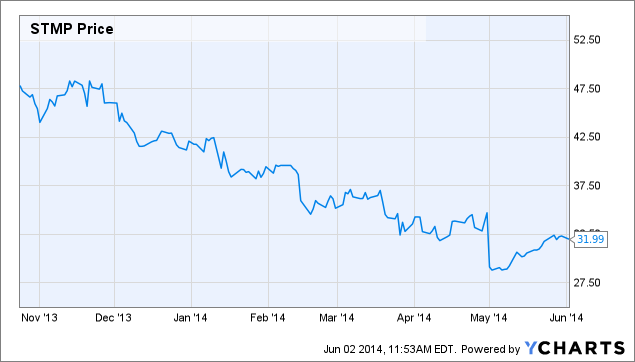 This chart certainly doesn't look good, but let's get some perspective. Here is the 5-year chart: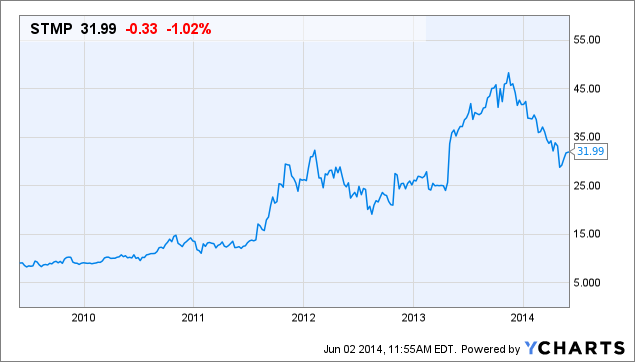 It looks like the stock price was getting a little ahead of itself, and pulled back to its more normal growth trajectory. Its earnings and projections back then were just fine and have remained so.
It also looks like the stock had some support in the $27.50 area, held that, and has now approached again its 50-day SMA of $32.18 with good relative strength. It has approached that level several times since the October high, and hasn't been able to push through.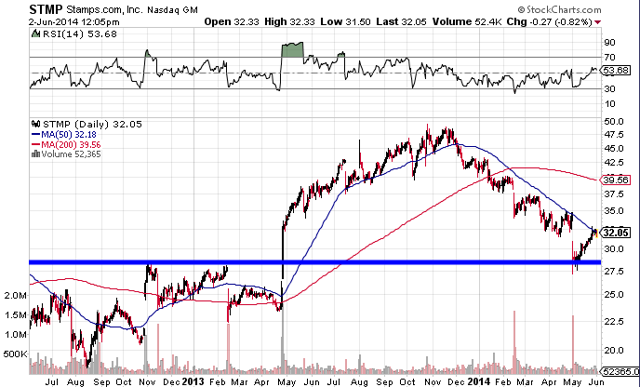 How about the fundamentals? Let's take a look at those:
Total debt: Zero
Total cash on hand: $90.3M (and growing)
Return on Investment (trailing twelve months): 27.38%
Operating Margin: 26.1% (and improving)
Gross Profit Margin: 81%
EPS Growth (3-year history): 83%
Cash Flow Growth (3-year history): 93.7%
EPS Growth (Projected Next Year vs. This Year): 9.61%
Forward Forecasted EPS Growth (3-5 Year): 17.0%
Valuation:
P/E (Trailing Twelve Months): 12.1
P/E (Next Year Estimate): 12.7
Price/CF (Trailing Twelve): 11.17 (Industry Avg: 51.18)
Price/Book: 3.25 (Industry Avg: 7.72)
Price/Sales (Trailing Twelve): 4.01 (Industry Avg. 68.01)
(Source: Fidelity.com)
What we have in STMP is a fast growing, lean company (approximately 250 employees) with no debt and attractive valuations.
So, what could go wrong? The Investing Engineer on Seeking Alpha did a nice overview here of some of the risks out there, mainly the heavy reliance on a government entity (U.S. Postal Service) to do its job. There are also bigger players that could enter this space as the barriers to entry are not that high.
Also, with an average trading volume of approximately 200k shares, it is a little more volatile than some may be comfortable with, although its beta over the past 10 years is 1.01.
STMP does not pay a dividend as of now, but does have a share repurchase authorized of up to 1.0 million shares. It did not repurchase shares in Q1 2014. With improving margins and cash increasing, it will be interesting to see how the cash gets used.
To summarize, STMP looks attractive at under $32/share based on its valuations and growth potential. It is not without risks, and the stock price has been volatile, but for patient investors, this is a stock worth considering.
Disclosure: I am long STMP. I wrote this article myself, and it expresses my own opinions. I am not receiving compensation for it (other than from Seeking Alpha). I have no business relationship with any company whose stock is mentioned in this article.