Shares of eBay (NASDAQ:EBAY) have fallen from their recent highs over the past few months after Carl Icahn announced that he would back away from his proposal to spin off PayPal. Investors should use this decline as an opportunity to buy EBAY.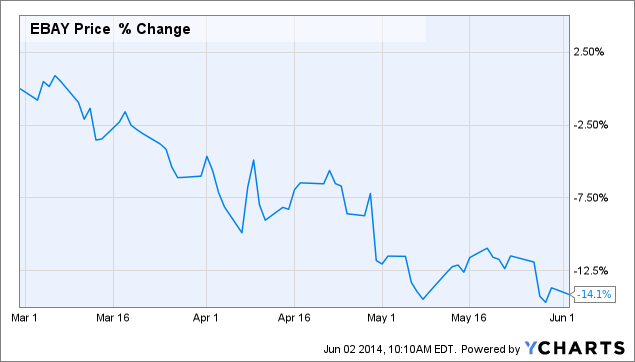 Icahn Proposal
While it is true that EBAY shares reacted positively to Icahn's proposed spinoff of PayPal, it is not clear that such a move is in the long-term interest of EBAY and its shareholders. EBAY CEO John Donahoe has laid out the case for why the company does not support a spinoff. I tend to agree with Donahoe in believing that keeping PayPal, for now, makes sense. In the future, a possible spinoff of PayPal remains a possible bullish catalyst. It is important to point out that, despite failing to achieve a PayPal spinoff, Icahn continues to hold EBAY stock and has said he might increase his position. Clearly, Icahn has some degree of confidence in management and believes the stock is significantly undervalued. Icahn will meet with EBAY CEO John Donahoe regularly which I believe is a positive. Icahn has proved to be one of the best investors of all-time and shareholders will likely benefit from his continued involvement at EBAY.
Increased BuyBack
In early 2014, EBAY announced a new $5 billion stock buyback program. While EBAY had done some stock repurchases in the past, the amount of stock buybacks had been relatively small. Given EBAY's market cap of about $65 billion, the $5 billion buyback has the potential to be highly impactful.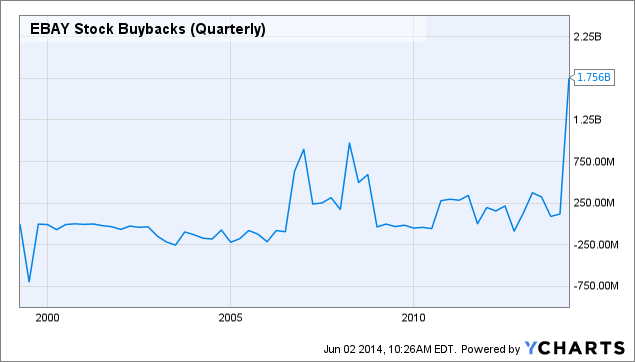 EBAY Stock Buybacks (Quarterly) data by YCharts
Valuation
As shown by the chart below, based on both forward PE ratio and price to free cash flow, EBAY appears to be reasonably valued. EBAY also appears to be fairly valued relative to mature tech companies such as IBM (NYSE:IBM), Intel (NASDAQ:INTC), and Microsoft (NASDAQ:MSFT). While EBAY trades at a comparable valuation, it is growing much faster than other mature tech companies.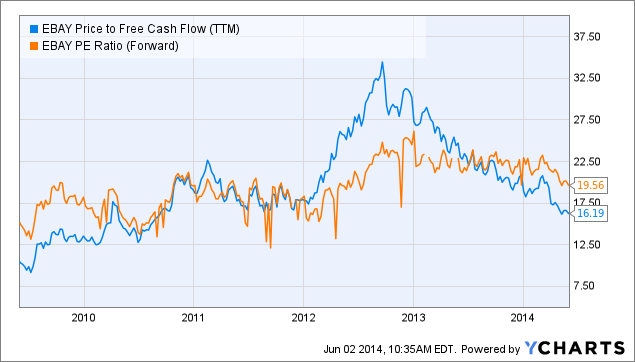 EBAY Price to Free Cash Flow (TTM) data by YCharts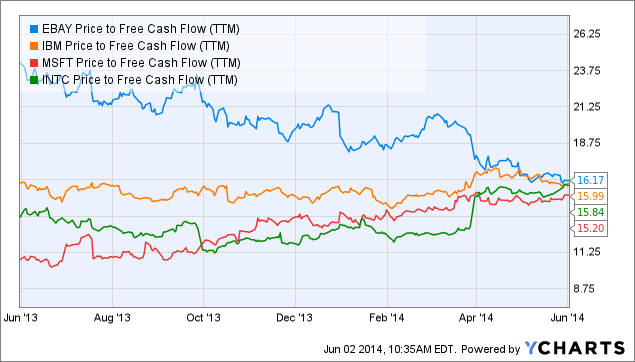 EBAY Price to Free Cash Flow (TTM) data by YCharts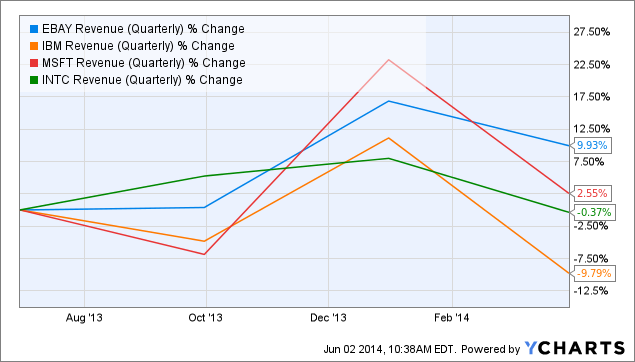 EBAY Revenue (Quarterly) data by YCharts
The Right Kind Of Tech Stock
2014 has proved an interesting year for technolgy stocks as fast growing high valuation tech stocks such as Amazon (NASDAQ:AMZN), Twitter (NYSE:TWTR), and 3D Systems (NYSE:DDD) have done quite poorly while value tech stocks such as Microsoft, IBM, and Intel have done well. I believe this trend is likely to continue for a while and EBAY is the kind of stock that could benefit due to its reasonable valution and strong buyback.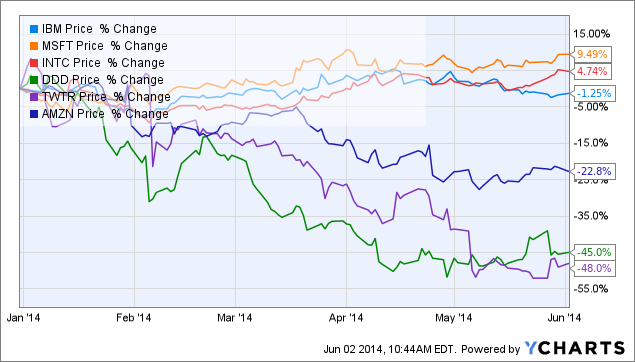 IBM data by YCharts
Conclusion
Icahn's decision to drop his proposal for a PayPal spinoff has sent shares of EBAY lower. However, the move lower has provided investors with a good entry point. EBAY's reasonable valuation, growth potential, and increased buyback are all reasons why EBAY shares are a good long-term investment. Furthermore, over the short-to-medium term, I believe EBAY is poised to benefit from the rotation out of high growth high valuation tech stocks into value tech stocks.
Disclosure: I have no positions in any stocks mentioned, but may initiate a long position in EBAY over the next 72 hours. I wrote this article myself, and it expresses my own opinions. I am not receiving compensation for it (other than from Seeking Alpha). I have no business relationship with any company whose stock is mentioned in this article.