As the Federal Reserve begins to wind down it support for "high" bond prices in coming months, many "high yield" stocks could under-perform as they tend to do during periods of rising interest rates. Currently, one in five S&P 500 stocks has a yield over 3%. Lower stock price yields and greater dividend appreciations may combine for greater stock price appreciation.
High Yield, Slow Growth: These high dividends, slow growth stocks may be condensed much more than bond yields. Many of these stocks have debt consolidation (liability) on their balance sheets. Once interest rates go up (and believe me, they will) their debt on the expense side of the ledger will rise and will likely place greater impact on reduced earnings and distributions, particularly if the stock is leveraged on fixed-income instruments.
Dividends Increased Price? Since reaching their lows in early 2009, the SPDR S&P Dividend Aristocrats ETF (NYSEARCA:SDY) and the SPDR S&P 500 ETF (NYSEARCA:SPY) have gained 174.6% and 178.7% respectively as of May 12, 2014. However, if you include dividends, SDY's total return was 192.2% and SPY's total return was 188.5%. Clearly, dividends are an important part of total return (appreciation + dividend yield).
Dividend Optimal Price: The dividend rate of a company provides an optimal stock price of the firm's value. This optimal value will strike a balance between the current dividend and the future growth rate of the company.
Free Cash Flow: In his 1986 paper "Agency Costs of Free Cash Flow, Corporate Finance, and Takeovers," Michael C. Jensen discusses how when given free cash flow (cash flow available after all positive net present value projects have been funded), managers will tend to invest it below the cost of capital or on inefficient projects. These agency costs of excessive free cash flow can be a burden on companies that can use the cash to increase shareholder value through a number of means; one of them being dividends.
Historically, investors are risk intolerant. A reliable dividend can provide relief to shareholders in an up/down stock market - having set aside the future growth rate of the firm.
Dividend Aristocrats (DVA): Within the S&P 500 there exist 54 companies known as Dividend Aristocrats. These are companies in the S&P 500 that have increased their dividends each year for the past 25 years. In fact, eight Dividend Aristocrats have increased their distributions for 57 years, since the foundation of the S&P 500's current form in 1957. GrowthIncome has broken down this group into 4 sectors from high yield, Tier 1, to low yield, Tier 4. Tier 1 through Tier 3 each contains 14 companies while Tier 4 contains 12 companies.

Five Years' Total Return: Chart 2 is a list of the DVA companies organized by their 5-year total return ("5YrTRtrn"), which is equal to the 5-year appreciation plus dividends. The first column of the chart contains the company's dividend yield rank within the group where "1" is the highest dividend yield and "54" is the lowest dividend yield. The chart also contains each company's Tier ranking, which also determines the company's row color.
As you can see from this chart, the 7 companies with the highest 5YrTRtrn are Tier 3 and Tier 4 companies, meaning they have the lower yields of the group but higher dividend appreciations.
Dividend Stability: In order to understand this better, we have subjected each company in the DVA group to a "Dividend Stability" analysis. To do this we looked at each company's Dividend Strength, Overall Yield Attractiveness, Equity Return vs. Group Ratio, P/E and Beta Product, and Earnings Growth.
Dividend Strength: To start, we looked at each company's dividend as it related to earnings. By dividing the dividend yield by the equity yield, we are able to see how much of a company's earnings are going toward their dividend. These values can be found in the "(1)DivYld/EqYld" column in Chart 2 below. We found that optimal readings are below 50%.
In addition, we calculated each of the company's dividends to Free Cash Flow Per Share ("(2)Div/FCF"). This allows us to see a ratio between dividends and free cash flow. Values over "1" mean that a company's dividend is more than its available free cash flow before dividend payments. Negative values indicate a negative cash flow before dividend payments. This figure can indicate a company's ability to pay debt, pay dividends, buy back stock and facilitate the growth of the business.
Overall Yield Attractiveness: Both Tier 3 and Tier 4 are the lowest of dividend rates for the DVA group. However, the growth rate of the dividends will offset the dividend yields.
ROE vs. DVA Group: Column "(3)ROE/AllROE" show the ratio for each company's Return on Equity (ROE) to the DVA group's average. Values under 1 mean that a company's ROE is less than that of the group average, indicating general weakness in this metric.
P/E and Beta Product: We also looked at the product of P/E and Beta ("(4)P/E*Beta") to determine a company's general volatility in relation to its P/E. We found that an optimal value was below 20.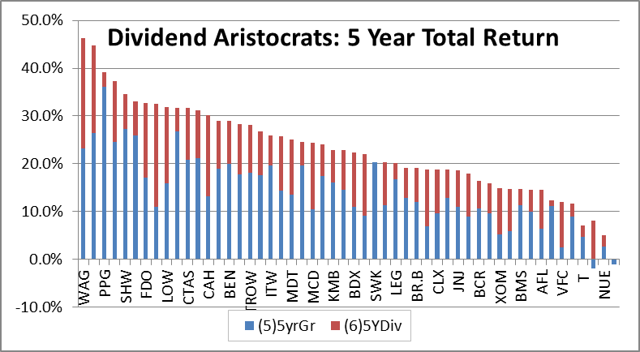 Earnings Growth: Of the 54 companies in the DVA group, earnings tended to be better for those with lower dividend yields. This can be seen in Chart 2, which shows companies in Tier 3 and Tier 4 tended to have a stronger 5-year total return than companies in Tier 1 and Tier 2 (Tier 4 having lower dividend yields and Tier 1 having higher dividend yields). We did not combine AbbVie Inc. (ABBV) and Abbott Laboratories (ABT) because they were part of the spin-off in 2013.
54 Dividend Aristocrats: We scored each company in the DVA group by counting the number of optimal "Dividend Stability" (as described above) values they did not meet. Those that performed best in our analysis had values of "0" whereas those that performed worst had values of "4," "5," and "6."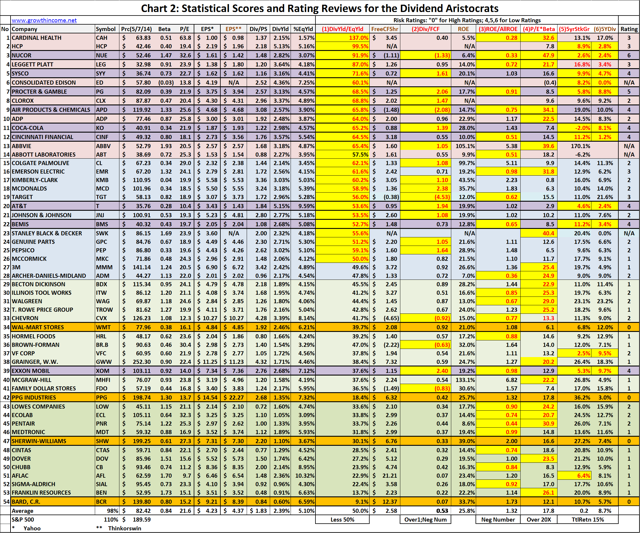 Winners: The winners of this analysis each had a score of "0" and were from either Tier 3 or Tier 4. These winners included Wal-Mart Stores (NYSE:WMT), PPG Industries (NYSE:PPG), Sherwin-Williams (NYSE:SHW), and C.R. Bard (NYSE:BCR). In addition, no companies in Tier 4 scored above 2 points.
Losers: Among the losers were 6 Tier 1 companies and 2 Tier 2 companies. The Tier 1 companies consisted of Nucor (NYSE:NUE), Leggett & Platt (NYSE:LEG), Sysco (NYSE:SYY), Procter & Gamble (NYSE:PG), Air Products & Chemicals (NYSE:APD), Coca-Cola (NYSE:KO), and Cincinnati Financial (NASDAQ:CINF). The Tier 2 companies were AT&T (NYSE:T) and Bemis (NYSE:BMS).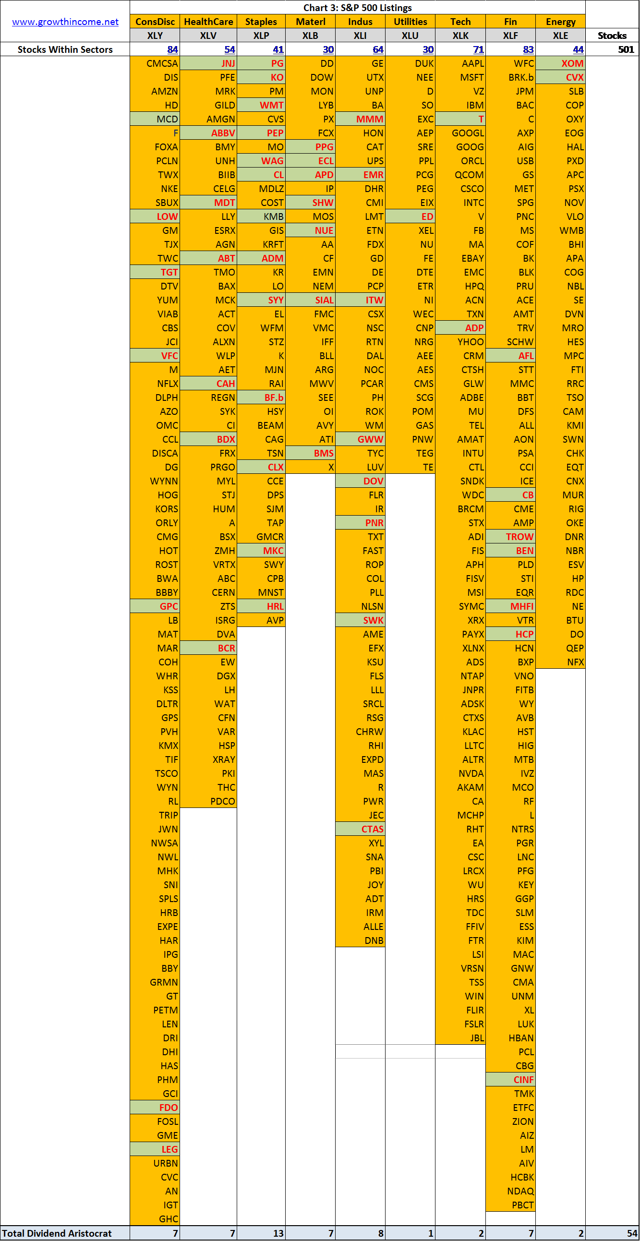 Disclosure: I have no positions in any stocks mentioned, and no plans to initiate any positions within the next 72 hours. I wrote this article myself, and it expresses my own opinions. I am not receiving compensation for it. I have no business relationship with any company whose stock is mentioned in this article.