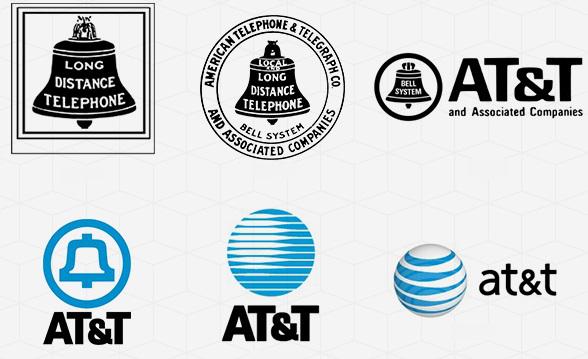 AT&T (NYSE:T) provides telecommunications services to businesses and consumers primarily in the U.S. AT&T is the second largest domestic telecommunications provider (just behind Verizon (NYSE:VZ)). AT&T now generates over 50% of revenue from its wireless division.
Current Events
AT&T recently announced it will purchase DirecTV (DTV) for $95 per share in a stock ($66.50) and cash ($28.50) transaction. The acquisition will allow AT&T to offer consumers a bundle of products, including mobile, internet, and television. AT&T is acquiring DirecTV at a PE multiple of 18.66. For comparison, DirecTV's competitors have the following PE Ratios:
| | | |
| --- | --- | --- |
| Ticker | Name | PE |
| TWC | Time Warner Cable | 20.02 |
| DISH | Dish Network | 33.14 |
| CVC | Cablevision | 20.99 |
| TIVO | TiVo Inc. | 6.01 |
The bulk of the transaction is being financed by AT&T stock. The timing of the transaction is unfortunate, as AT&T stock is trading at only 10.34 times earnings. Historically, the company has traded at closer to 14 times earnings. The issuance of a large amount of stock to purchase DirecTV will destroy value, as AT&T appears to be undervalued based on its historical PE multiple.
AT&T posted solid first quarter results. The company increased revenue 3.6% versus the first quarter of 2013. AT&T also added over 1 million wireless subscribers in the first quarter of 2014. The company achieved free cash flow of $3 billion in the quarter, and paid out $3.6 billion to shareholders in the form of dividends ($2.4 billion) and share repurchases ($1.2 billion).
AT&T is expecting revenue growth of around 4% in 2014, at the very high end of the company's expected long-term growth rate of between 2.5% and 4%. AT&T is achieving its growth primarily through expanding its wireless division. Currently, about 55% of the company's revenue comes from wireless.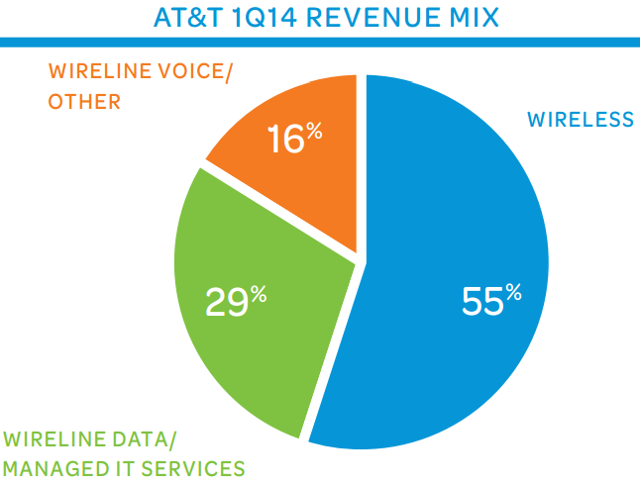 Source: AT&T First Quarter Investor Briefing
Wireless revenues increased 7% in the first quarter of 2014. AT&T is shifting from a pricing model that subsidizes smart phone upgrades and purchasing to a model focused on paying for data usage. More than 25% of subscribers are on the no subsidy plan. EBITDA margin increased from 43.2% in 2013 Q1 to 45.4% in 2014 Q1. AT&T has the 2nd highest smartphone data provider market share, behind only Verizon. As consumers continue to adopt smart phones and use ever greater amounts of data, AT&T will benefit and grow.
Shareholder Return
AT&T has been purchasing shares at a rapid clip over the last 2 years. The company purchased $25 billion worth of shares in 2012 and 2013. Shareholders of AT&T can expect a CAGR of 10% to 11.5% going forward from growth (2.5% to 4%), share repurchase (2.5%), and dividends (5%).
Valuation
AT&T appears to be somewhat undervalued based on a PE comparison to its peers.
| | | |
| --- | --- | --- |
| Ticker | Company | P/E |
| T | AT&T, Inc. | 10.34 |
| VZ | Verizon Communications Inc. | 11.18 |
| BCE | BCE, Inc. | 19.14 |
| CHT | Chunghwa Telecom Co. Ltd. | 17.4 |
| FTR | Frontier Communications Corporation | 57.9 |
| WIN | Windstream Corporation | 29 |
| TWTC | TW Telecom Inc. | 142.57 |
| CEL | Cellcom Israel Ltd. | 15.27 |
Source: Finviz
The company is also trading well below its historical PE ratio of around 14, in spite of the generally overvalued stock market.
Consecutive Years of Dividend Increases
AT&T has increased its dividend for 30 consecutive years. The company's long history of increasing dividends is evidence of its ability to survive and adapt to the changing telecommunications industry.
Why it matters: The Dividend Aristocrats (stocks with 25-plus years of rising dividends) have outperformed the S&P 500 over the last 10 years by 2.88% per year.
Source: S&P 500 Dividend Aristocrats Factsheet, February 28 2014, page 2
Dividend Yield
AT&T's dividend yield of over 5% compares very favorably to other businesses with more than 25 years of dividend payments ranking in at 2 out of 112. The only business with 25 years of dividends without a decrease that has a higher earnings yield is Universal Health Realty Income Trust (NYSE:UHT).
Why it Matters: Stocks with higher dividend yields have historically outperformed stocks with lower dividend yields. The highest-yielding quintile of stocks outperformed the lowest-yielding quintile by 1.76% per year from 1928 to 2013.
Source: Dividends: A Review of Historical Returns
Payout Ratio
AT&T has a payout ratio of 52.60%. The company ranks at 69 out of 112 businesses with a 25+ year history of no dividend reductions based on this metric. AT&T will most likely increase dividends proportionately with overall company growth for the foreseeable future.
Why it Matters: High-yield, low-payout ratio stocks outperformed high-yield, high-payout ratio stocks by 8.2% per year from 1990 to 2006.
Source: High Yield, Low Payout by Barefoot, Patel, & Yao, page 3
Long-Term Growth Rate
AT&T has grown revenue per share by only 4.02% over the last decade. The company ranks at 65 out of 112 businesses with a long history of dividends based on this metric.
Why it Matters: Growing dividend stocks have outperformed stocks with unchanging dividends by 2.4% per year from 1972 to 2013.
Source: Rising Dividends Fund, Oppenheimer, page 4
Long-Term Volatility
AT&T's long-term standard deviation is only 22.30%. A low standard deviation is evidence of stable, predictable cash flows resulting from a competitive advantage. The company ranks at 25 out of 112 based on volatility.
Why it Matters: The S&P Low Volatility index outperformed the S&P 500 by 2% per year for the 20-year period ending September 30th, 2011.
Source: Low & Slow Could Win the Race, page 3
Conclusion
AT&T ranks in the Top 10 based on the 8 Rules of Dividend Investing. The company has been able to keep pace with the quickly changing telecommunications industry. AT&T's future growth will come from consumer demand for data usage in smart phones and tablets.
The telecommunications industry has very high barriers to entry resulting from large capital expenditures required to build wireless networks. Regulation further limits competition by limiting the number of participants in each market. The oligopolistic telecommunications industry will likely continue to be dominated by AT&T, Verizon, Sprint (NYSE:S), and T-Mobile (NASDAQ:TMUS) who together own over 90% of the industry.
Disclosure: I have no positions in any stocks mentioned, and no plans to initiate any positions within the next 72 hours. I wrote this article myself, and it expresses my own opinions. I am not receiving compensation for it (other than from Seeking Alpha). I have no business relationship with any company whose stock is mentioned in this article.