By David Russell
Shares of Noble Energy (NBL) have been moving straight up since late August, and one investor is adjusting a position in search of more upside.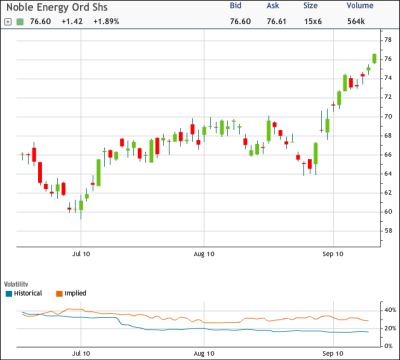 optionMONSTER's tracking systems detected the purchase of 3,437 September 75 calls for $1.85 and the sale of an equal number of October 80 calls for $1.15. Volume was below open interest in the September contracts but not in October, indicating that an existing open position was rolled forward by one month to a higher strike.
The trade was probably the work of a shareholder who had sold the options as part of a covered call. Adjusting the strategy let him or her pay $0.70 in return for earning an additional $5 if the stock closes at or above $80 on Oct. 15.
NBL is up 1.89 percent to $76.60 in afternoon trading and has risen 14 percent in the last two weeks. Bulls have been piling into the name, especially after it was upgraded to "outperform" by BMO Capital Markets on Aug. 30.
The stock peaked at $81.50 in April, so some traders may expect it to retest that high before taking a pause.
In addtition Nobel's CEO will present at the Barclays Capital CEO Energy-Power Conference on Thursday at 9:45 a.m. ET.
Overall options volume is 5 times greater than average so far today, with calls accounting for 95 percent of activity.
Disclosure: No positions