Economic data drove the SPDR Gold Trust (NYSEARCA:GLD) higher this morning. The same news sent the S&P 500 (NYSEARCA:SPY) abruptly lower, but trading in each reversed within that same hour. The reason for the sharp move in the SPDR Gold Trust proved to be an anomaly, which we outline for you in this article. Gold then followed last week's trend and faded lower the rest of the day, marking a 0.6% lower close.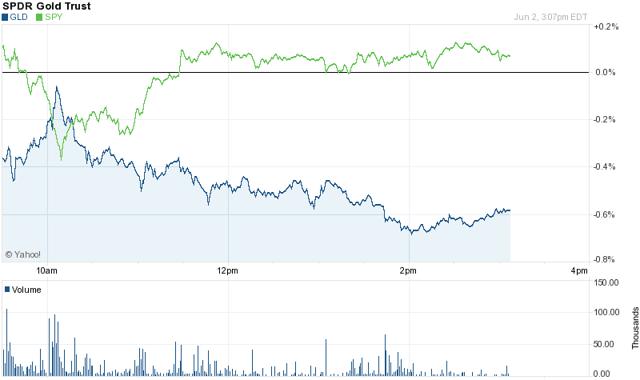 Click to enlarge
The early spike in the SPDR Gold Trust seen in the chart here coincided with the release of economic data. Its relation or perfect negative correlation to the SPDR S&P 500 confirms that. The driver was economic in nature, but based on an error that was later corrected.
Both the ISM Manufacturing Index and the Construction Spending data were disappointing this morning on the surface. Construction spending was worrisome, as it increased just 0.2% in April, versus economists' expectations for an increase of 0.7% month-to-month. However, the prior month's reported figure was revised higher by four-tenths, and so that adjustment clearly impacted the reported result-to-expectation variance this month (it was five-tenths).
The Clear Driver for the GLD was…
ISM's Manufacturing Index came in at a mark of 55.4, just short of expectations for 55.5. So why then did gold spike and stocks drop? Well, because ISM initially reported a mistake and showed the index falling to a mark of 53.2, which shocked investors. ISM later revised the figure and thus we saw the quick correction in stocks and the price of the SPDR Gold Trust as well. So, if you were wondering why the abrupt change in gold and the GLD today, that's the reason.
| | | |
| --- | --- | --- |
| Security | Monday 6-2-14 | Last Week |
| SPDR Gold Trust | -0.6% | -3.3% |
| iShares Silver Trust (NYSEARCA:SLV) | -0.3% | -3.1% |
| Market Vectors Gold Miners (NYSEARCA:GDX) | -0.9% | -3.5% |
| Direxion Daily Gold Miners Bull 3X Shares (NYSEARCA:NUGT) | -2.5% | -11.1% |
| GoldCorp (NYSE:GG) | -2.0% | -4.5% |
All the precious metals issues in our table here followed that same path this morning. However, as the day progressed, they then continued last week's trend into the close. In my article this weekend entitled The Demon the Gold Bears are Mistakenly Overlooking, I attributed that move to the Ukraine elections, which went off without a hitch. Also, it was helpful that Russian troops were confirmed pulling off the border with Ukraine. That easing of geopolitical tension, with West positioned against Russia, gave stocks life and gold holders a reason to reduce positions and put money to work in stocks. Obviously, based on the title of my article, I do not expect Russia to make nice with the West forever. In fact, I see it currently positioning itself to better deal with future Western economic pressures. I also have concerns about where Ukraine's new leader may take his reunification campaign, implying to the border with Crimea is possible. That would reignite the situation and give support to gold again.
SPDR Gold Trust holders enjoyed an intraday high of $120.46, but that was after an opening drop lower. So it is clear that last week's driver has fuel to run further. In my article, Wall Street Week - Much More Than the Jobs Report, I suggested that hopeful investors would trade on expectations for and potentially better reported economic data, much of which is poised to be reported this week. The big hope is that Q2 will make up for the disappointment in Q1, and that the weather factor will be proven at fault. That is bad news for the GLD near term, so I suggest gold holders reduce positions and get out of the way of the mass of capital behind this move. This is not at all contrary to my article this weekend; I'm certain many will comment that it is. I believe the gold bears will be eventually proven wrong when Putin does show his hand again, and drive gold quickly higher in my opinion. But for now he'll remain in the shadows, and we need to respect the greater current relevance of the economic driver working against us in a powerful way here. So, reduce your holdings in the SPDR Gold Trust and other metals relatives as well here for the short term.
Disclosure: I have no positions in any stocks mentioned, and no plans to initiate any positions within the next 72 hours. I wrote this article myself, and it expresses my own opinions. I am not receiving compensation for it (other than from Seeking Alpha). I have no business relationship with any company whose stock is mentioned in this article.