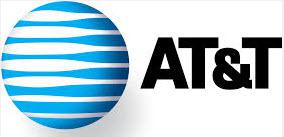 AT&T (NYSE:T) is considered a blue chip stock. A blue chip stock is a stock in a corporation with a national reputation for quality, reliability and the ability to operate profitably in good times and bad. Typically they pay dividends and are less volatile than the market. There may be an uptick in volatility in front of us with the markets at all-time highs and the summer doldrums squarely on the horizon. This may be an ideal time to rotate out of more speculative names and into this outstanding blue chip investment opportunity. In the following sections, I will perform an analysis of the fundamental and technical state of AT&T's stock to show why this may be the right time to start a position in the name.
AT&T macro positives
The hunt for yield continues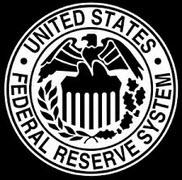 The Fed's zero interest rate policy in conjunction with its quantitative easing policy has substantially diminished opportunities for income investors on the hunt for yield. Baby boomers have essentially been left out in the cold. Fixed income instruments such as bonds and CDs have virtually no yield currently. AT&T's outstanding 5.2% dividend yield is highest amongst all the DOW blue chips presently.

Click to enlarge
(Source: Finviz.com)
This high dividend yield coupled with the company's opportunity for growth suggests a scenario where investors can achieve both capital gains in combination with income production.
A shift from high risk momentum stocks to solid dividend paying stocks is underway
A major paradigm shift is underway which should underpin AT&T's stock. The high-flying momentum stocks have severely sold off. Market participants are no longer satisfied with ephemeral valuation metrics such as the number of eyeballs and the like. Prescient investors are demanding earnings and income, as they should.
AT&T specific positives
AT&T's management has done an amazing job over the last couple of years and shareholder may be on the cusp of reaping the benefits. How do I know this? The proof is in the pudding, as it were. This maxim implies that there is a lot of evidence supporting my assertion. The highlights of the positive developments follow.
Solid revenue growth
Total revenue of 128.8 billion was up 1.9% year-over-year in 2013. The solid revenue growth was driven by several key segments. Wireless, wireline data and managed IT services were all up over 5%.

Strong EPS growth
After adjustments, full-year 2013 EPS was up 8.2% which marks the second straight year of growth above 8%. The earnings per share of a company, or EPS, is conceivably the most important statistic to understand before investing in a company's stock. Each time you consider starting a position in a stock, you should prudently scrutinize its earnings information. The reason earnings are so vital to investors is because they tell you about the relative profitability of a company.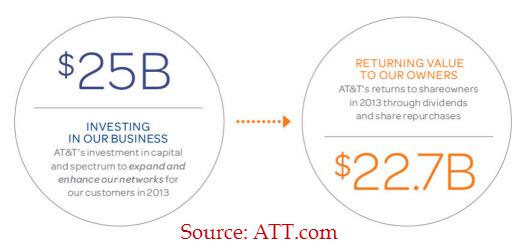 Factor this in with the fact that historically dividend-paying stocks have outperformed non-dividend-paying stocks, and you have a recipe for outstanding returns. Whatever is not paid out in the form of dividends is placed into the retained earnings, which then become a source of capital that can be used to help support the growth of a company.
Solid stock technicals
The stock is trading above all three major moving averages. The 50-Day SMA has crossed above the 200-Day SMA which is technically bullish. The stock appears to have achieved a trend reversal and presents a buying opportunity at this level.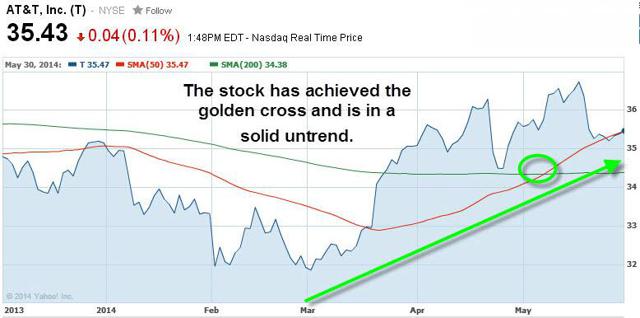 Click to enlarge
(Source: Yahoo.com)
The stock appears to be only at the beginning of its trend reversal at this time.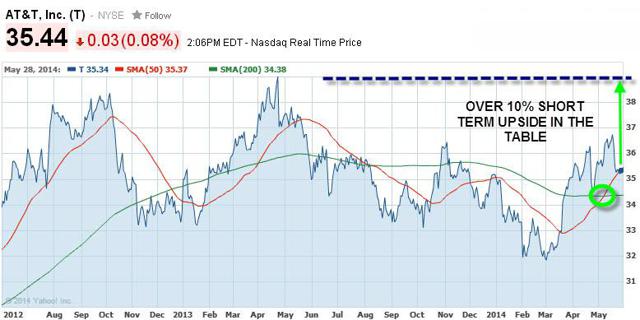 Click to enlarge
(Source: Yahoo.com)
There is 10% upside currently sitting on the table in the short term.
AT&T trades at a discount to its peers and the industry average
AT&'s TTM P/E ratio of 10 is among the lowest of any stock in the industry and signals that investors have not been willing to pay a premium for this company's business prospects.
(Table provided by Scottrade.com)
As you can see by the above table, AT&T trades for a P/E of 10.3 while the industry average is 18.7. This implies AT&T has significant upside simply to trade on par with the company's peers. Based on the current facts available, AT&T should be trading for at least a P/E of 12.5 by 2015. This implies the stock has 25% upside and a $45 price target seems entirely possible based on future projected growth rates. Couple this with the potential for substantial capital appreciation with a current 5% dividend yield and you have a recipe for profits.
Downside Risks
AT&T does have downsides. Cash flow could be pressured in the near term due to the company's Next program where revenue is booked on devices customers have not paid for yet. Secondly, the DirecTV (DTV) acquisition does not come without major risks and uncertainty.
The Bottom Line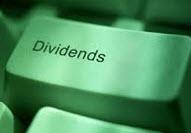 AT&T is a solid long-term growth story and pays a hefty dividend of over 5%. AT&T is the number one dividend paying stock on the DOW at 5.2%. The company has increased its dividend each year since 2008 as well. Furthermore, the stock is down while business couldn't be stronger. The Fed's announcement that rates will remain at ultra-low levels for at least the foreseeable future, leads me to believe the company is a better hedge against inflation than fixed income instruments such as bonds and CDs. Factor this in with the statistic that historically dividend-paying stocks have outperformed non-dividend-paying stocks, and you have a recipe for outstanding returns. Nevertheless, if you choose to start a position in any stock, I suggest layering in overtime to reduce risk.
Disclosure: I have no positions in any stocks mentioned, and no plans to initiate any positions within the next 72 hours. I wrote this article myself, and it expresses my own opinions. I am not receiving compensation for it (other than from Seeking Alpha). I have no business relationship with any company whose stock is mentioned in this article.