Overview
Molson Coors (NYSE:TAP) is the result of a 2006 merger between Molson and Coors, two major beer companies. Brands under this portfolio now include Coors, Molson, Carling, Keystone, Blue Moon, and others. The company traces its beginnings back to Molson's founding in 1786 and Coors' founding back in 1873. The company began a North American joint venture with SABMiller in 2008.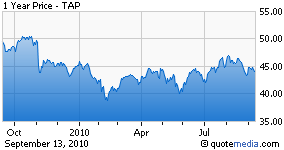 Top Brands
Coors Light- This is the top selling brand of the company and the third best selling beer in the United States. As the company's sole truly global brand, Coors Light is sold in several countries as a premium light beer. This beer's brand is strong, with associated imagery of the snowy Rocky Mountains, and it's marketing angle revolves around the coldness of this beer.
Blue Moon- A Belgian-style wheat ale sold in the US.
Keystone Light- A fairly inexpensive light-bodied beer sold extensively in the US.
Molson Canadian- This premium, medium-bodied lager is a strong-selling Canadian beer brand and contains several sub-brands.
Carling- Britain's top selling lager.
The company also has several smaller brands and joint ventures. They also bottle and license beers from other makers.
Volume and Earnings
This report is going to be different from most of my dividend stock analysis reports. Due to the joint venture with Miller, the reported revenue figures are not meaningful, as revenue for United States sales is not included. At face value from the statements, it appears that the company had huge revenue declines in 2008 and 2009, but these are accounting technicalities rather than actual revenue decline. Actual revenue can be found throughout the annual reports. I'm going to report the volume for various segments.
Sales Volume (in millions of hectoliters)
Canadian Volume
2009- 8.741
2008- 8.864*
2007- 9.271*
*Internal accounting was adjusted, which resulted in the 2007 and 2008 Canada segments reporting higher volumes and sales. The numbers presented above include this correction to show actual volume change, based on information from the 2009 annual report.
These mildly diminishing volumes are reported by the company to be due to soft Quebec sales.
MillerCoors Volume
2009- 81.085
2008- 82.880
The MillerCoors Volume is the volume of the joint venture between Miller and Molson Coors, and represents the United States segment. Molson Coors is entitled to 42% economic interest in the joint venture.
UK Volume
2009- 9.510
2008- 10.607
2007- 11.030
These diminishing UK volume numbers are reported to be due to diminishing overall volume in the UK, poor summer weather, smoking bans, and company strategy to forgo low-margin volume.
Global and Corporate
(Asia, Continental Europe, Latin America, Mexico, etc.)
2009- 0.528
2008- 0.435
2007- 0.452
Company Earnings
| Year | Earnings |
| --- | --- |
| 2009 | $720.4 million |
| 2008 | $378.7 million |
| 2007 | $492.0 million |
| 2006 | $361.0 million |
Dividends
Molson Coors is currently yielding 2.50% with a payout ratio of 23%.
Dividend Growth
| Year | Dividend | Yield |
| --- | --- | --- |
| 2010** | $1.08 | 2.50% |
| 2009 | $0.92 | 2.10% |
| 2008 | $0.76 | 1.60% |
| 2007 | $0.64 | 1.50% |
| 2006 | $0.64 | 1.90% |
| 2005 | $0.64 | 1.90% |
| 2004 | $0.40 | 1.10% |
During this period, the annual dividend increased by an average of 18% annually. Unlike most other dividend companies I analyze, the company does not have a consecutive series of dividend increases. The company paid $0.10 per quarter between 2002 and 2004, and then increased their dividend by 60% to $0.16 per quarter between 2005 and 2007. During the period of 2008 to the present in 2010, the company has maintained an annually increasing pattern of dividends.
**2010 figures are a projection based on current dividend levels, including the most recent increase from $0.24 per quarter to $0.28 per quarter.
Balance Sheet
Molson Coors has a very clean balance sheet, with Total Debt to Equity of only 0.24.
Investment Notes
The United States and Canada are seeing beer sales by volume increasing in the ballpark of 1% per year, while the UK is seeings its beer sales decrease. To grow, Molson Coors must increase its market share and/or expand successfully into other markets.
These last several years have been complicated for the company. 2005 saw a merger of equals between Coors and Molson. 2008 then saw a joint venture with Millers for United States beers sales. Molson Coors has 50% voting interest and 42% economic interest in this joint venture. This has made the reporting statements complex, as 2008 figures only include the first six months of US sales, and 2009 figures do not contain any US sales, because these sales are shifted to the joint venture. It has also slightly affected Canadian sales statements.
The focus on these last few years has been on debt reduction and cost savings. The company decreased its long-term debt from $2.13 billion in 2006 to $1.43 billion in 2010. The MillerCoors joint venture, formed in mid-2008, intended to save $225 million in synergies by the end of 2009, while the actual figures saved were a reported $273 million.
During this time period, however, company volume has mildly decreased in all three of their primary markets. Their company volume slip in the UK is due to the larger trends of decreased total volume of beer sold, but the company volume slip in the US and Canada was despite slightly positive total beer volume growth in those countries.
In addition, Molson Coors has been trying to get a foothold into other international markets such as Continental Europe and Asia. Volume is increasing, yet still very small. In June of 2010, Coors Light entered the Russian market.
All considered, these results are mixed. Volume has seen decreases during this economic recession and for various other reasons, while cost savings have been huge, and the company has aligned itself to be among the top brewers in the world. One thing I like about the company is that it is family-run by the Coors and Molson families. The class A shares are mostly held by these groups. This means management has less pressure to focus on short-term gains, and so they can focus on their long-term growth strategies. Companies run by families with family wealth on the line can be less fickle and more rewarding than companies run by managers that don't have their name and family wealth invested in their company.
Risks
All companies carry some risk. Global beer consumption changes, and smoking bans in some countries can decrease beer consumption significantly. Beer companies are fiercely competitive, and most of the results are based on how effective their marketing strategy is. Competitive advantages are fairly small between companies, although there is some brand loyalty. Commodity and transportation costs factor into risk as well, along with currency risk for international brewers.
Conclusion and Valuation
Company results are mixed, but the low P/E of under 11 may justify this as a reasonable investment. The company has well-known brands, family management, a clean balance sheet, and a growing dividend, but this is offset by the unclear future prospects of the company.
Full Disclosure: I do not have any position in TAP at the time of this writing.
You can see my full list of individual holdings here.