After a month of waiting, Nokia (NYSE:NOK) finally breached my $8 price target. I am happy that my Chinese Feng Shui-related projection for Nokia finally came true. I do not expect Nokia to repeat its 2013 performance but I expect NOK to deliver at least 25% YTD increase this year.
It took more than a month after Nokia completed its sale of D&S to Microsoft for the market to give NOK a boost past $8. This small win deserves a beer or two. Every little bit of love that Nokia gets from the markets this year is worth a celebration.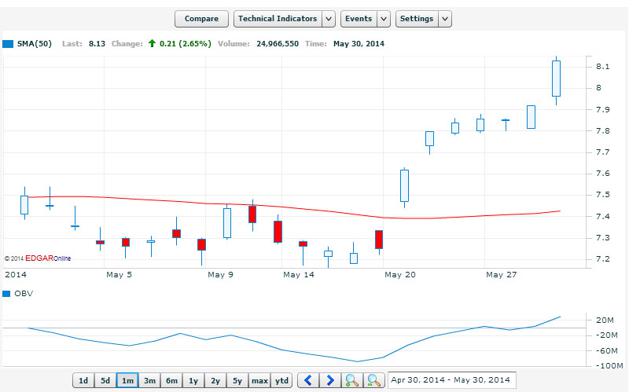 Click to enlarge
Source: Nasdaq.com
Hold on, Just Keep on Holding on?
I confess that I am tempted to unload the other half of my NOK holdings now that it is trading north of $8. Profit taking seems to be in order at this time. The market and many institutional investors do not see any serious upside in Nokia even though it already unloaded its money-losing phone business to Microsoft. I'm concerned that Nokia will just trade sideways between $7.00 and $8.20 for the next 90 days.
Patience is not one of my strongest virtues. I like Nokia but I'm foremost an opportunist. I do not like that my favorite daily-evolving and high-math valuation tool, Alpha Omega Mathematica only gives NOK an aggregate score of 50% and a Hold recommendation. Even with $7.4 billion in cash, the scoring algorithm of Alpha Omega still calculates Nokia as unattractive when compared to its Communications Equipment industry peers.
A check on BarChart.com also reveals that a majority of analysts still see Nokia as a Hold. Six analysts find Nokia a Buy but 13 analysts see the company as just a Hold.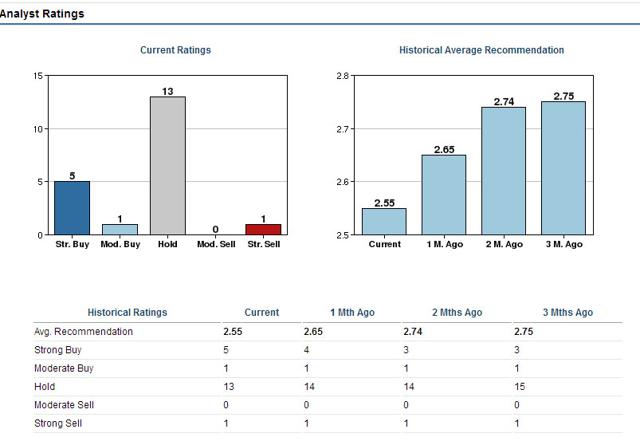 Click to enlarge
Source: BarChart
The 13 BarChart analysts ignored the unanimous Buy hints of Nokia's short-term, medium-term, and long-term technical indicators.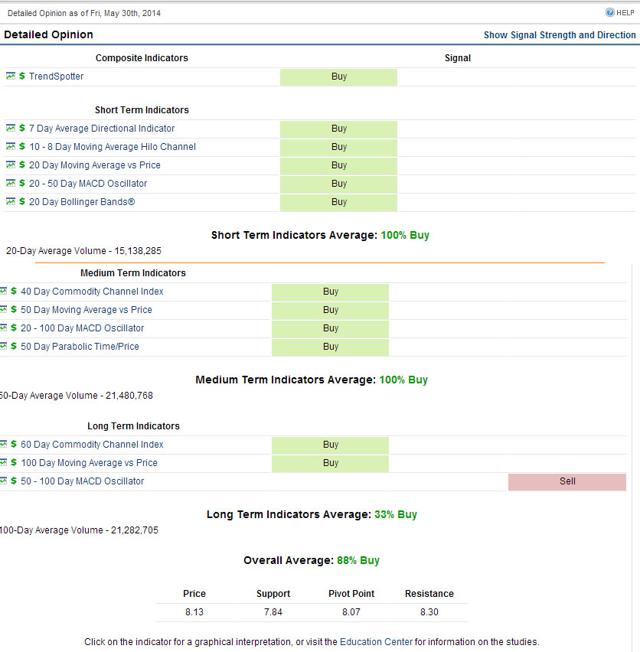 Click to enlarge
Furthermore, 19 analysts at FT.com are also endorsing the same Hold rating for Nokia. Only four of their brethren gave NOK a Buy rating.
This passive weather over the new Nokia is frustrating. It's like drinking lukewarm watered-down San Miguel beer. Nokia's Networks division recently landed new contracts and yet not much enthusiasm among Nokia bulls.
Networks Keeps Winning Works
Nokia bills its Networks division as the world's specialist for mobile broadband. Algerie Telecom decided to use Nokia's Single RAN Advanced Solutions for 4G LTE deployment. Algerian subscribers can now experience mobile broadband speed of up to 150Mbps. Nokia also deployed its NetAct cloud-based network management suite.
Nokia also managed to land a 5-year deal with Telenor Group. The agreement covers modernizing the 2G, 3G, and 4G global networks of Telenor in Europe and Asia. Nokia is again providing its Single RAN Advanced solution that is based on the company's Flexi Multiradio 10 Base Station. Telenor will also use NetAct.
Telenor has operations in 13 markets in Europe and Asia and it also has a 42.95% stake in VimpelCom, another mobile service provider that operates in 17 markets. Telenor has a global mobile subscribers of 172 million, making this deal a strong tailwind for Nokia.
CelCom has also selected Nokia as its main partner to upgrade the company's mobile networks in Malaysia. CelCom has 14 million subscribers. It has earmarked RM 1 billion ($310 million) to optimize its mobile broadband network. Nokia might also win more contracts from CelCom's parent company, Axiata Group of Companies, which operates mobile services in 9 Asian countries with total subscriber count of 230 million.
These three new contracts are just for the month of May.
RoadRunner Smartwatch Rumor and Purchase of Desi
Nokia cannot make smartphones for now but it can still make smart devices like a smartwatch. Evleaks started a rumor that a Nokia RoadRunner is coming soon. Not much detail about RoadRunner but I agree with other online speculators that it is a fitness-centric smartwatch. Nokia has the talent and money to really get into wearable computing.
The company is already building much of the broadband network for Internet of Things (IoT) devices. I see Nokia leveraging its vast LTE network infrastructure to also build compatible or optimized smart mobile devices for Internet of Things and machine-to-machine (M2) communication. Nokia knows there's more money in the coming revolution for IoT and M2M than making and selling phones.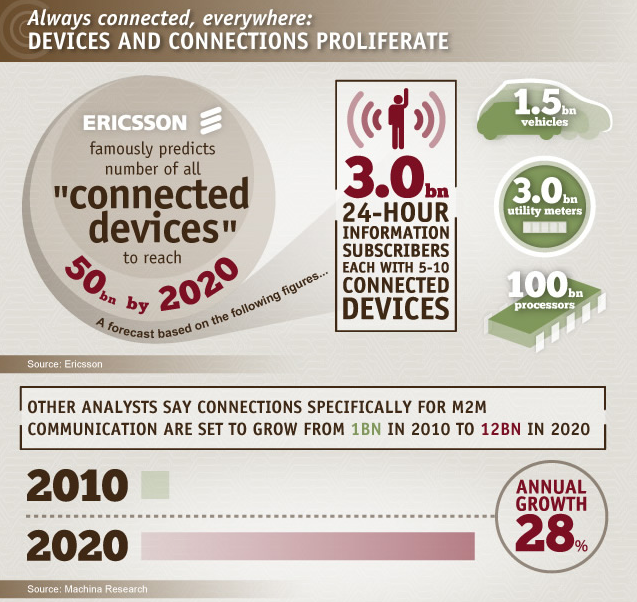 Source: SAP/Machina Research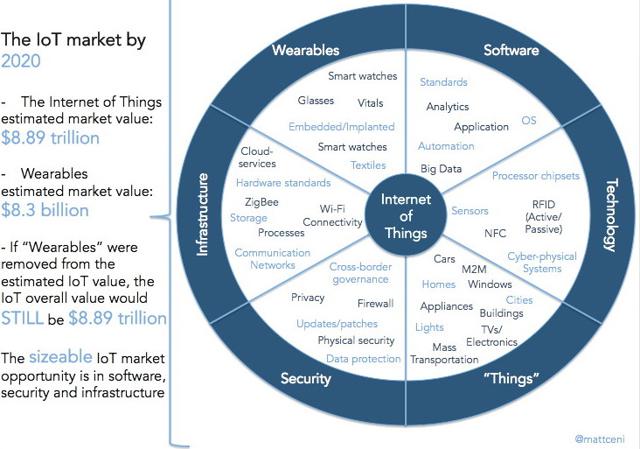 Source: Matt Ceniceros
Nokia's recent purchase of Desti, a startup that uses artificial intelligence and Natural Language Processing (NLP) to make maps smarter, will make the company's struggling HERE maps division more attractive to car manufacturers and app developers. Desti is like Siri or Cortana, it's a virtual personal travel assistant.
I also see Desti's technology getting inside a fitness-centric smartwatch. Joggers, bikers, and mountain trekkers will profit from a very intelligent personal assistant. Desti can guide them where to run or climb for optimal safety and health benefits.
I'm strongly in favor of Nokia finding new revenue streams. NOK's future will be a rollercoaster ride if the company's revenues remain 90% dependent on the seasonal-cycle dependent Networks division.
Conclusion
I will respect the math of Alpha Omega Mathematica and the majority votes of analysts. Nokia is still a Hold. I am not going to get out of Nokia just because it is already north of $8. NOK has not yet peaked. Premature profit taking has burned me - I sold most of my Apple (NASDAQ:AAPL) at sub-optimal levels, around $593. I needed the money to make buy-ins on Facebook (NASDAQ:FB), Tesla (NASDAQ:TSLA), Yahoo (NASDAQ:YHOO), and other tickers that caught my fancy.
No, I don't think NOK has enough steam to repeat AAPL's recent bull run but a few more weeks of waiting is in order. Nokia is a tedious stock to carry this year.
Nokia is probably more like a dark rum than a beer. It needs time for the ageing process to improve its taste.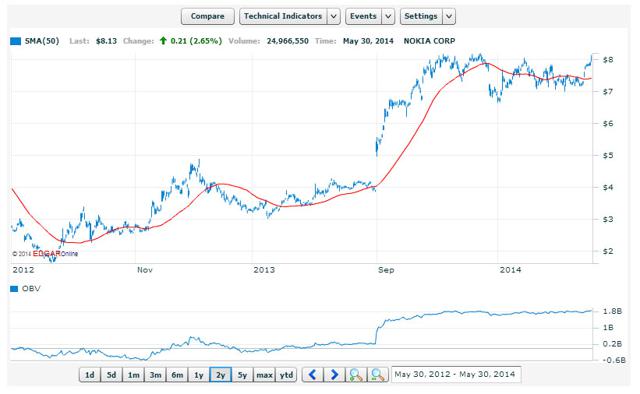 Click to enlarge
Source: Nasdaq.com
Disclosure: I am long NOK. I wrote this article myself, and it expresses my own opinions. I am not receiving compensation for it (other than from Seeking Alpha). I have no business relationship with any company whose stock is mentioned in this article.