When looking for stocks that could rally, one of the key items I look at is short interest. High short interest could spark a tremendous rally, as short sellers scramble to cover on good news. In recent years, we've seen some pretty large rallies due to short squeezes. One current short squeeze candidate I'm looking at is 3D Systems (NYSE:DDD). The 3D printing name is a very highly shorted stock, and after a recent equity sale, shares have come down recently. Cash raised could be used for acquisitions, and next week's Investor/Analyst Day could set a roadmap for the rest of 2014. Today, I'll detail why this name is a short squeeze candidate, and how investors could be rewarded if things go right.
A highly shorted stock:
Short interest was relatively high last summer for this name, mostly ranging in the 26 million to 29 million shares area. At the end of Q2 last year, the company had a little more than 102 million shares outstanding, up from just under 90 million at the end of 2012. Having about 25% of your outstanding share count short is high. In late 2013, a lot of short sellers covered, and that's also when shares of this name started to soar. However, the end of 2013 marked a key turning point, as you can see in the chart below.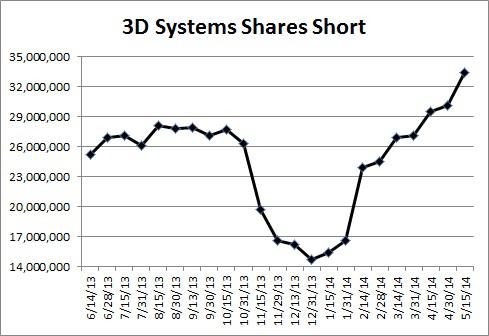 At the end of 2013, about 14.7 million shares were short for this stock. However, every single short interest update in 2014 has seen a rise in short interest. At the middle-of-May update, short interest was over 33.3 million shares. In 2014 so far, short interest is up by more than 18.6 million shares, or nearly 127%!
Not only is the short interest number at a yearly high, but the days to cover ratio is as well. This ratio measures the number of days it would take all short sellers to cover, based on average trading volume for the stock. At the end of November 2013 update, the days to cover ratio was at 2.35. At the mid-May 2014 update, the ratio stood at 9.86. 3D Systems did see a rise in volume during the second half of May, mostly thanks to the equity sale, so the days to cover ratio could come down a little at the next update. Of course, that also will depend on how short interest fares.
At the end of Q1 2014, the company had almost 104 million shares outstanding, according to the 10-Q filing. We know that the outstanding share count will rise as the year progresses. Recently, the company announced a nearly 6 million share offering, and underwriters can purchase another roughly 900k shares. This equity sale would add nearly 7 million shares to the outstanding share count. Even at around 111 million shares outstanding, you're still looking at nearly 30% of the outstanding share count short.
In terms of the stock's float, the number would be even greater. Yahoo Finance lists a current float of 98.7 million. Even with a float of about 105 million, the mid-May short interest number would represent about 32% of the float. 3D Systems is certainly a highly shorted stock, and that makes a short squeeze possible.
Share sales - 2013 and 2014:
The recent equity sale isn't the first time this company sold shares during the Spring. Last year, in May, the company had a larger offering, with 7.5 million shares being sold, of which 1.3 million were sold by existing investors. The deal was priced at $40.
Interestingly enough, it was that share sale that basically marked a bottom for shares. The low trading price on May 10th, 2013, was $40.62. That was the lowest intra-day point the stock hit during the rest of 2013. While shares did not initially soar after the news, they slowly started to climb throughout the rest of the summer. You can see how the stock has performed since the start of May 2013 in the chart below.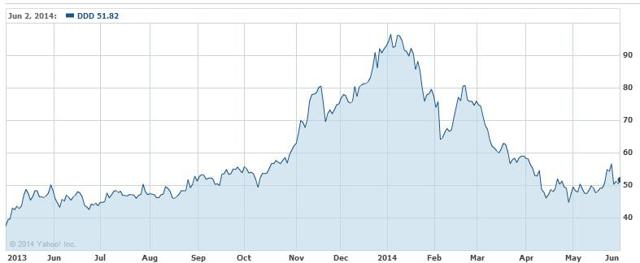 (Source: Yahoo Finance)
Usually, most investors take a share sale as a bad thing, at least upfront. If a company is selling stock, some believe it is a sign that the company believes its shares are overvalued. In the 2013 case, with the company selling shares at $40, some would think that $40 price should be a short-term top for the stock. Well, in 2013, it basically turned out to be a bottom. A Goldman Sachs analyst reiterated a Neutral rating and $55 price target after the 2014 equity sale news. The analyst believes acquisitions will come, but expected shares to trade down due to dilution. Recently, shares peaked at around $57, but they've come down, closing Monday at $51.82. If shares get closer to or drop below $50, I wonder if this analyst will change the Neutral rating to a Buy.
Next week's analyst/investor meeting:
On June 10th, which is next Tuesday, the company will hold an Analyst & Investor Meeting. In the press release, the company provided the following statement:
3DS' senior management team will review the company's strategic initiatives, operating highlights and recent developments, and will provide and update on its product and market development plans and outlook, followed by a question and answer session. The presentation will be led by Avi Reichental, President and CEO, and will feature comprehensive presentations by key members of the company's senior management team.
The company will also have a booth at the Atlantic Design and Manufacturing Show at the Javits Center. An analyst at Needham, who has a Buy rating and $70 price target on the stock, also believes acquisitions may be coming. This analyst believes that some plans could be revealed next week:
"DDD's large equity raise earlier this week takes its cash position to ~$650M, giving it plenty of dry powder to pursue an acquisition(s)," Ricchiuti comments. "While DDD could continue with technology, software and tuck-in paid-parts acquisitions, we would not be surprised to see mgmt do something out of the box, including an acquisition that would accelerate its push into high-throughput, continuous-flow additive manufacturing (i.e., to further the joint development Project Ara with Google). DDD typically puts cash to work fairly quickly. Mgmt could provide some additional color on its plans at its investor day in two weeks."
While the company may not announce a specific acquisition next week, there could be clues as to what the company is thinking. The company should lay out some sort of roadmap, primarily for the rest of 2014. As the company stated with its Q1 earnings release, a larger portion of this year's revenues and earnings will come in the back half of the year. The company's most recent guidance was for revenues of $680 million to $720 million this year, and non-GAAP EPS of $0.73 to $0.85. Analysts are a little ahead of both midpoints, with current estimates calling for $706.08 million and $0.81, respectively. The current estimates call for 37.5% revenue growth this year, as well as a four-cent decline in EPS. Another 30% revenue growth is expected in 2015. The company believes operating leverage will resume in the second half of 2015 and be fully restored the following year. Analysts are looking for $1.19 in non-GAAP earnings next year.
High potential rewards do carry risk:
Every stock has risks, but this name may carry more risk than your average investment. Last year, the stock rallied from less than $30 to nearly $100, only to fall back this year to around $50. Even after such a large fall, the stock still trades at more than 60 times this fiscal year's expected non-GAAP earnings. That's important because GAAP earnings are even less. In the last two years, the company had GAAP net income of approximately $83 million, but non-GAAP net income of more than $151 million. Additionally, the stock trades for more than 7 times this year's expected revenues, and that's before the dilution that comes from the equity sale. This is a high-growth stock that has plenty of potential, but it also is expensive.
Final thoughts:
3D Systems shares have come down since the recent equity sale announcement, and it might provide a decent entry point for investors. The company will use this cash for more acquisitions, which will help to fuel this high-growth company. This stock is highly shorted, so any good news could lead to another massive short squeeze. Shares soared last year as short interest dropped. Next week, the company has an Investor/Analyst Day, where future plans could be laid out. That event might not be the singular catalyst for shares to soar, so investors may need to be a little patient. If this company can announce decent results in the next few quarters, short interest should drop, and that should help shares to spike.
Disclosure: I have no positions in any stocks mentioned, and no plans to initiate any positions within the next 72 hours. I wrote this article myself, and it expresses my own opinions. I am not receiving compensation for it (other than from Seeking Alpha). I have no business relationship with any company whose stock is mentioned in this article.
Additional disclosure: Investors are always reminded that before making any investment, you should do your own proper due diligence on any name directly or indirectly mentioned in this article. Investors should also consider seeking advice from a broker or financial adviser before making any investment decisions. Any material in this article should be considered general information, and not relied on as a formal investment recommendation.