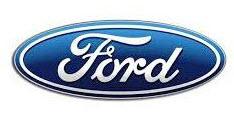 Ford's (NYSE:F) stock has been range bound for the past few years. Nonetheless, the stock has made a nice move to the upside and just broke out above long-term resistance. Several near-term headwinds have pressured profits for the company. On top of that, Alan Mulally, the arbiter of Ford's turnaround, has stepped down. Nevertheless, the transitory and ephemeral nature of these issues has created an excellent buying opportunity in the stock for savvy investors. In the following sections I will lay out my bull case for the stock and explain why I feel this is an excellent opportunity with the potential to reach $40 by the end of 2015.
Current initiatives have pressured 2014 profits
Major new product launches are underway
Ford is in the midst of one of the company's largest product launches in history. Ford plans to launch 23 new vehicles worldwide in 2014. Profits may drop year-over-year from $8.5 billion in 2013 to between $8 and $7 billion in 2014 due to this enormous undertaking.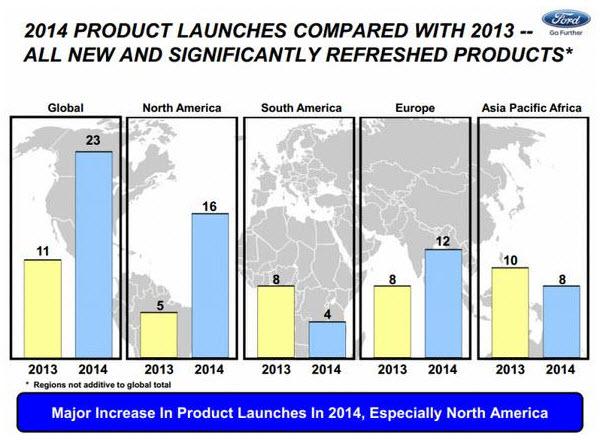 (Source: Ford.com)
China facilities expansion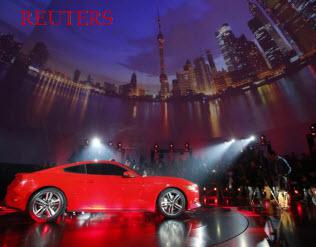 Ford is greatly increasing capacity in China to match the growing demand. First quarter sales for Ford China were up by 45% year-over-year with 271,321 vehicles sold compared to 186,596 during the same period last year. The company is constructing four new plants in China to meet the increased demand.
Ford's management is focused on future growth. The success in China will be a significant factor in the company's success. The fact the company is increasing capacity in China will underpin sales in the region. The bottom line is Ford is making all the right moves to accommodate future growth which bodes well for significant appreciation in the stock in 2015.
New aluminum body F150 expected by end of 2014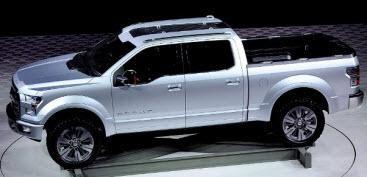 Ford is expected to launch the revolutionary new aluminum-body F-150 pickup in the fourth quarter of 2014. The new F150 is expected to be at least 700 pounds lighter than its predecessor and get nearly 30 miles to the gallon. I see the truck taking the competition by storm. Nonetheless, there will be additional costs associated with the retrofit of production lines to accommodate the new truck. Furthermore, breaking news just out Monday regarding the sturdiness of the new aluminum body may set potential buyers at ease underpinning sales. The report states:
"Ford gave some customers a test version of its aluminum F-150 years ago in advance of the launch in order to gauge response. The trucks showed ruggedness and sturdiness for drivers working in the gold mining, construction, and utilities, even with the loss of 700 pounds."
Ford appears fundamentally healthy and undervalued
3% dividend supported by a fortress balance sheet
Ford sports a 3% dividend yield. Moreover, after years of diligent work, the company has obtained a fortress balance sheet and the company's debt is now investment grade.
The stock appears fundamentally undervalued
Ford's forward P/E ratio of 8.61 is among the lowest of any stock in the Auto and Truck Manufacturers industry and signals that investors have not been willing to pay a premium for this company's business prospects.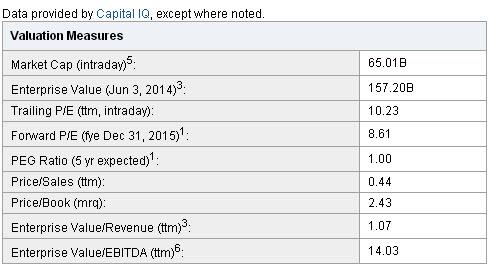 (Source: Yahoo.com)
Ford is currently trading for approximately half the historical P/E ratio of 16 and the S&P 500's current average of 16 as well. Couple these facts with the stock's recent underperformance and it appears entirely possible the stock could hit $40 sometime in 2015 if all goes as planned.
Ford's stock looks technically strong
Stock just broke through long-term resistance
The stock just recently broke above long-term resistance. This breakout still needs to be confirmed, yet this is a very positive development.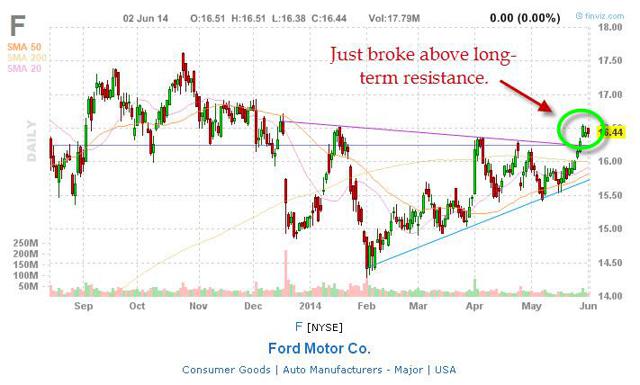 Click to enlarge
(Source: Finviz.com)
Stock under accumulation
The steady and stable upward trend in the stock since the beginning of the year is a telltale sign the stock is under accumulation.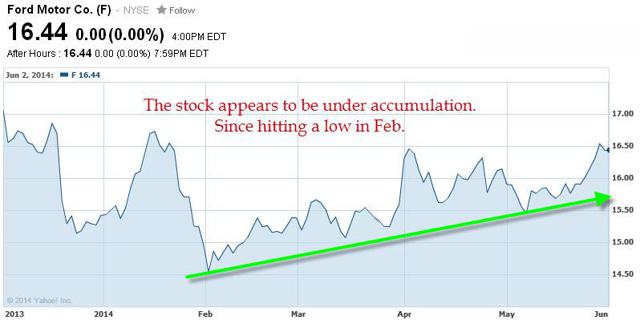 Click to enlarge
(Source: Yahoo.com)
Recent surge in share price
The stock has experienced a recent surge in the share price over the last few weeks.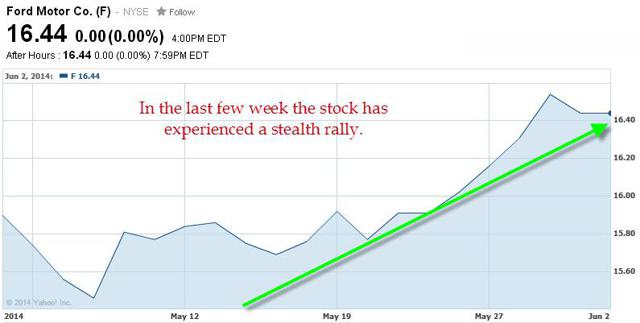 Click to enlarge
(Source: Yahoo.com)
I submit the worm has turned, so to speak, and the stock is on the precipice of a major run higher. Essentially investors are now buying low so they can sell high at a later date.
Ford offers both capital appreciation and income production for savvy investors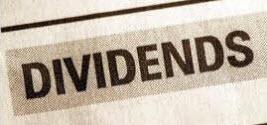 Ford has a solid long-term growth story and pays a hefty dividend of 3%. These facts, coupled with the Fed's announcement that rates will remain at ultra-low levels for at least the foreseeable future, lead me to believe the company is a better hedge against inflation than fixed income instruments such as bonds and CDs. Factor this in with the statistic that historically dividend-paying stocks have outperformed non-dividend-paying stocks, and you have a recipe for outstanding returns.
Downside Risks
There are multiple downside risks for Ford going forward.
Reports that China's growth is fading could be a major factor.
Sales of the new models will need to be successful.
The US and European economic recoveries must stay on track. Finally, public acceptance of the new aluminum truck body is still in question.
The manner in which the vehicles are being financed has drawn criticism recently. Some say the noteworthy surge in auto sales resembles that of the recent housing debacle. The issue at hand is most new auto loans are based on 5 to 7 year payment terms now instead of the traditional 3 to 4 year payoff period. Current buyers are not focusing on price, they are focusing on payments. This could lead to an issue when it comes to trade ins. Buyers may be wary of trading their car in early because they will essentially be underwater until after the fifth year.
Conclusion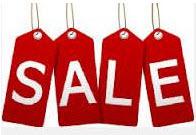 The positives far outweigh the negatives as far as I am concerned. Ford has a record number of new products scheduled to launch this year. The launch is the primer for increased revenues and wider margins in 2015. Moreover, Ford is increasing capacity in China to meet increasing demand as well. Ford China recently crossed the 100,000 monthly sales mark for the first time ever. I am bullish on Ford for the long term. Ford is investing in its future. The stock is currently trading at an extreme discount.
Furthermore, you have to buy low to sell high. The risk reward equation looks favorable presently. A substantial margin of safety and a 3% dividend yield are what tips the scales. Nevertheless, I suggest layering in to a position over time to reduce risk. The market is at all-time highs as we enter the summer doldrums.
Disclosure: I have no positions in any stocks mentioned, and no plans to initiate any positions within the next 72 hours. I wrote this article myself, and it expresses my own opinions. I am not receiving compensation for it (other than from Seeking Alpha). I have no business relationship with any company whose stock is mentioned in this article.