Abstract
The economic and environmental transformation of China over the past decade has made the Chinese much wealthier but at the same time has caused severe pollution problems in many cities. This article describes the weapons the Chinese government has deployed to fight the pollution war, its ambition to become the world's leader in electric vehicle manufacturing, and how companies like Kandi (NASDAQ:KNDI), Tesla (NASDAQ:TSLA) and BYD (OTCPK:BYDDY) are well-positioned to capitalize on these developments for years to come.
The term "new energy vehicles" is used by the Chinese government to include pure electric vehicles (PEV), plug-in electric vehicles (PHEV) and fuel-cell cars. This article uses "electric vehicle" (EV) to denote PEV, PHEV or both.
The Chinese Auto Market
The phenomenal growth of the Chinese economy over the past decade has generated a lot of wealth. According to McKinsey & Company research report, 54% of Chinese urban households belong to middle class with annual incomes ranging from US$9,000 to $34,000 (all figures in this article are in U.S. dollars). 14% of those households are in upper middle class, which consists of people making $16,000 to $34,000. By the end of 2022, the upper middle class could expand to 54%. Also the Hurun Chinese Millionaire Wealth Report 2013 reveals the number of Chinese millionaires whose assets are more than $1.6 million reached 1.05 million, while the number of super rich, with assets over $16 million, reached 64,500.
The accumulation of wealth has resulted in the number of cars sold in China jump from 2 million a year to nearly 20 million over the past decade, according to a new report from United States Energy Information Agency. Chinese oil consumption also soared from 250,000 barrels a day to 2.25 million barrels a day between 2003 and 2013. As a result, since 2009, China has been forced to import half of its oil.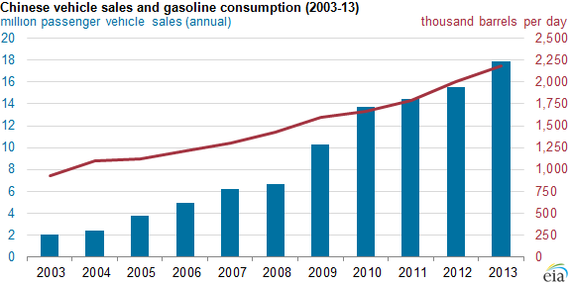 Source: United States Energy Information Agency (EIA)
The Five-Year Plans
Gas-powered vehicles are considered a major contributor to China's air pollution, which is so severe that Chinese government declared war against it. China set goal to cut carbon emissions per unit of economic growth by more than 4 percent this year and more than 3.5 percent in 2015 as it tries to meet a binding 17-percent target set in its 2011-2015 five-year plan.
Along with the pollution reduction plan, China is taking significant steps to manifest itself as the world leader in green technology. In 2009, the government set targets for pure electric and hybrid electric vehicles of 500,000 by 2015 and 5 million by 2020. It launched "ten cities, thousand vehicles" program, planned for ten cities to develop 1,000 electric vehicles each. The list of pilot cities had expanded to 25 in 2011. By Q1 this year, a total of 40 cities have joined.
The government research team found that out of the five initial pilot cities - Beijing, Shanghai, Shenzhen, Hangzhou and Chongqing there are two winners. First, Shenzhen's partnership with the Potevio New Energy and China Southern Power Grid is a winner, enabling a successful electric bus leasing effort. Second, Hangzhou's Kandi electric car-sharing service, modeled on the city's effective bicycle rental business, also produced a successful trial. Other Chinese cities can learn from Hangzhou; for the rapidly expanding urban middle class consumers, a PEV car-sharing/rental market would be a huge boon. Among the drawbacks, EV charging infrastructure is the number one issue. A lot of consumers hesitate to buy EVs simply because there are no charging stations available in the area.
In 2013, only 17,600 new energy vehicles were sold, a year-over-year increase of 37.9% which brought the total number of new energy vehicles on the road to 60,000. As a result, to meet its goals, China has to roll out and sell another 440,000 such vehicles in 2014 and 2015 to fulfill the planned target. Local governments are being urged to step up their efforts. Cities that fail to meet their goals will be removed from the program, and will no longer receive grants from central government. Under a lot of pressure to meet the target numbers, several local Chinese governments have begun to implement a number of incentives and restriction, and seriously address charging station issues.
Vehicle License Restriction and Traffic Regulation
Beijing was the first city to impose vehicle license restriction in 2012 and other cities followed suit. Beijing, Shanghai, Tianjin, Guangzhou, Guiyang and recently Hangzhou - have already put curbs on car sales and more are expected to follow. Some cities use an auction system to allocate number plates while others use a combination of lotteries and auctions. Beijing and Guiyang issue plates through a lottery, while Shanghai uses a bidding scheme. Guangzhou and Tianjin adopt both systems. License plates for gasoline vehicles in Shanghai were auctioned and brought in up to $11,475 last month.
New energy vehicle buyers on the other hand receive "red-carpet" treatment. Not only that vehicle license restrictions do not apply to them, some Chinese cities have handed out free license plates to electric car buyers, a huge perk given that the price of a license plate alone can cost as much as a conventional car. This perk was extended to import PEVs in Shanghai last month. Shanghai Mayor Yang Xiong in April offered 3,000 free license plates each year to import PEVs. This marks the first favorable policy nationwide granted to imported electric vehicles, and Tesla is the first company to benefit from such policy.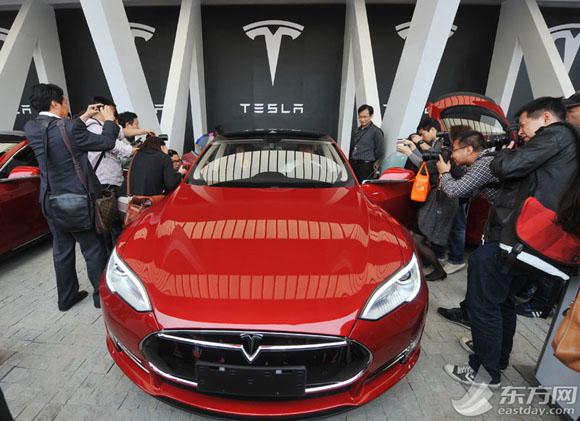 Crowd takes photos of a Tesla model S at the handover ceremony held in Shanghai in April (Source: eastday.com)
Hangzhou will issue 80,000 license plates a year. That's just over a third of the 276,000 plates issued in the 12 months prior to its announcement of the restriction. Traffic in Hangzhou crawls at less than 20 kilometers per hour (12 miles per hour) during rush hour. Hangzhou introduced the traffic restriction scheme on Oct. 8, 2011, keeping 20 percent of vehicles off the road between 7 a.m. and 8:30 a.m. and 5 p.m. to 6:30 p.m. on workdays. From May 5 this year, the banning period will be extended to run from 7 a.m. to 9 a.m. and 4:30 p.m. to 6:30 p.m.
Central and Local Subsidies
To help move electric cars, Chinese government subsidies of $7,000-$9,600 were offered to consumers who purchased new-energy vehicles. The Chinese government subsidies currently only apply to locally produced new-energy vehicles, but not to imports. In addition to central subsidies, several cities began to offer local subsidies. Together, central and local government subsidies can reach as high as US$18,240 per vehicle.
China Car Times on Feb 10, 2014 reported that the Chinese government has also slowed down the reduction of government subsidies beyond 2015. The announcement reduces the payout cut from 10% to 5% in 2014 and 20% to 10% in 2015. After 2015, a new subsidy program will take effect, of which no details have been released.
According to a new article from Zero-Emission vehicles Network dated May 21, 2014, several cities including Shanghai, Wuhan, Suzhou and Xi'an have announced the promotion of new energy vehicles incentives, and more are expected to follow. Shanghai subsidizes $6,400 to PEV buyers and $4,800 to PHEV.
Wuhan introduced subsidy policy on May 19, 2014 and is one of the new energy vehicle pilot cities to promote such policy. The city intends to spend US$2.74 billion to promote new energy vehicles and set the target of 10,500 new energy vehicles by 2015. Xi'an offers a similar plan to Wuhan, their subsidies in excess of US$9,000 are among the highest. Suzhou citizen can get up to US$16,800 total for purchasing EVs. Hefei this year will invest US$7.4 million to promote new energy vehicles.
Decommissioning of Aging Vehicles
China plans to take more than five million aging vehicles off the roads this year in a bid to improve air quality, the government said in a policy document published May 26, 2014. As many as 5.33 million "yellow label" vehicles that fail to meet Chinese fuel standards will be "eliminated" this year, the document said. As many as 330,000 cars are set to be decommissioned in Beijing, 660,000 will be withdrawn from the surrounding province of Hebei, home to seven of China's smoggiest cities in 2013. Beijing's municipal government has previously offered subsidies of between $400-2,300 to drivers who voluntarily hand in their aging vehicles to be scrapped.
Proposed incentives
Bloomberg News reported that China government is revving up a new round of incentives, such as waiving a 10 percent tax on the purchase of new energy vehicles as part of the expanded state measures to bolster sales of such vehicles after past incentives failed to spur demand, Vice Premier Ma Kai said. Ma also urged local governments to help companies develop electric-car rental services.
Electric Car Charging Infrastructure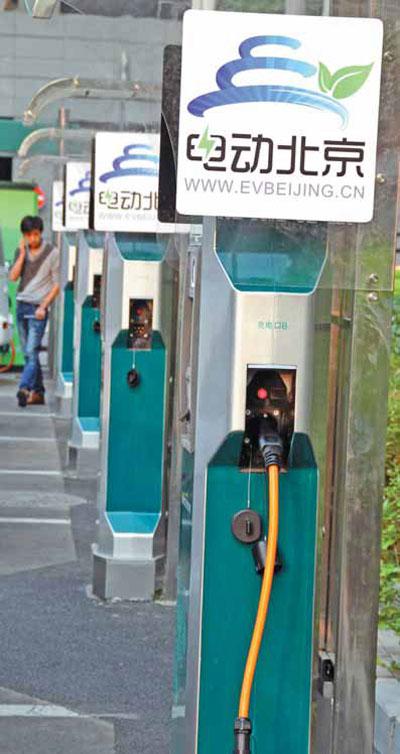 Electric charging poles in Tsinghua Science Park, Beijing (Source: Wu Changqing - China Daily)
The charging network is expanding rapidly in China. The charging station market pattern dominated by State Grid Corporation of China and China Southern Power Grid has taken shape. As of the end of 2013, State Grid had built 19,000 electric vehicle charging piles, 400 charging and swap stations (including 209 charging stations and 191 swap stations.) China Southern Power Grid had completed 3,528 charging piles, 118 charging and swap stations and focused on the construction of smart charging and the swap network in the Pearl River Delta. One of the State Grid's latest moves was to build charging stations along the expressway from Beijing to Hunan in Central China, according to the Changjiang Daily. In 2010-2013, the number of Chinese charging stations jumped from 76 to 518 at the compound annual growth rate (CAGR) of 89.6%, and the number of charging piles ascended from 1,122 to 22,528 with the CAGR of 171.8%.
Cities also have addressed their local needs. Cities like Beijing, Shenzhen, Hangzhou and Shanghai have made massive investments in the construction of EV charging stations. The Beijing government plans to complete construction of 1,000 public fast-charging poles by the end of the year, covering both downtown areas and suburbs. Shanghai began to build EV charging stations from 2010. At the end of last year, the city had constructed cumulatively 20 E-Stations and over 2,000 charging piles covering all over the city, preliminary forging an EV charging service intelligent network.
Growth In Electric Vehicle Sales
With the big push from central and local governments in an attempt to meet the goal of putting half a million EVs on the road by 2015, EV sales have accelerated this year. In 2013, 17,600 new energy vehicles were sold, a year-over-year increase of 37.9%. Between January to April 2014, China has already produced 14,538 new energy vehicles and the annual production is projected to exceed 50,000 for the year, a nearly 300% increase year over year.
BYD announced in early May that it received record order of 3,000 new energy vehicles from Hangzhou. The order for 2,000 long-range, battery-electric transit buses and 1,000 long-range, pure-electric cars is one of the world's largest all-electric fleets ever ordered. Hangzhou's embrace of green technologies is highly respected and its progress is among the best in China. It launched car-sharing services with Kandi last year, and now with this order, the city is replacing its bus and taxi lineups with BYD's e-buses and e-taxis.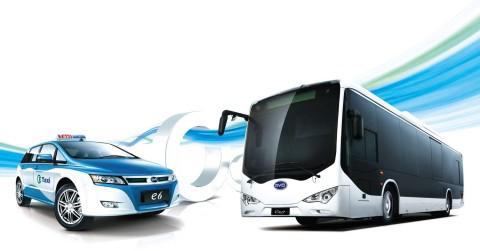 The Pure-electric BYD e6 Taxi and k9 Transit Bus (Photo: Business Wire)
BMW predicts China will become the world's largest market for electric vehicles by 2019 as more charging infrastructure is built and the government promotes cleaner cars to cut pollution. Also recently, after Tesla has done its initial research on Chinese pure electric vehicle (PEV) market, Elon Musk suggested that the Chinese EV market can potentially be as big or bigger than the U.S. EV market.
Huge Boom In Car-Rental Market
Along with EV sales, China's car rental sector is also set to boom with potential for rapid development, according to a recent survey conducted by Chinese consulting firm Zero Power Intelligence. The firm predicted that the market needs for rental cars in China will flourish over the next five years, spurred by stricter rules on official car use and the growing popularity of driving licenses.
China Economic Weekly quoted Xiao Jian, a researcher with the consulting company, as saying that the demand for rental cars last year totaled 250,000 rentals and the market size reached US$3.6 billion, a tenfold increase from 2006.
The survey also showed the metropolises of Beijing, Shanghai, Guangzhou and Shenzhen still appear to be major car rental markets, taking 59 percent of the national market.
Xiao forecast the car rental sector to maintain the growth impetus, projecting an annual growth rate of 20 percent to 25 percent and the market size to hit US$8.15 billion by the end of 2018.
Kandi Technologies' primary focus is car-sharing and car-leasing businesses has benefited tremendously from this booming market. Kandi has seen its revenues nearly tripled in Q4, 2013 and again in Q1, 2014. Kandi has been the leader in PEV production in China since the end of 2013. Between January and April this year, Kandi had produced 2,679 PEVs.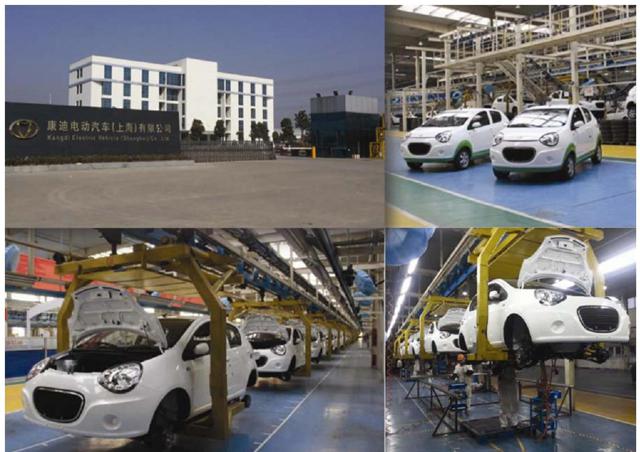 Kandi's Changxing PEV Production Line can output 100,000 cars annually (Source: Kandi)
Conclusion
Economic growth in China over the past decade has put 54% of urban households into the middle class. This has helped drive auto sales in China up almost tenfold, but unfortunately it also has contributed to serious pollution problems in many cities. To reduce pollution problems, China began to promote new energy vehicles. The five-year plans call for 500,000 new energy vehicles on the road by 2015 and 5 million by 2020. By the end of 2013, there are less than 60,000 EVs on the road.
Due to the pressure to meet the target numbers, central government offered subsidies to buyers of new energy vehicles. A number of cities also offer incentives to EV buyers, and at the same time restrict gas-powered vehicle licenses. Local cities also allocate big budgets on electric car-sharing programs, electric taxis and electric buses; and strategically install charging stations. These activities are expected to intensify in the second half of this year well into 2015.
With the big push from the government, electric vehicle sales have begun to increase. In 2013, 17,600 new energy vehicles were sold, a year-over-year increase of 37.9%. Between January to April this year, China has already produced 14,538 new energy vehicles and the annual production is projected to exceed 50,000 for the year, a nearly 300% increase year over year. Kandi, Tesla and BYD are among EV manufacturers to greatly benefit from China's electric car market expansion in the foreseeable future.
Disclosure: I am long KNDI, TSLA. I wrote this article myself, and it expresses my own opinions. I am not receiving compensation for it (other than from Seeking Alpha). I have no business relationship with any company whose stock is mentioned in this article.
Editor's Note: This article discusses one or more securities that do not trade on a major U.S. exchange. Please be aware of the risks associated with these stocks.