It's often easy to overlook shares of the defense contractors because of competing budget priorities in Washington. However, the recent foreign policy issue with Russia has re-ignited interest in the defense group, and we think the industry is generally well-positioned to serve investors seeking dividend expansion. Lockheed Martin (NYSE:LMT), in particular, has a very healthy dividend yield (3.3% at the time of this writing) and a very strong Valuentum Dividend Cushion ratio. Let's take a look at the shares.
Defense Industry Overview
The defense industry is home to a number of large defense contractors - General Dynamics (NYSE:GD), Lockheed Martin, Northrop Grumman (NYSE:NOC), and Raytheon (NYSE:RTN) - that have significant project/intellectual know-how, long-term customer/government ties, and widespread integration expertise that cannot be easily replicated by many smaller contractors. This gives established, large defense contractors a leg up on bidding for new government contracts and optimizing the margin profile for many through cost-cutting and productivity enhancements. Still, competing budget priorities within the overall US budget and within the US defense budget itself will pose both challenges and opportunities for much of the group.
However, long-term cyber-security and national security risks aren't going away, and this will ensure that the group has a steady share of funding in the US and opportunities on the international market for many years to come (and arguably into perpetuity). Though we very much prefer commercial aerospace exposure at this juncture - meaning, on a fundamental basis, we like Boeing (NYSE:BA) the most out of the large defense contractors - we do applaud the healthy balance sheets, and free cash flow characteristics of the large defense contractor constituents. This bodes particularly well for future dividend increases across the industry, even if overall defense spending may be pressured in coming years.
Lockheed Martin's Investment Considerations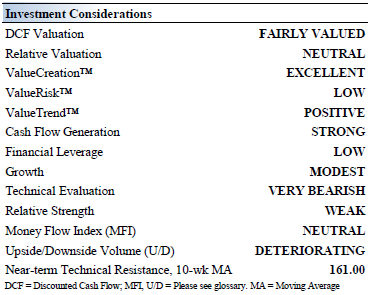 Investment Highlights
Lockheed Martin's business quality (an evaluation of our ValueCreation™ and ValueRisk™ ratings) ranks among the best of the firms in our coverage universe. The firm has been generating economic value for shareholders, with relatively stable operating results for the past few years, a combination we view very positively. We think the company has an Economic Castle.
Lockheed Martin is a global security and aerospace company that is principally engaged in the research, design, development, manufacture, integration, and sustainment of advanced technology systems, products, and services.
Lockheed Martin has an excellent combination of strong free cash flow generation and low financial leverage. We expect the firm's free cash flow margin to average about 10% in coming years. Total debt-to-EBITDA was 1.2 last year, while debt-to-book capitalization stood at 55.6%.
The evolving global security landscape dictates the need for powerful systems like the F-35 Lightning II, Littoral Combat Ship, integrated missile defense, and advanced satellites. Lockheed Martin is well-positioned to meet the needs of governments across the globe.
The firm does business with 70 nations around the world. With a growing international backlog, it is well-positioned to achieve its goal of growing international sales over the next few years to over 20% of revenue.
At the end of 2013, Lockheed's backlog was $82.6 billion, compared with $82.3 billion at the end of 2012. However, net sales faced pressure in the company's first-quarter 2014 results, declining 4% in the period. Orders in 2014 ($41.5-$43 billion) will also come in below the guidance range of its net sales ($44-$45.5 billion) for the year, potentially signaling further revenue declines in 2015.
That said, a focus on cash flow and earnings growth is paramount in assessing Lockheed's shares. The defense giant raised its 2014 outlook for consolidated operating profit, diluted earnings per share, and cash from operations when it reported first-quarter results.
Valuentum's Dividend Growth Report
Please select the image below for our assessment of Lockheed's dividend growth potential.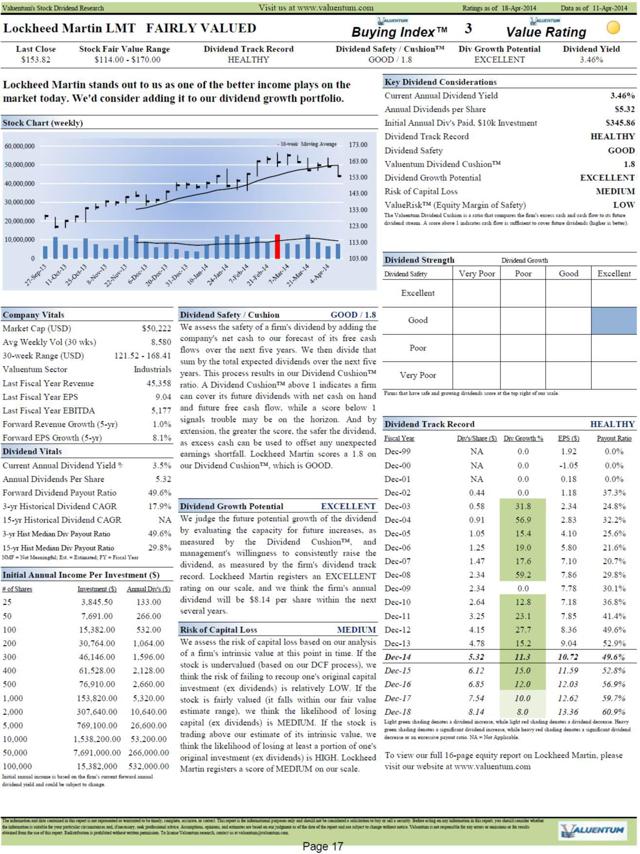 Dividend Safety/Cushion
We assess the safety of a firm's dividend by adding the company's net cash to our forecast of its free cash flows over the next five years. We then divide that sum by the total expected dividends over the next five years. This process results in our Dividend Cushion™ ratio. A Dividend Cushion™ above 1 indicates a firm can cover its future dividends with net cash on hand and future free cash flow, while a score below 1 signals trouble may be on the horizon. And by extension, the greater the score, the safer the dividend, as excess cash can be used to offset any unexpected earnings shortfall. Lockheed Martin scores a 1.8 on our Dividend Cushion™, which is GOOD.
Dividend Growth
We judge the future potential growth of the dividend by evaluating the capacity for future increases, as measured by the Dividend Cushion™, and management's willingness to consistently raise the dividend, as measured by the firm's dividend track record. Lockheed Martin registers an EXCELLENT rating on our scale, and we think the firm's annual dividend will be $8.14 per share within the next several years (please view lower left table in the picture above).
Business Quality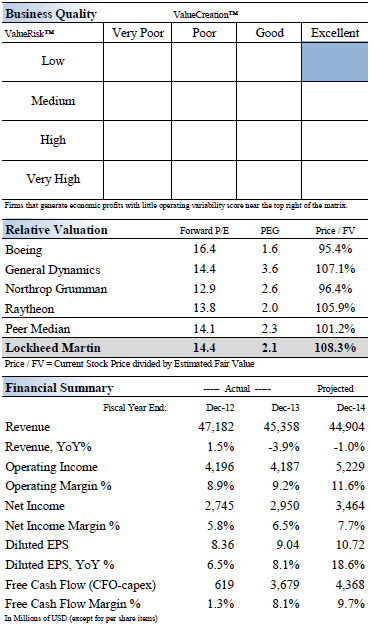 Economic Profit Analysis
The best measure of a firm's ability to create value for shareholders is expressed by comparing its return on invested capital with its weighted average cost of capital. The gap or difference between ROIC and WACC is called the firm's economic profit spread. Lockheed Martin's 3-year historical return on invested capital (without goodwill) is 41.1%, which is above the estimate of its cost of capital of 10.1%. As such, we assign the firm a ValueCreation™ rating of EXCELLENT. In the chart below, we show the probable path of ROIC in the years ahead, based on the estimated volatility of key drivers behind the measure. The solid grey line reflects the most likely outcome, in our opinion, and represents the scenario that results in our fair value estimate.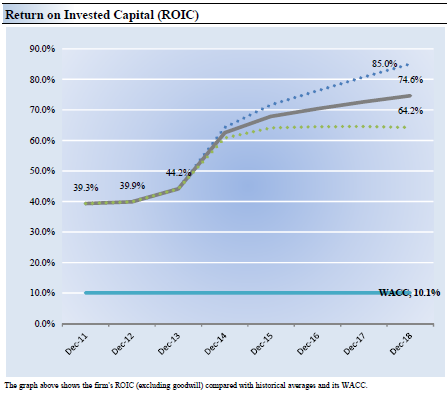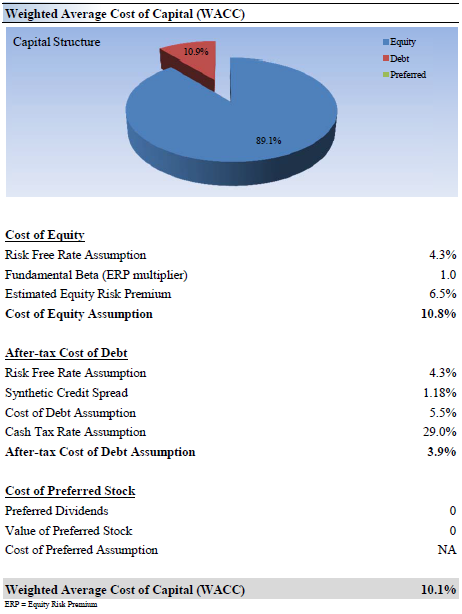 Cash Flow Analysis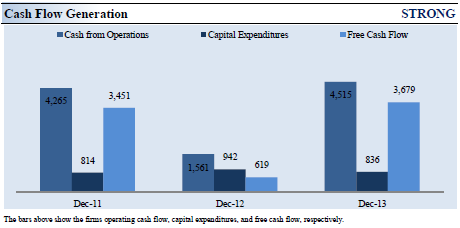 Firms that generate a free cash flow margin (free cash flow divided by total revenue) above 5% are usually considered cash cows. Lockheed Martin's free cash flow margin has averaged about 5.6% during the past 3 years. As such, we think the firm's cash flow generation is relatively STRONG. The free cash flow measure shown above is derived by taking cash flow from operations less capital expenditures, and differs from enterprise free cash flow (FCFF), which we use in deriving our fair value estimate for the company. For more information on the differences between these two measures, please visit our website at Valuentum.com. At Lockheed Martin, cash flow from operations increased about 6% from levels registered two years ago, while capital expenditures expanded about 3% over the same time period.
Valuation Analysis
Our discounted cash flow model indicates that Lockheed Martin's shares are worth between $114-$170 each. Shares are trading at $164 each at the time of this writing. On the basis of the fair value range, we're not expecting much more pricing upside. However, that doesn't mean shares aren't a fantastic dividend growth idea. The margin of safety around our fair value estimate is driven by the firm's LOW ValueRisk™ rating, which is derived from the historical volatility of key valuation drivers.
The estimated fair value of $142 per share represents a price-to-earnings (P/E) ratio of about 15.7 times last year's earnings and an implied EV/EBITDA multiple of about 11.7 times last year's EBITDA. Our model reflects a compound annual revenue growth rate of 1% during the next five years, a pace that is higher than the firm's 3-year historical compound annual growth rate of -0.3%. Our model reflects a 5-year projected average operating margin of 12.5%, which is above Lockheed Martin's trailing 3-year average. We think revenue will face pressure in the near term, but the company's lofty backlog will continue to provide support. Ongoing efficiency improvements and cost-cutting efforts will drive profit margin enhancement over the five-year discrete forecast period.
Beyond year 5, we assume free cash flow will grow at an annual rate of 2.3% for the next 15 years, and 3% in perpetuity. For Lockheed Martin, we use a 10.1% weighted average cost of capital to discount future free cash flows. We think both of these measures are appropriate for a company of Lockheed's size.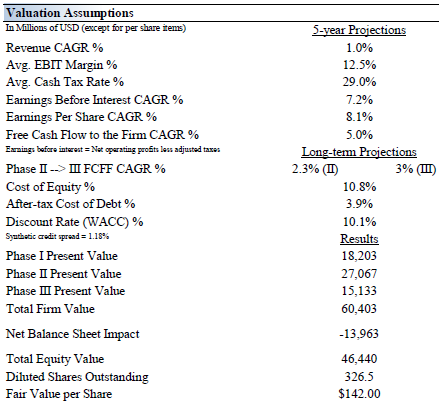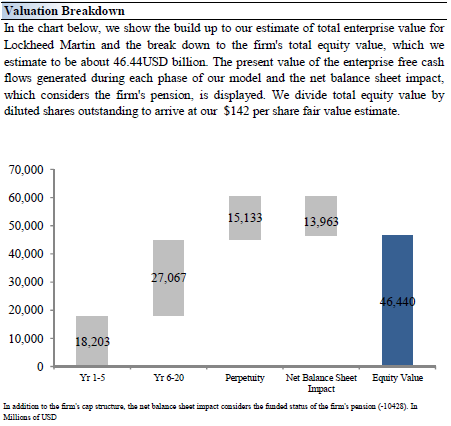 We understand the critical importance of assessing firms on a relative value basis, versus both their industry and peers. Many institutional money managers -- those that drive stock prices -- pay attention to a company's price-to-earnings ratio and price-earnings-to-growth ratio in making buy/sell decisions. With this in mind, we have included a forward-looking relative value assessment in our process to further augment our rigorous discounted cash flow process. If a company is undervalued on both a price-to-earnings ratio and a price-earnings-to-growth ratio versus industry peers, we would consider the firm to be attractive from a relative value standpoint. For relative valuation purposes, we compare Lockheed Martin to peers Boeing and General Dynamics, among others.

Margin of Safety Analysis
Our discounted cash flow process values each firm on the basis of the present value of all future free cash flows. Although we estimate the firm's fair value at about $142 per share, every company has a range of probable fair values that's created by the uncertainty of key valuation drivers (like future revenue or earnings, for example). After all, if the future was known with certainty, we wouldn't see much volatility in the markets, as stocks would trade precisely at their known fair values. Our ValueRisk™ rating sets the margin of safety, or the fair value range we assign to each stock. In the graph below, we show this probable range of fair values for Lockheed Martin. We think the firm is attractive below $114 per share (the green line), but quite expensive above $170 per share (the red line). The prices that fall along the yellow line, which includes our fair value estimate, represent a reasonable valuation for the firm, in our opinion.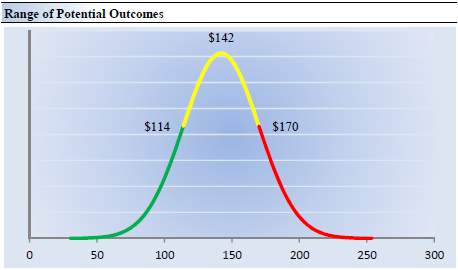 Future Path of Fair Value
We estimate Lockheed Martin's fair value at this point in time to be about $142 per share. As time passes, however, companies generate cash flow and pay out cash to shareholders in the form of dividends. The chart below compares the firm's current share price with the path of Lockheed Martin's expected equity value per share over the next three years, assuming our long-term projections prove accurate. The range between the resulting downside fair value and upside fair value in Year 3 represents our best estimate of the value of the firm's shares three years hence. This range of potential outcomes is also subject to change over time, should our views on the firm's future cash flow potential change. The expected fair value of $176 per share in Year 3 represents our existing fair value per share of $142 increased at an annual rate of the firm's cost of equity less its dividend yield. The upside and downside ranges are derived in the same way, but from the upper and lower bounds of our fair value estimate range.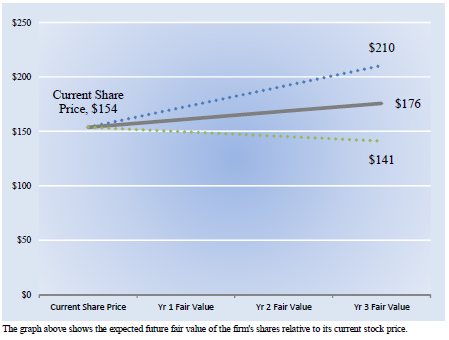 Pro Forma Financial Statements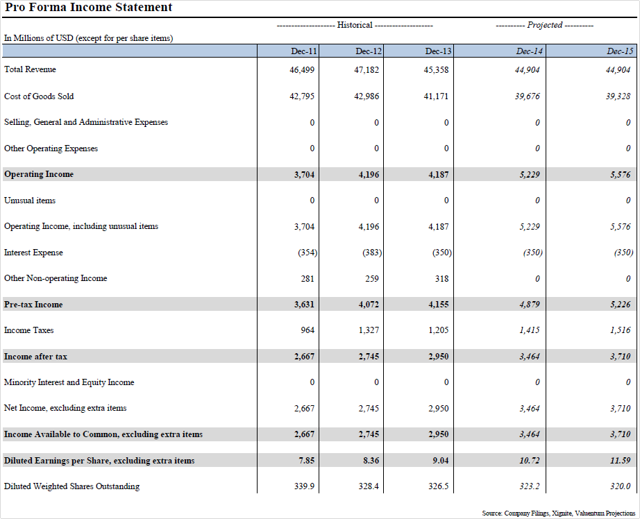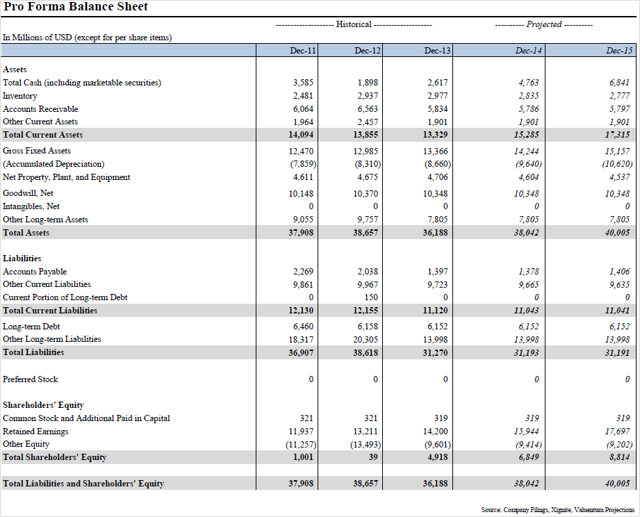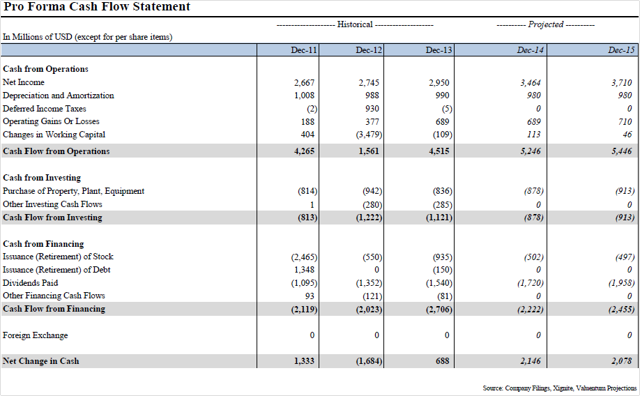 Disclosure: I have no positions in any stocks mentioned, and no plans to initiate any positions within the next 72 hours. I wrote this article myself, and it expresses my own opinions. I am not receiving compensation for it (other than from Seeking Alpha). I have no business relationship with any company whose stock is mentioned in this article.