The market had a great day today and volume was better than last week. Advancers outpaced decliners by 5 to 1 as the indices rallied from the open. Technology was the big winner today and the Nasdaq has been a leader in this latest rally. The Nasdaq did not make a higher high in August when most other indices did - a big red flag which turned out to be a sell-signal. Strength in the Nasdaq is important for any upward trend.
Oil is another area that needed to show strength today. Although oil outpaced the market, it peaked in the morning and finished well of the highs. Small caps and financials also had great sessions and I will be watching both closely tomorrow to see if that trend continues. Financial stocks got a bounce from capital reform in Europe, which continued in the U.S. indices this morning. Bank investors initially celebrated the new requirements posed by the international banking regulators.
Since the break past 1085, we have been waiting to see if SPX could take back 1115. Today the index opened above 1115 and stayed above that price all day. The next target is 1175 as long as SPX closes above 1115 tomorrow. The indices are overheated, but we recommend holding onto longs as long as 1085 holds. New positions can be added on low volume weakness.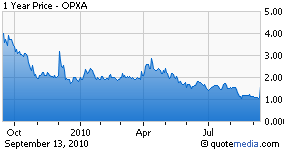 The Chart of the Day
Opexa (NASDAQ:OPXA) moved 41% higher.
The stock has been covered in the past and it is no stranger to large moves. Very often the large moves occur on high volume and are part of a sequence of gains that eventually result in new lower lows. Today is yet another high volume positive close that looks like it will get follow through buying this week. The $1.70 was mentioned as support that needed to hold in the past, which is now acting as resistance. A close above that price should result in another test of $2 long-term resistance. A close above $2 resistance makes for a sharp move back to $2.75. A failure to do any of the aforementioned this week will result in, you guessed it, lower lows. Maybe this time is different, but that is a dangerous stance. I am a volume follower, and I think the stock has additional upside soon.
Watch List
Our watch list was higher today.
Leading the way higher was Pharmacyclics (NASDAQ:PCYC) and Spreadtrum (NASDAQ:SPRD).

Disclosure: None