Monday saw another gap-up followed by dip-buyers showing up to lead us toward a strong close. Volume was decent for this seasonal slow time with this making four straight positive closes in the S&P 500 and eight out of nine positive closes during this rally.

Technically speaking, we are overbought but don't tell that to the bulls right now as the momentum is impressive. The problem I see is nobody fears the downside anymore and that tells me we could be nearing a top. However, if retail numbers meet or beat expectations Tuesday morning, we could see another strong gap-up and even more bullish behavior while ignoring any other economic fears.
click to enlarge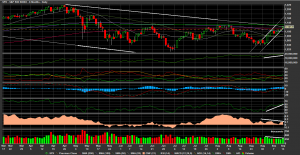 Expectations are low therefore you must expect that some reports will beat expectations but, that is not to say we have a strong economy in the least bit. I believe Doug Kass was the first to identify this trading range trend for the year and if the trend is still intact, we should be accumulating shorts and leaving our long positions about now. The highs of the trading rage are a stone throw away at 1131 in the S&P 500, established in June. A pullback would actually be healthy for the charts and if retail numbers do not at least meet expectations, I would be shocked to see us avoid a sell-off as longs rush to the exits to lock in profits from the rally.
At these levels, I find it hard to add to my long position nearing the trading range highs of the year. Do we trust another V-shaped bounce? It is never safe to bet on a V-shaped bounce but, that doesn't mean it won't continue to happen. I would be wary to start any new long positions this far up in the rally without a well thought-out exit strategy. If we can break the highs of June, we would officially be in an uptrending market that is out of the trading range and that is very bullish obviously. Until then, I'd rather wait to see if we can break it before I add more longs outside of some quick trades.
Due to the fearless move by the bulls over the past two weeks, I am concerned a strong sell-off can happen if an economic report suggests weakness making fear enter the market once again. Had we consolidated and moved up over a longer period of time, I'd be less concerned but, the straight move up has me concerned of an even faster move down. Keep in mind the market will always be able to fall faster than it can move up so be sure to take profits when you can and honor your stop-losses if they are hit. I'm not necessarily pointing to a crash here but, I'm respecting the trend that has worked well this year. If the trend does stay intact, we can look for about a 7% correction before we want to go long again.
One trade I am eying despite being so close to the highs of the trading range is an FDA trade. Tuesday is likely to find me entering the Orexigen Therapeutics (NASDAQ:OREX) FDA trade. Arena Pharmaceuticals (NASDAQ:ARNA) has the advisory board meeting on Thursday with the documents for the meeting being released Tuesday. The bearish tone of these documents is expected and typically puts pressure on the stock. Using the trend from the Vivus, Inc (NASDAQ:VVUS) trade, we can expect the document release to pressure OREX as well even though negative news for ARNA is actually quite bullish for OREX. Remember, the market is not always logical. The VVUS trade indicates OREX is likely to see a little pressure but it shouldn't be as significant as ARNA. Basically, OREX should only pullback a portion of the pullback ARNA has. The trade will be to look for that weakness and enter OREX before the FDA meeting where we can trade around a core position and if all goes well, continually trim profits during the meeting.
The very risky trade is to hold OREX into the advisory meeting conclusion for ARNA. If ARNA receives a negative review, that would technically be bullish for OREX. OREX has not had their meeting yet and would have a leg-up on the competition if they were to get approved while the others do not until more studies. However, when VVUS received the negative review, OREX and ARNA fell with it so, I will look for the same to happen if we see a strong PPS increase during the meeting. This move is likely attributed to short-term traders exiting and shorts pressing but with a short position of around 25%, a squeeze would see prices move very high making a smaller position built around profits a tempting trade to hold into the conclusion of the meeting.
As always, do your own homework to see if you agree.
Disclosure: No positions in mentioned stocks