Are long-term bonds, especially the 10-year Treasury, in a bubble?
There have been a number of articles and talk of a bond bubble -- meaning that the current yield on long-term government bonds is unsustainably low and so the price of these bonds is too high. For example, Jeremy Siegel wrote, "The Great American Bond Bubble."
(Skip this next paragraph if you know how bond pricing works.)
A bond bubble is not like a stock or real estate bubble. If you buy a 10-year Treasury today, it will lose value if yields rise, but you will be guaranteed to get your principal back along with interest payments. For example, if you were to buy a $1,000 in 10 years today that yield 2.75%, you would be guaranteed to get your $1,000 back plus $27.50 per year in interest. It's risk free from the standpoint of returning your principal plus interest at a guaranteed rate. But it's not completely risk free, since if interest rates rise, the value of the bond falls. Let's say yields rise back to 3.9%, where they were just a few months ago in April; the value of your $1,000 bond will fall to about $905. While you will still get your guaranteed payments and principal back at the end of 10 years, if you wanted to sell your bond today, you would take a loss of about 10%. Alternatively, you gave up the opportunity to receive interest of $39 per year rather than your guaranteed $27.50.
What's the evidence of a bubble? First, as the chart below shows, yields have rarely fallen below 4%.
click to enlarge image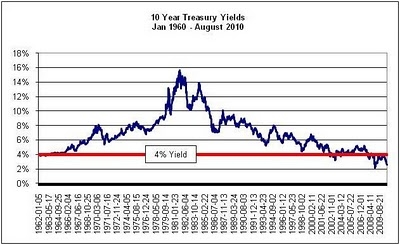 Second, the spread between the 10 year and 30 year is unusually high. As of this writing (9/13/2010) the 10 year was yielding 2.75% and the 30 year 3.85% for a difference of more than 100 basis points, compared to an average of 20bp since 1977 (as far back as Treasury has weekly data available). This is the biggest spread ever in absolute terms and, given that historically the largest absolute spreads have been when rates were much higher, astronomical in relative terms.
This is not like a new high for the stock market. Since stock prices are driven by earnings, which should grow over time, we should expect them to keep increasing. In fact, stock prices can grow forever, yields cannot fall below zero. Treasury rates are usually comprised of real interest rates plus expected inflation. If you assume that the long-term real interest rate is 2%, a 2.75% rate on the 10-year implies average inflation of on 0.75% over the next 10 years. Does that seem reasonable? Not to me.
Not only does this appear to be a bond bubble, but it might be an inverse bubble, meaning that equities are undervalued. My Risk Premium Valuation Model (read the paper here), shows a relationship between stock prices and bonds that has endured for the past 50 years. When this relationship is violated, it usually means a bubble has formed. I have written about how the 1987 crash was a bubble caused by rising interest rates (see here along with other examples on my blog and the paper). In 1987, interest rates on the 10-year rose, creating a disparity between predicted and actual values of the stock market which was corrected by the crash.
Today we have the opposite happening. Interest rates have fallen to the point where the RFP model would predict that the S&P 500 should be more than double its current value of 1,035. Other than the possibility that the model is wrong, this leaves us with three possibilities at the extreme.
Bonds are valued fairly and we are heading into a catastrophic double dip recession and earnings on the S&P will fall by 50%
Bonds are in a bubble and rates should be much higher
Equities are undervalued
In order to keep the model in parity, and assuming that earnings do not get hit, the fair value yield on the 10-year Treasury is about 5%, which would cause the value of a 10-year bought today to drop 20%. For my best guess, I think the truth lies somewhere between #2 and #3 and we will see the S&P Index rise and bonds fall.
Disclosure: Author is long SPX, short Treasuries