Energy Transfer Partners, L.P. (NYSE:ETP) is a Dallas-based master limited partnership that owns and operates around 35,000 miles of natural gas and natural gas liquids pipelines. Energy Transfer Partners also has a 70% interest in Lone Star NGL LLC, which holds and has a 100% interest in ETP Holdco Corporation which owns Southern Union Company and Sunoco, Inc.
Energy Transfer Partners is an interesting bet on a booming domestic energy industry and an alternative to other large-cap master limited partnerships in the midstream business. High-yield income plays such as Energy Transfer Partners offer investors high, recurring distributions, exposure to the booming natural gas business and crucial diversification benefits.
With a concentration of energy infrastructure assets in the South of the United States, Energy Transfer Partners is greatly positioned to benefit from production growth in the Eagle Ford shale play. An asset map depicting Energy Transfer Partners' operational footprint is provided below:
click to enlarge)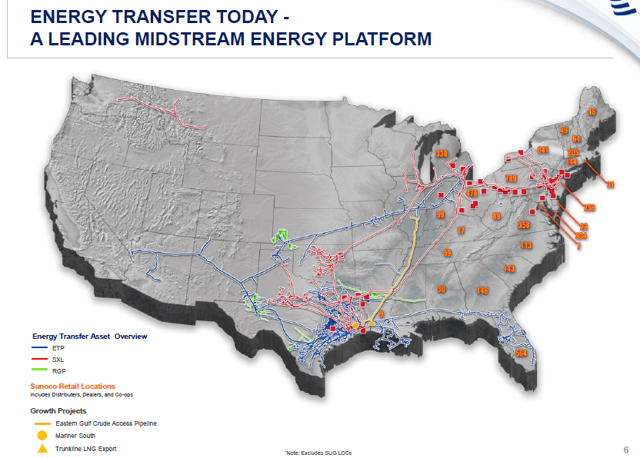 Click to enlarge
(Source: Energy Transfer Partners Analyst Day Presentation)
Convincing financial results
Energy Transfer Partners' past capital expenditures are paying big dividends for investors and unitholders.
For the first quarter of 2014, Energy Transfer Partners reported an increase in operating revenues of 13% to $12.2 billion compared to last year's $10.9 billion while its operating income grew even faster at 29% to $688 million -- Energy Transfer Partners reported an operating income of $534 million for the first quarter of 2013. Income from continuing operations increased 16% to $467 million vs. $402 million in the year ago quarter and net income per diluted common unit jumped 21% to $0.76 compared to $0.63 in the year ago quarter.
Energy Transfer Partners' distributable cash flow also increased markedly over the course of last year and is an indication of smart capital allocation in the prior years. Distributable cash flow to partners grew 67% to $629 million vs. $376 million in the first quarter of 2013. With a total distribution coverage ratio of 1.36x, distributions were more than handsomely covered.
ETP units have done well for unitholders
Energy Transfer Partners' units have performed well over the last twelve months and appreciated 15%. For comparison purposes: Enbridge Inc. (NYSE:ENB) gained 10%, DCP Midstream Partners L.P. (NYSE:DPM) 13% and Enterprise Products Partners L.P. (NYSE:EPD) more than 27%. Kinder Morgan, Inc. (NYSE:KMI) actually performed the worst over the last year with units losing 12% of their value.
click to enlarge)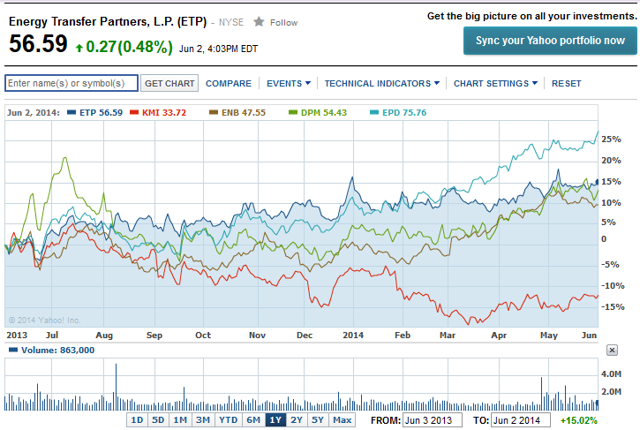 Click to enlarge
(Source: Yahoo Finance)
Distribution yield comparison
Energy Transfer Partners currently pays unitholders a quarterly distribution of $0.935 per unit which translates into annual distributions of $3.74 per unit and an annualized forward distribution yield of 6.61%.
Compared against other pipeline businesses with substantial distributable cash flow generation, Energy Transfer Partners actually ranks as the highest yielding energy business in the peer group below.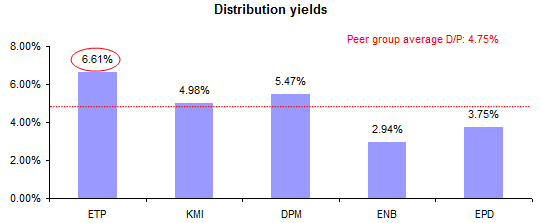 (Source: Achilles Research, Finviz.com)
Conclusion
Energy Transfer Partners has presented strong first quarter results and units of the master limited partnership have reflected the substantial increase in distributable cash flow growth. Purchasing Energy Transfer Partners, investors get access to an attractive distribution stream that is likely to grow further in the coming years.
Energy Transfer Partners' complex $1.8 billion acquisition of 100% of Susser Holdings Corp., which has an extensive retail operations footprint in the Southwest, is likely to deliver annual synergies of over $70 million a year or more. With accretive acquisitions and an operational focus on the highly promising Eagle Ford Shale, Energy Transfer Partners' distributions could experience serious tailwinds in the years to come. Long-term Buy.
Disclosure: I have no positions in any stocks mentioned, and no plans to initiate any positions within the next 72 hours. I wrote this article myself, and it expresses my own opinions. I am not receiving compensation for it (other than from Seeking Alpha). I have no business relationship with any company whose stock is mentioned in this article.