JPMorgan Chase & Co. (NYSE:JPM) stock has underperformed the market in the last years; since the beginning of the year, JPM's stock has lost 5.4% while the S&P 500 index has risen 4.1%, and the Nasdaq Composite Index has risen 1.5%. Moreover, since the start of 2013, JPM's stock has returned 25.9% while the S&P 500 index has risen 35.0%, and the Nasdaq Composite Index has risen 40.3%. Nevertheless, JPM's stock is an excellent combination of good value and solid growth dividend stock, and in this article, I will explain why, in my opinion, JPMorgan stock is a promising long-term investment.
Company Profile
JPMorgan Chase is one of world's leading investment banks. The company operates a leading global corporate and investment bank and is the second-largest mortgage originator in the United States. JPMorgan Chase also operates a large retail banking network and is a leading credit card issuer. The company was founded in 1799 and is headquartered in New York, New York.
Valuation Metrics
The table below presents the valuation metrics of JPM, the data were taken from Yahoo Finance and finviz.com.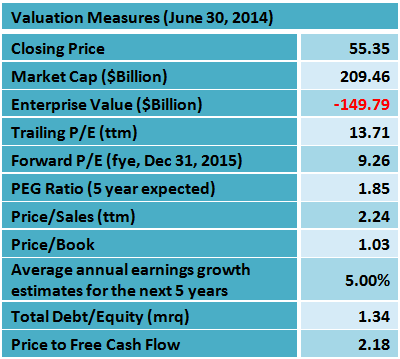 JPMorgan's valuation metrics are good; the trailing P/E is low at 13.71, and the forward P/E is very low at 9.26. The price-to-free-cash-flow is very low at 2.18, and the stock is trading near book value; price-to-book is at 1.03.
Latest Quarter Results
On April 11, JPMorgan reported its first-quarter 2014 financial results, which missed EPS expectations by $0.12 (8.60%) and missed Street's consensus on revenues. The company reported net income for the first quarter of 2014 of $5.3 billion, compared with net income of $6.5 billion in the first quarter of 2013. Earnings per share were $1.28, compared with $1.59 in the first quarter of 2013. Revenue for the quarter was $23.9 billion, down 8% compared with the prior year. The firm's return on tangible common equity for the first quarter of 2014 was 13%, compared with 17% in the prior year.
In the report, Jamie Dimon, Chairman and Chief Executive Officer, commented on the financial results:
JPMorgan Chase had a good start to the year, given there were industry-wide headwinds in Markets and Mortgage. Consumer & Community Banking deposit growth and card sales volume both remain above the industry average, and we have made significant progress in Business Banking originations - up 22%. The Corporate & Investment Bank was #1 in Global IB fees, with #1 positions in global debt and equity, global syndicated loans and global long-term debt. Gross investment banking revenue with Commercial Banking clients was up 31%. Asset Management had its twentieth consecutive quarter of positive net long-term client flows and had record loan balances, up 20%.
Dividend and Share Repurchase
JPMorgan had cut its dividend payment in the years 2009, 2010, as a result, of the 2008-2009 global financial crisis, but had started to increase its dividend payment again in 2011. The forward annual dividend yield is at 2.89%, and the payout ratio is only 36%. The annual rate of dividend growth over the past three years was very high at 89.5%, and over the past five years was negative at -2.2%.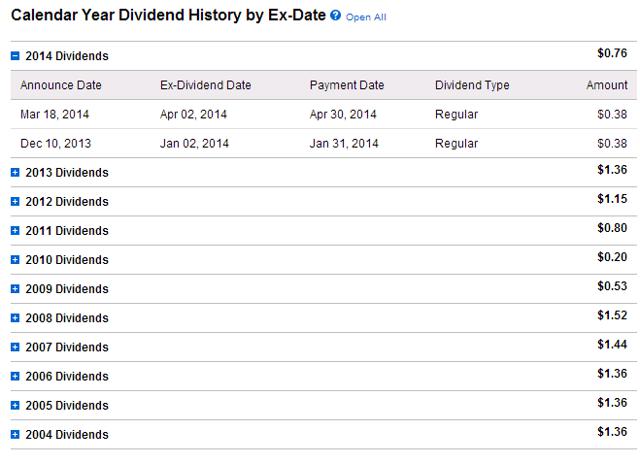 Click to enlarge
Source: Charles Schwab
On May 20, The Board of Directors of JPMorgan Chase declared a quarterly dividend of 40 cents per share on the outstanding shares of JPMorgan Chase's common stock. The dividend is payable on July 31, 2014, to stockholders of record at the close of business on July 3, 2014. This is an increase of 5.3% from the previous dividend of $0.38 per share.
On April 11, the Board also authorized the firm to repurchase $6.5 billion of common equity commencing within the second quarter of this year through the end of the first quarter of 2015. During the first quarter of 2014, the firm repurchased $0.4 billion of common equity. The Federal Reserve Board informed the firm that it does not object to the firm's proposed 2014 capital distribution plan.
Competitors
A comparison of key fundamental data between JPMorgan and its main competitors is shown in the table below.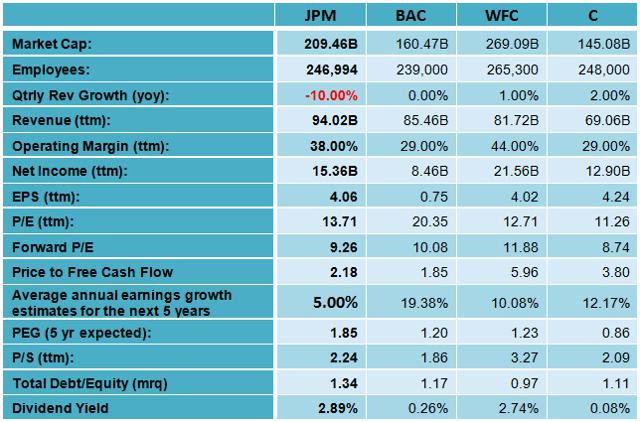 Click to enlarge
JPMorgan has the highest dividend yield among the stocks in the group, but it also has the highest debt to equity and the highest PEG ratio.
Ranking
According to Portfolio123's "All-Stars: Graham" powerful ranking system JPM's stock is ranked second among all S&P 500 stocks, and ranked first among all S&P 500 stocks that pay a dividend with more than 1% yield (Zions Bancorporation (NASDAQ:ZION) is ranked first, but its dividend yield is only 0.55%).
The "All-Stars: Graham" ranking system is based on investing principles of the well-known investor Ben Graham. Back-testing has proved that this ranking system is very useful.
Technical Analysis
The chart below gives some technical analysis information.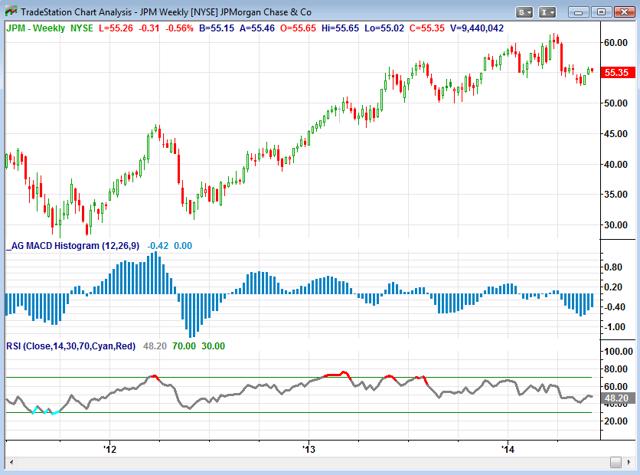 Click to enlarge
Chart: TradeStation Group, Inc.
The weekly MACD histogram, a particularly valuable indicator by technicians, is negative at 0.42 and ascending, which is a bullish signal (a rising MACD histogram that is crossing the zero line from below is considered an extremely bullish signal). The RSI oscillator is at 48.20 which do not indicate oversold or overbought conditions.
Analysts' Opinion
Analysts' opinion is divided but most of them recommend the stock. Among the thirty-one analysts covering the stock, eleven rate it as a strong buy, fourteen rate it as a buy, five rate it as a hold, and one analyst rates it as an underperform.
TipRanks is a website that ranks experts (analysts and bloggers) according to their performance. According to TipRanks, among the analysts covering JPM stock there are only six analysts who have the four or five star rating, five of them recommend the stock. On May 12, Jefferies analyst Ken Usdin maintained a Buy rating on JPMorgan Chase with a price target lowered to $65 from a previous $68.
Major Developments
JPMorgan Chase's largest segment, Consumer & Community Banking, net revenue had recorded 10% decline during 1Q14, compared with the prior year, due to spread compression in Credit Card, Auto and Consumer & Business Banking, and by lower mortgage warehouse balances, largely offset by higher deposit balances. Net income recorded 25% decline during the quarter, due to lower net revenue and higher provision for credit losses. However, for the second sequential quarter interest margin rose to 2.66%, the first such increase in the net interest margin in years. In my opinion, since interest rise is imminent, JPM will benefit from even higher interest margin. Another positive point is the decrease in consumer credit delinquency, as shown in the company's chart below.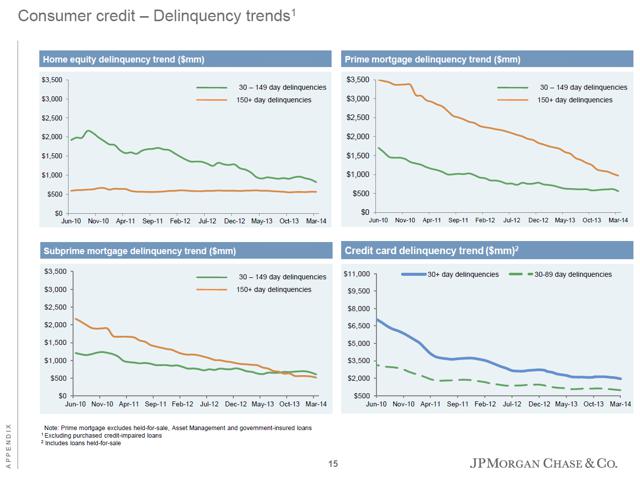 Click to enlarge
Source: 1Q14 Earnings Presentation
Conclusion
JPMorgan will continue to benefit from the improvement in the economy. According to the company, they have growing confidence in the economy - consumers; corporations and middle market companies are in increasingly good financial shape, and housing has turned the corner in most markets - and they are doing their part to support the recovery. JPMorgan Chase provided credit and raised capital of over $450 billion for their clients during the first quarter of 2014, which included $5 billion for U.S. small businesses.
JPMorgan has compelling valuation metrics and good earnings growth prospects; its forward P/E is very low at 9.26, and the stock is trading near book value; price-to-book is at 1.03. JPMorgan is generating much cash, and its ttm price to free cash flow of 2.18 is extremely low, and it returns value to its shareholders by stock buyback and by increasing dividend payments. Moreover, JPM is ranked first among all S&P 500 stocks that pay a dividend with more than 1% yield, according to "All-Stars: Graham" powerful ranking system. All these factors bring me to the conclusion that JPM stock is a smart long-term investment. Furthermore, the rich growing dividend represents a gratifying income.
Disclosure: I have no positions in any stocks mentioned, and no plans to initiate any positions within the next 72 hours. I wrote this article myself, and it expresses my own opinions. I am not receiving compensation for it (other than from Seeking Alpha). I have no business relationship with any company whose stock is mentioned in this article.