Back when Apple (NASDAQ:AAPL) was trading at $417, in April of last year, I wrote Apple: Awaiting Period 3 Chaos in which I argued that Apple's cash hoarding was justified. Noting that the cash hoarding had roots in Steve Jobs beliefs that it provided "security and flexibility" when market uncertainties eventually showed up, I said it was vital for the longevity of the company. In fact, keeping that mountain of cash has provided a buffer for this last 2 years of rather unimpressive product launches. Apple went from being seen as a growth tech stock to being seen as a value stock. We also offered that the stock could be bought there, having bounced off a few important technical levels.
Fast forward to now, and Apple has made its way up to $629 per share. I still believe it is a value in the longer term, while you may see a near-term pullback to $585, coinciding with the stock split.
Products
There is not really anything major to talk about here yet. Apple has been tweaking existing products for some time. Today (6/2/14) it announced iOS 8 which has some cool features, but nothing amazing. It talked about Yosemite, its new operating system, and about the synchronicity among devices. But there is nothing that will really drive growth here.
Apple has become a company that relies upon upgrades and expanding its reach into new markets to increase its top and bottom lines. Apple could probably continue to do that and just "settle" but I'd guess that eventually Tim Cook would get fired by the board. Rather, I think (and so do most investors) that Apple should focus more on growth, whether it is organic or purchased. They will, but it's this delay that is frustrating.
Being a high margin, value tech company with moderate top and bottom line growth is probably enough to account for the current stock valuation. However, I believe this last push into the $600s is related to investor expectations about new product announcements in the latter half of this year. If that product (or products) does not materialize, you'll see more sideways action like the 6 months prior to the May gap up.
Value
The current multiple in Apple represents its "value stock" status. Its current P/E is 15.13 and its forward P/E is 13.21. Based off five-year EPS growth expectations of 15.19%, it has a PEG of 1 which represents a reasonable valuation.
But 15% expected growth per year is low compared to EPS growth the past five years of 42.40%. If Apple could put forth a new product, it would cause growth predictions to increase, and it would also be cause for the multiple to rise. For instance, suppose analysts increased projected five-year EPS growth to 20% because of a new product launch. You could see the market assign a P/E closer to 20. With average projected EPS next year at 47.92, and at a P/E of 20 that translates to a stock price of $958.
So while it is valued fair for present growth, it could see significant appreciation if the company ever releases a new product. I believe they will. It's been a frustrating wait, but Tim Cook can't be so risk averse that he doesn't have Apple working on new products.
In the meanwhile, Apple continues to keep high margins, low debts, and high cash, which are all positive and help its "value company" status.
Chart
Following May, it has not retested the gap, but it still could. However, I would expect to see some support at $610 and even more at $585.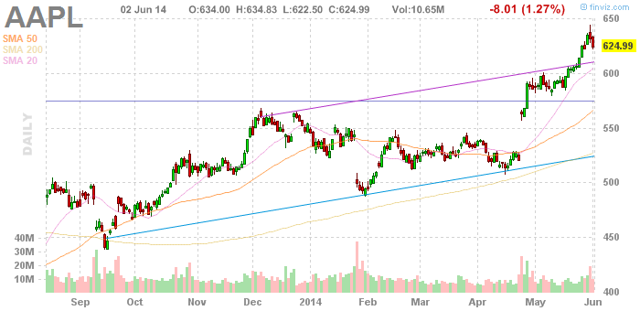 Testing these levels might occur following the stock split. Splits tend to result in some selling. Statistically you often see a good rise the month before the split (as we have seen in Apple stock), and then you tend to see some selling in the two or three months after the split, before seeing outperformance for the cumulative three years following the split.
Essentially long-term investors should just pay attention to the three-year outperformance statistic. However, some of you may have shorter time frames and may try to time your purchase.
The Play
Long-term investors can probably feel comfortable buying here or better yet, over the course of the next three months. Even if the company does not develop or purchase new products, it still has value. If it release the new product(s) that many think it will at year end, it could be significantly higher in 12 months.
For you options traders, implied volatility is pretty cheap here compared to the last 12 months, so maybe look into buying calls after the stock splits. Or perhaps look into a directional butterfly, like a July $630/660/690 call butterfly. It'll cost around $600 and has a max profit of $3,000 (however your goal should be to exit if it gains $400).
Disclaimer: We do not know your personal financial situation, so the information contained in this article represents an opinion, and should not be construed as personalized investment advice. Past performance is no guarantee of future results. Do your own research on individual issues.
Disclosure: I have no positions in any stocks mentioned, and no plans to initiate any positions within the next 72 hours. I wrote this article myself, and it expresses my own opinions. I am not receiving compensation for it (other than from Seeking Alpha). I have no business relationship with any company whose stock is mentioned in this article.