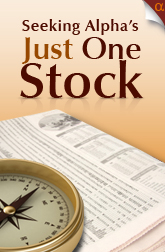 Several times a week, Seeking Alpha's Jason Aycock asks money managers about their single highest-conviction position - what they would own (or short) if they could choose just one stock or ETF.
---
[Editor's note: This interview has been updated to note that the company's equity portfolio is over 90% hedged as of the most recent quarterly figures.]
Tim Ayles is an RIA and chief investment officer of Napa Wealth Management, based in Napa, Calif. He founded Creative Investment Research Group, training commodity traders across the U.S.
If you could only hold one stock position in your portfolio (long or short), what would it be?
I would have to say it is the company run by the "Warren Buffett of Canada," Prem Watsa: Fairfax Financial Holdings (OTCPK:FRFHF). Ninety-nine percent of his own personal wealth is invested in Fairfax. He puts his money where his mouth is.
Tell us more about the company behind the stock.
They are a Canadian insurance company with a market cap of over $9 billion, of which 15% is made up of cash. The company specializes in property and casualty insurance as well as reinsurance and investment management. It has businesses throughout the world, but operates primarily in the United States, Canada, the United Kingdom, France, Mexico, Singapore, Hong Kong, Ireland and Poland.
As many investors are aware, Warren Buffett has called insurance one of the best businesses in the world, because he can use the "premium float" to buy businesses that produce cash. That float is like getting "free" cash to invest until it turns into a liability for insurance claims. Fairfax is run by Prem Watsa, whose investing track record is quietly rivaling that of Warren Buffett. Investing in this company is more like investing in the person making the decisions, in the same way that investing in Berkshire Hathaway (NYSE:BRK.A) is often seen as buying Buffett.
They have a stated objective to increase book value at 15% per year. While over the past decade they have fallen short at only 9% annually (compared to a 1% annual decline for the S&P 500), since inception book value has gone up 26% per year. During the 2008/2009 crisis, they increased book value 61%. The company is A-rated by A.M. Best. The investment portfolio is over $20 billion and generates $800 million in interest and dividends each year. That is a 10% gross revenue generator on the market cap alone, and we haven't even started talking about the profitable underwriting business. The stock portfolio is also hedged around 90%-plus, up from just 30% a few quarters ago.
How does your choice of Fairfax reflect your fund's investment approach?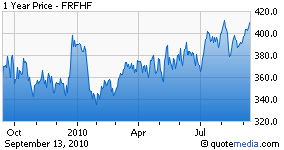 We own Fairfax in our long/short hedge fund, MA Capital, LP. The fund runs a simple strategy that buys the top holdings of eight selected managers that we consider value gurus. We then short the overall market by shorting the S&P 500 from 50-100% of our long exposure based on our timing model. The idea is that as long as the greatest value investors' top ideas continue to outperform the market whether the market goes up or down, we can make our clients money. If the overall market drops 30% and the top picks by the value gurus only go down by 20%, we make money. We are betting the best investors' best ideas should continue to outperform the general market.
Fairfax is one of the stocks owned by a value guru. That said, I have also owned this stock in client accounts at our asset management firm and in my own personal account, as the underlying fundamental research we run - as well as the pedigree of the chief decision-maker - shows this stock to be grossly mis-priced on the low side.
Can you tell us a little about the sector? How much is your selection based on the insurance industry, as opposed to a pure bottom-up pick?
As Fairfax states in their annual report, "property and casualty insurance companies can be cash flow machines when disciplined underwriting is combined with excellent long-term investing." The problem in recent years is many insurance companies were willing to take any business they could get their hands on, whether it was a profitable business or not. It was the same as the bank handing out mortgages to anyone who could fog a mirror.
This has the effect of squeezing margins and creating soft pricing industrywide. The net effect is insurance companies were getting paid less to take larger risks; not a good formula. The shakeout in 2008 seems to have turned the cycle to stronger margins going forward. We put about 50% weight on each of the industry and the company. While we would own Fairfax in any environment based on its merits alone, it's an even stronger case now that a cycle of higher margins might be starting to take hold.
How is Fairfax positioned with regard to competitors?
Insurance can be a commodity product, where consumers buy based on price alone. Fairfax is willing to say no to business and lose market share, rather than underwrite business that will turn into losses. This characteristic alone puts it into a select few precious companies.
The real reason one wants to own this company is not the insurance side of the business, but for the investor, Prem Watsa. The insurance businesses are just a means to getting that float cash into the master investor's hands, where he can attempt to continue compounding the value of the company at absurd rates. That brilliance of the "investor" is a competitive edge Berkshire, Markel (NYSE:MKL), W.R. Berkley (NYSE:WRB) and few others have.
How does Fairfax's valuation compare to its competitors?
Book value is the way to measure the value of an insurance company. It is the company's investments and assets minus the liabilities and debts.
I call it the liquidation value of the company. Fairfax trades at about 1.07 times book. Based on this metric alone, the stock is more expensive than, say, a MetLife (NYSE:MET) [at 0.86 times book], but it's justified by the fact it is growing book value over 20% a year, when MET is growing much slower. AFLAC (NYSE:AFL) trades at over 2 times book and is growing much slower.
At year-end 2009, Fairfax traded at 1.07 times book, while its master-investor-led counterpart in the U.S. (Berkshire) traded at 1.34 times book. Considering the fact that Berkshire's book value has been more lumpy, paying a bit more for the consistent growth makes sense to us. Berkshire's book gained 28% from 2008 to 2009, but is up only 9% since 2007, only 4.5% a year roughly. Fairfax is up 70% in that same time frame.
Aside from book value, what about the the dollar value of Fairfax's portfolio? With about $21 billion in investments against about 22 million shares outstanding, it seems investment per share is well over the current share price; wouldn't that amplify returns for Fairfax shareholders?
I think the company says it best in their most recent annual report:
"At the end of 2009, we have approximately $579 per share in insurance and reinsurance float. Together with our book value of $370 per share and $115 per share in net debt, you have approximately $1,064 in investments per share working for your long-term benefit."
As of today's price - for $409 invested - you get over $1,000 per share earning dividends and working for you. That is the power of the "float." You get one of the best investors allocating that capital for you without using 30 times leverage like some banks, and you don't have to pay him two and 20 like you would for a normal hedge fund. That's a recipe for compounding your wealth.
Does your view differ from the consensus sentiment on Fairfax?
My consensus is not much different from people who know about Fairfax. Because it lists in Canada only now, and is overshadowed by the Oracle from Omaha, Fairfax is still largely an unknown player. So while we are not contrary on our views, our views are still not widely known, in our estimation.
So management plays a key role in your selection.
As stated, management is the majority reason why we like the company. Prem Watsa is an amazing contrarian investor, so we don't have to be when we own his stock. They have what they call their "lean years" in which they underperformed with their investments and the insurance business. This was because they saw the bubbles forming and were not willing to take part in it. They began betting against real estate in 2007. Everyone thought they were nuts. We all know how that turned out. Today, they have begun to take bets against inflation, and are starting to protect their portfolio against deflation. I would venture to guess most reading this will find that move crazy.
What catalysts, near-term or long-term, could move Fairfax stock significantly?
The catalyst remains the moves being made by Watsa. If his hedging bets are correct, and the overall stock market pulls back, the book value should remain solid in a tough environment. That fact should continue to have investors flock to the stock for safety. The stock has performed well in relation to the overall market over the past two years during the crisis. So in summary, another period of high volatility in the overall marketplace should make the stock rise to the top as a shelter from a storm.
What could go wrong with your pick?
Fairfax did not experience a catastrophe in 2009 which cost them. A large catastrophe could put stress on their float as they pay out large claims. This is true for most insurance companies. With more cash sitting at their subsidiaries than at most times in their history, they stated they don't think they would have to tap into their existing cash hoard at the holding company.
That said, the unforeseen catastrophe is always the biggest risk when you buy an insurance company. Also, a tragic passing of Prem Watsa would have a short-term negative effect, in the same way Berkshire will feel some weight if Warren Buffett or Charlie Munger were to pass. When so much success is dependent on a select few people, you have definite succession risk to worry about.
Thanks, Tim, for sharing your choice with us.
Disclosure: Long OTCPK:FRFHF.
Read more Just One Stock interviews »
If you are a fund manager and interested in doing an interview with us on just one stock or ETF position you'd hold, please email Rebecca Barnett.