Yesterday was Apple's (NASDAQ:AAPL) Worldwide Developer Conference 2014 kick off that started at 9AM PST, with Tim Cook and his staff delivering the keynote speech that opened up the conference.
Nerds everywhere rejoiced, blowing Diet Mountain Dew out of their noses and onto their ergonomic custom Klingon keyboards.
What we saw from Cook and company was new additions to iOS 8 and a new Mac OS that seemed to "pull a Windows" and make the OS look similar on your phone as it does on your computer. We were shown cool features, like working on a document on your computer and seamlessly picking it up for work on your iPad.
We also saw neat things like using your Mac interchangeably with your iPhone to make phone calls. In essence, your Mac is becoming more like your iOS items and your iOS items are becoming more in tune with your Mac.
As an early example, they used an iMac (threaded through an iPhone) to call Dr. Dre and welcome him to the Apple family.
(click to enlarge - source Apple)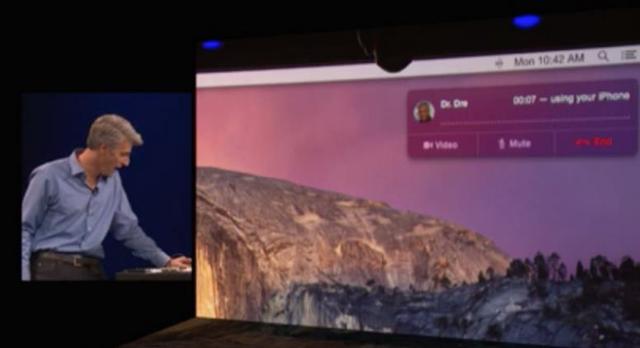 Pretty soon, everything you're working on is going to be available everywhere you go, on every device. Chat and phone calls through your Mac look to make items like Skype for Mac obsolete, eventually. Dr. Dre, when they got him on the horn, sounded excited to be a part of Apple.
Since my last article, Tim Cook came out and said one of the reasons that Apple decided to purchase Beats was due to its streaming service - so we know Apple wants to play a little hard ball in that realm (as I've been predicting since iTunes Radio came out.)
Now, if you'll allow me to note for a minute, if you recall a slight "tiff" that I had with TheStreet.com contributor Rocco Pendola over the last couple of months with regards to the eventual fate of Pandora (NYSE:P). I contested, nearly a year ago, that Pandora was doomed once Apple introduced iTunes Radio. My theory was that since Apple was now working on streaming music, Pandora would eventually be muscled out one way or another. Imagine my surprise when yesterday, I get a good glance at Mr. Pendola's recent article:

It would seem we finally agree!
Now that that case is closed, back to the WWDC.
Dr. Dre's appearance was short and scripted, but it was his first official Apple appearance. They didn't get into business about Beats, but we now have everything we need from the company to confirm the deal has gone through.
But the point of this article isn't to rehash everything that happened during the WWDC. If you want the details and the specifics behind the all of the new stuff, I suggest reading this awesome recap over at Gizmodo, which lays out everything.
On to how the stock traded.
A lot of people didn't seem to like the conference. The stock sold off mid day after Apple announced its new HealthKit - but failed to produce hardware that would accompany it. Here's yesterday's intraday chart that clearly points out when this occurred.
(click to enlarge - source Yahoo!)

As has been the case with these WWDCs, hopes were likely running a little bit high and the stock pulled back the day of. Generally, the stock has a history of pulling back about 1% the day of these events. As for today, we'll have to see how trading opens up, but futures are already off for the morning suggesting as of 5:18CST that we're going to be in the red today.
Not only am I sure that Apple is going to provide hardware for HealthKit & HomeKit at some point relatively soon (iWatch - helloooo) - but I added to my Apple position yesterday by around 14% right when the stock touched its lows of the day around $622.
There were a couple reasons I did so.
One, remains the fundamental argument I've had for being long Apple for a while. In many of my previous articles about Apple, I stressed the importance of Mac and how Mac market share continues to improve.
As I stated in my Apple magnum opus:
I've noted in a couple of articles that I think Mac is going to be the coming secret weapon for Apple in the next couple of years.

While the market focuses on iPhone and iPad, we're forgetting about Mac in its 15-year long epic struggle to regain market share. And, regain market share it has. As new businesses continue to pop up, year after year, more and more of them are implementing Macs in the workplace. The cycle towards getting Windows out of the corporate world is still at the very beginning, but has at least started.

In the midst of the PC market's downturn over the past year, Mac has continued to gain market share and post respectable numbers for Apple. With the PC market hitting a bottom, Mac sales are likely to advance even further.
It was one of the first things that Tim Cook touched on out of the gate yesterday. I continue to love this as part of my bullish thesis on the company and it's one of the main reasons I had no doubt buying again yesterday.
(click to enlarge - source Apple)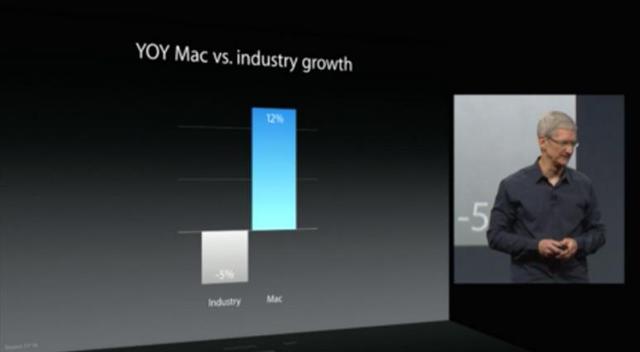 In addition to Macs outperforming the market, you can also see the adoption rate for Mac OS and for iOS absolutely scorches that of Windows and Android. Tim spent a couple of minutes at the beginning of the presentation poking fun at Apple's competitors, too, which earned him cheekiness points that I didn't think he was capable of.
(click to enlarge - source Apple)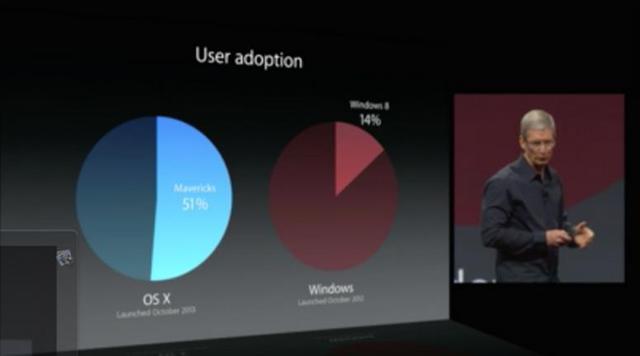 Also, Tim recapped the lightning fast rate at which Apple products have been sold, solidifying the company as one of the fastest growing brands in the world over the last 10-15 years.
My price target for Apple happens to be well above $700, so as I watched the stock sell off during the presentation - especially after a reminder that my original thesis holds water - it was easy for me to up my stake in the company (which I started around $520) by about 14% and pick up some Apple around $622 - as I disclosed.

In addition to buying on the momentum of Mac, I bought because I believe the downside is relatively limited right now with Apple's buyback in play.
With the 7:1 split becoming effective in just days, as well, I'm expecting retail to pile into the stock and help force it upward. The buyback and dividend are like a nice warm security blanket for Apple longs. The coming infusion of retail buying once the stock splits should also help give the stock some legs.
Another interesting tidbit that made it easy for me to buy yesterday was the fact that Tim Cook said that 130 million people that purchased Apple products last year (predominantly in China) were all first time users. That means people are still being introduced to the brand, and that there's still significant room for Apple's ecosystem to grow.
I argued that the coming iWatch could do the same for Apple. People who aren't Apple owners could find themselves attracted to the product based on the innovation that it offers for a smartwatch. From there, it could wind up being an introduction point to the brand for certain people - the same way that iPhone was months ago.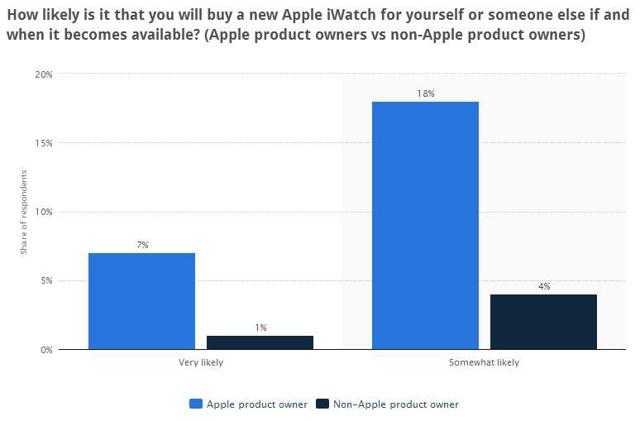 Regardless, people continue to flock to Apple for the first time, exposing them to the company's entire product catalog. If I had to poll as to what the "standard" home operating system is going to be years from now, Apple seems like the obvious choice.
With regard to the watch, some of the bears are already contending that the lack of products offered yesterday was telling; but all it tells me is that the products are coming a bit later on this year. It's a "Developers Conference", not MacWorld - introducing software makes a bit more sense than introducing new hardware. If you can look at some software like HealthKit and think there's not hardware coming to link directly up to that, you're nuts.
When Apple breached its lows of the day, it was easy for me to dive in and buy up some $620 calls that raised my stake in the company by about 14%.
I continue to remain steadfastly long and strong on Apple stock and continue to contend that it's one of the best possibly growth stocks that anyone can be in. The products are coming and I believe it's going to be a great second half to this year for Apple longs.
Best of luck to all investors.
More on Apple from QTR:
Disclosure: I am long AAPL. I wrote this article myself, and it expresses my own opinions. I am not receiving compensation for it (other than from Seeking Alpha). I have no business relationship with any company whose stock is mentioned in this article.