Most investors hold balanced stock-and-bond portfolios, with the bond portion intended to provide income with low volatility. However, long-term bonds delivered negative total returns last year as interest rates started rising after a multi-decade low. If interest rates are in for a multi-year rise, bonds may be a "high risk, low return" asset. This article is an update on our current view on the bond market, continuing with the strategies that I outlined in my year-end asset allocation piece, and adding new strategies.
Long-term interest rates continued to fall in April and May, with the 10-year Treasury yield declining from 2.71% in March (and from around 3.0% at year-end) to 2.46% currently (see chart below). Treasury prices typically rise (their yields fall) when investors seek safety from falling equity markets or other concerns. When the Fed announced the tapering of its bond-buying QE stimulus in May 2013, rates shot up by about 1% in two months, and the 10-year reached 2.97% by September. At this point, the Fed has already reduced its bond buying from $65 billion a month to $35 billion, and the economy has improved and is growing, which is typically associated with higher interest rates. Yet, the 10-year yield is back down to 2.46% - a low level that puzzles many observers, for example, see a recent Bloomberg article here.
10-Year and 30-Year Treasury Yields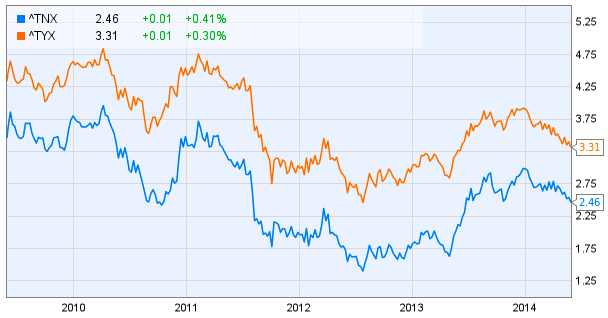 Source: YCharts
Two short-term factors are contributing to driving rates lower: (1) recent geopolitical concerns about Ukraine, and (2) market participants were betting on rates rising further, and now having to cover those positions.
A more important, longer-term reason for lower rates, however, is the abundant global liquidity. While the Fed is reducing the rate of adding liquidity, the Bank of Japan, for example, is implementing what may be a Fed-style QE program, to cope with the freeze in economic activity resulting from the sales tax increase in April that was aimed to improve the budget and reduce government debt. Liquidity keeps global government debt yields at very low levels (see table). Compared to other developed sovereign yields, the U.S. 10-year yield is not very low - it is slightly above median. It is lower than the U.K., Italy, and Spain, but those all are significantly smaller economies.
Sovereign Yields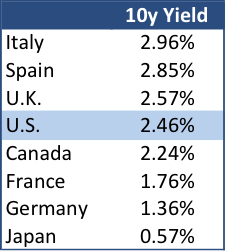 As of May 30, 2014; source: Bloomberg
In addition, the southern European bond yields have plummeted this year as concerns about the European financial crisis dissipated. With higher sovereign yield opportunities disappearing, the relative attractiveness of U.S. Treasuries rose.
So, at these levels U.S. Treasuries are attractive to bond investors who can invest globally. In addition to cash investors, leveraged strategies such as carry trade and risk parity also chase long-term yields.
Bond total return depends on the direction in interest rates, so the view on interest rates is important for long-term fixed-rate corporate bonds (NYSEARCA:LQD) and Treasuries (NYSEARCA:IEF). The U.S. economy is stronger, the end of the Fed's QE stimulus is in sight, and inflation - while still below the Fed's 2% target - is starting to pick up. All of these factors point to somewhat higher interest rates.
In this environment, interest income from bonds will be offset by expected losses in their market value. Note that I don't expect rates to skyrocket, just to rise gradually toward year-end; still, the loss of value on long-term bonds is likely to fully offset income from corporates, and more than offset the lower income from Treasuries. Contrary to a common belief that any gains/losses on bonds would be temporary if held to maturity, for investors in bond funds or ETFs they will be permanent, because funds never hold anything to maturity - they reinvest.
With this in mind, I list below several strategies/ideas for tactically-minded fixed income investors/advisors. These strategies aim to (1) reduce risk exposure to rising interest rates (2) at the same time preserve, or increase, portfolio yield, and (3) position the portfolio for additional gains from bond/income markets. All these ideas try to stay within U.S. fixed income markets, not taking equity, commodity, or global/EM risks, or leverage (multitude of such strategies are popping up, but they all are, well, more risky...)
Treasury Inflation-Protected Securities - TIPS - Price and Breakeven Yield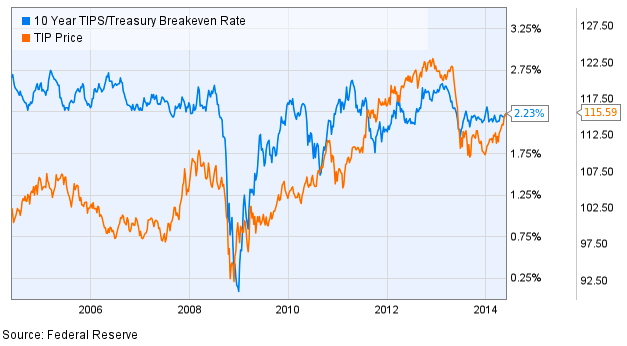 The strategies are: (recommendations [1] and [2] continue from our Dec-2013 Asset Allocation article)
Reduce long-term bond allocation to investment-grade corporates and especially Treasuries in favor of the markets below - lower long-term yields/higher prices currently present a good opportunity to do so, in my view.
Invest in senior bank loans (BKLN or SRLN) that pay Libor plus a fixed spread, and are therefore not exposed to a rise in underlying interest rates. The spread is currently wide enough to give a total current yield of about 4.0% in the case of BKLN. Note that these loans are rated below-investment grade (mitigated by their seniority), and are suitable only for investors who can bear this risk.
Invest in Treasury inflation-protected securities, which offer valuable inflation protection. ETFs such as iShares TIPS Bond ETF (NYSEARCA:TIP) provide an efficient way to invest. This is a very attractive entry point in my view, as the price is starting to rebound after a steep drop last year (see chart above).
Invest in other sources of higher yield - however, the abundance of leveraged and alternative products warrants caution. We like mortgage REITs (NYSEARCA:REM) in this category.
Disclosure: I am long REM. I wrote this article myself, and it expresses my own opinions. I am not receiving compensation for it. I have no business relationship with any company whose stock is mentioned in this article.