My last article on MannKind (NASDAQ:MNKD) talked about why I thought it could potentially be a short candidate after Afrezza's likely coming approval in July. I argued that the stock was likely going to see an emotionally fueled run-up until such time as the FDA approval, where it could present a good shorting opportunity.
MannKind has had a great 2014, finding success when its inhaled insulin drug, Afrezza, received a positive vote at its FDA ADCOM meeting months ago. Afrezza is potentially the first drug of its kind to potentially hit the diabetes market, and works with Type 1 and Type 2 diabetes.
From MannKind's website:
AFREZZA® (pronounced uh-FREZZ-uh) is a first-in-class, ultra rapid-acting mealtime insulin therapy being developed to improve glycemic control in adults with Type 1 and Type 2 diabetes mellitus. It is a drug-device combination product, consisting of AFREZZA Inhalation Powder single use dose cartridges, and the small, discreet and easy-to-use AFREZZA inhaler. Administered at the start of a meal, AFREZZA dissolves immediately upon inhalation and delivers insulin quickly to the blood stream. Peak insulin levels are achieved within 12 to 15 minutes of administration, mimicking the release of mealtime insulin observed in healthy individuals.
After MannKind's ADCOM vote, it was announced that the company's PDUFA date was moved to July 15th of this year. The PDUFA date will determine ultimate approval to market the drug from the FDA.
Again, to reiterate, I'm bullish on Afrezza. I like the drug, and I think it has a future in playing a positive role for people that can benefit from it. I'm not a MannKind-hater, and I'm not an Afrezza-hater. In fact, if the company gets approval, I'm bullish in the long-term for MannKind's product.
Every single statistic I read over projects that MannKind's Afrezza, when approved, has a serious chance of being a long-term winner.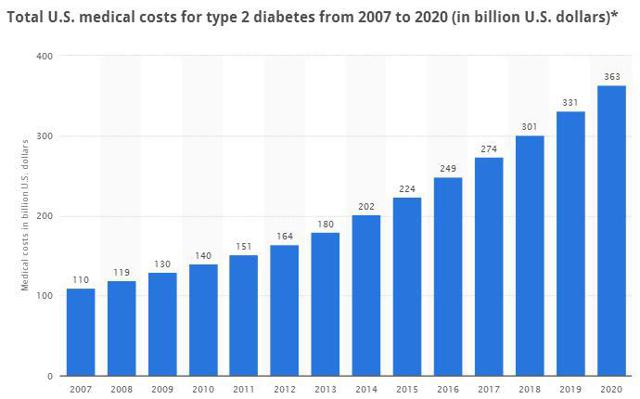 But, let's go back to the short term for a second.
For now, sporting a $3 billion+ market cap, one has to admit that the cart is way out in front of the horse for the time being. After all, MannKind is a company that hasn't produced any revenues from its flagship product - yet.
Afrezza's going to help many people, no doubt, when it's approved. Does that bullishness shape my investing strategy if I think there's going to be an opportunity to go short and make some cash post-FDA approval? No.
Recently, on BlackBerry (NASDAQ:BBRY), one of my commenters accused me of being disingenuous for writing a bullish article without holding any of the stock. I told him the same thing that I told MannKind longs last week - just because I'm not long at that very moment doesn't mean I don't think the company is going to be a long-term success. My views on a company long term and my trading strategies are two different things. If anyone thinks it's disingenuous to take profits while remaining bullish on a company long term, they've got some investment soul-searching to do.
And just to reiterate on my last piece - I wasn't suggesting shorting MannKind at the time of the article, just like I'm not advocating shorting it now, as I think it'll continue to run up. My point is to take a look at the company as a short-term short after its FDA approval.
I claimed, in my last article:
Post-FDA approval, there is usually a pocket of some time where the hysteria wears off and people realize that millions upon millions in sales still stand between their coveted biotech company and the burgeoning acquisition target that they are seeking it to be. Sometimes, the company does go down that path - successful sales that eventually lead to a Big Pharma buyout or partnership. Sometimes, things come up that prevent that from happening.
After this, I cited a few examples of pharmaceutical companies that corrected and dropped, either after FDA approval or positive trial data.
The meat of the thesis is that once again after the FDA approves the drug, there is a long and winding road to get to the point where MannKind is a $3 billion company.
As you can see, MannKind started its emotionally fueled ascent over the past couple of weeks. Last week, in particular, the stock began to break out and push significantly higher. The stock has returned 43.8% in the last three months alone, as well: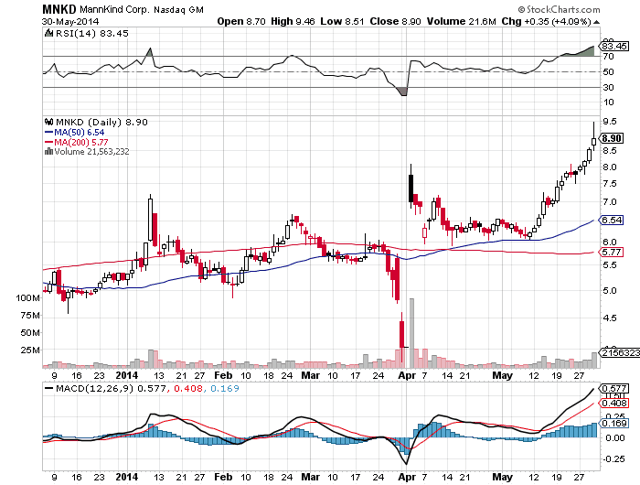 This matches what I predict that MannKind will continue to do, leading up to its approval. The stock should continue to push upward, as people fear not being a part of the "main event" when the company does receive approval. Then, I feel it's more likely for the stock to get clipped in the couple of weeks post-approval than it is for the stock to continue to push upwards.
The company will have to establish partnerships, work on sales strategies, and then begin to monetize its product.
The risk inherent in this strategy obviously lies in the company announcing a pharma partner or buyout upon approval - those are two situations where it'd likely be ugly to be short right after approval.
But, if you think that MannKind is going to receive approval and simply starting chugging away on its own, going short for a short period of time might be the correct contrarian play. Or, if you're long, you could even hedge with puts or write covered calls as a bit of insurance.
I'd be considering this strategy as the MannKind story pushes forward, and wish all investors in MNKD the best of luck going forward.
Disclosure: I am long BBRY. I wrote this article myself, and it expresses my own opinions. I am not receiving compensation for it (other than from Seeking Alpha). I have no business relationship with any company whose stock is mentioned in this article.