Overview
Recently, I have been writing a series of articles related to The Best Dividend Growers. In each article, I take a look at a specific industry sector of the S&P 500 (based on GICS sub industry) and review the available stocks to determine which stock(s) out of the group are the best long-term options for income investors. You can see Part 1 here and the latest part (part 18) here.
For some of the GICS Sub Industries, there are only two to three stocks available, so instead of focusing on dividend growth I have decided to just review the available stocks in these sub industries to determine whether they should be considered as possible buys for long-term investors. I recently did this for the Leisure Products GICS Sub Industry in reviewing Hasbro and Mattel.
For this article, I will be taking a look at the Consumer Goods: Personal Products sub industry which includes Avon Products (NYSE:AVP) and Estée Lauder (NYSE:EL).
Current Financials
| | | |
| --- | --- | --- |
| | Avon Products | Estée Lauder |
| Gross Profit Margin (quarterly) | 56.25% | 80.44% |
| Profit Margin (quarterly) | -7.71% | 8.36% |
| Return on Assets (trailing twelve months) | -3.16% | 13.97% |
| Return on Equity (trailing twelve months) | -19.42% | 29.54% |
| PE ratio (trailing twelve months) | n/a | 29.21x |
| Earnings Yield (trailing twelve months) | -3.31% | 3.42% |
| Price to Book Value (trailing twelve months) | 6.86x | 8.01x |
| Revenue (trailing twelve months) | $9.68B | $10.65 |
| EPS (trailing twelve months) | -$0.48 | $2.63 |
Based on the table above, Estée Lauder is in a better financial position. Avon Products has a negative profit margin, negative returns on assets and equity, and a negative earnings yield. Estée Lauder on the other hand, has nice returns on assets and equity along with significant earnings.
The Past Ten Years
Looking at the chart below, you can see that Estée Lauder has performed much better over the past ten years, not only outperforming Avon Products, but also the S&P in general.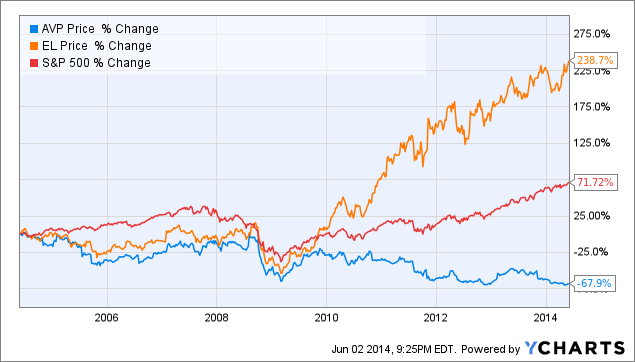 In terms of revenue and earnings, Estée Lauder has performed far better than Avon Products. Earnings for Avon Products has decreased significantly, while earnings for Estée Lauder has increased substantially.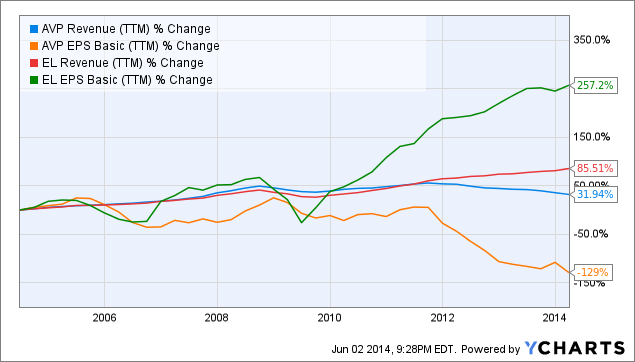 AVP Revenue (TTM) data by YCharts
Both companies have meager dividend yields (1.66% for Avon Products and 1.04% for Estée Lauder), however, Estée Lauder has been able to continue growing its dividend, while Avon Products' dividend has dropped significantly. The company cut its dividend by nearly 74% in 2012, and hasn't changed it since.
Future Outlook
Avon Products continues to make adjustments that will hopefully lead to an eventual reversal of its poor performance; however, I'm not quite sold that this is going to happen any time soon. According to the company's latest earnings call, the company expects Q2 of this year to remain below last year's performance in terms of revenue and operating margins.
Unlike Avon Products, Estée Lauder has seen great results recently. The company has achieved quarterly sales growth (year-over-year) for nearly five years. The company has a strong brand, a large portfolio of products, and an increasing market that spans several countries. I feel that this mix has positioned the company to continue seeing strong revenue/earnings growth into the future.
Conclusion
Based on each company's current financial performance, dividend history, revenue/earnings history, and future outlook, I feel that the clear-cut choice for a long-term investment is Estée Lauder.
The company has a strong portfolio of existing products, a potent distribution network, a continuing emergence of new products, and a market share lead in several of the biggest markets throughout the world. I feel that Estée Lauder is a solid investment option for long-term investors. As always, I suggest individual investors perform their own research before making any investment decisions.
Disclosure: I have no positions in any stocks mentioned, and no plans to initiate any positions within the next 72 hours. I wrote this article myself, and it expresses my own opinions. I am not receiving compensation for it (other than from Seeking Alpha). I have no business relationship with any company whose stock is mentioned in this article.