Chinese travel-booking company Ctrip (NASDAQ:CTRP) recently guided 25% Y/Y increase in air-ticketing volume for 3Q10. Following strong industry data for July, early data for August provided by China Southern Airlines last week continued to indicate that overall travel volume in China was strong in Q3, and Ctrip is on track to surpass its Q3 guidance. I further conclude that Ctrip shares are correctly valued at the current price level. Detailed data and analysis are as follows:
Based on official data, China Southern Airlines' total passenger number rose 16.7% Y/Y in August 2010. My research suggests Southern Airlines' monthly Y/Y passenger growth has a near-perfect correlation with overall Y/Y passenger growth for the China airline industry (Chart 1). Based on my regression analysis, I forecast that China airline industry's overall passenger number grew around 20% Y/Y in August. This data point bodes well for Ctrip's Q3 results because Ctrip's air-ticketing volume has historically outgrown overall airline passenger number by a significant margin. The reason for Ctrip's faster growth is its ability to continuously gain market share against its peers in the fragmented Chinese travel-booking industry. I thus believe Ctrip will easily surpass its guidance of 25% Y/Y growth in air-ticketing volume.
Ctrip shares are correctly valued at current price level. With China's travel volume continuing its growth and Ctrip continuing its market share gain against peers, I forecast Ctrip will grow revenue by 42%-46% Y/Y to $415-$425 million in 2010, and grow EPS by 35%-40% Y/Y to $0.92-$0.95 in 2010. According to my calculations, currently investors on average are estimating around 42% Y/Y revenue growth and around 34% Y/Y EPS growth in 2010, roughly in line with my forecast range. I thus believe the market has correctly valued Ctrip shares at the current price level ($42.82 at the end of September 13). In my view, this situation implies the market has correctly shrugged off recent news flows about air-ticketing commission cuts and high-speed rail's substitution effect on airlines. In the next several years, as China's travel volume pie gets bigger and bigger, Ctrip is likely to overcome challenges posed by commission cuts and high-speed rail substitution, in my opinion.
click to enlarge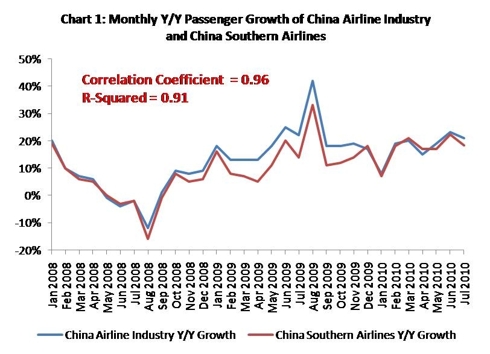 Disclosure: No positions