With its Phase IIb clinical trial in secondary-progressive multiple sclerosis (SPMS) running nicely, Opexa Therapeutics (NASDAQ:OPXA) is considering adding a new disease indication to its antigen-specific T-cell immunotherapy platform.
"We haven't given guidance as to which disease we are targeting, but the number of potential T-cell mediated autoimmune diseases is numerous," president and CEO Neil Warma says in an interview with BioTuesdays.com.
Mr. Warma says that the company is doing a lot of the upfront work in evaluating potential new autoimmune disease targets, and is currently having discussions with thought leaders and clinicians about how T-cell immunotherapy applies to their disease areas.
Based in The Woodlands, TX, Opexa calls its autoimmune platform technology, "precision immunotherapy," which in many ways uses the same personalized medicine approach that researchers are developing in oncology.
In multiple sclerosis (MS), Mr. Warma explains that a faulty immune system is not able to prevent the attack of so-called myelin-reactive T-cells (MRTC). These cells cross the blood brain barrier, enter the brain and bind to antigen presenting cells, causing a release of inflammatory cytokines.
These cytokines destroy the protective myelin sheath coating of nerve fibers, and also destroy oligodendroglial cells, which are responsible for producing myelin, he adds.
Opexa's lead therapy, Tcelna (imilecleucel-T), is an autologous immunotherapy specifically tailored to each patient's immune response profile to myelin. Tcelna is designed to reduce the number and/or functional activity of specific subsets of MRTC that attack myelin.
Mr. Warma points out that Opexa's method for the production of Tcelna consists of the collection of blood from an MS patient to screen for several peptides that present to T-cells, followed by a 28-day expansion of the antigen-specific T-cells that are doing the damage.
The cells are then attenuated, and a dose of 30 million to 45 million cells is injected subcutaneously back into the patient five times a year over the first six months. The process is repeated annually.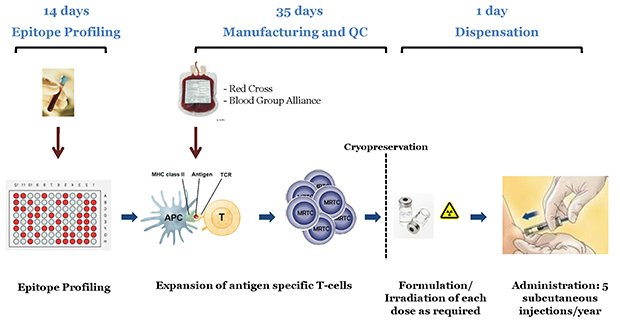 (Single-Cycle Manufacturing Process: Annual Course of Treatment (5 Doses) From One Blood Draw)
"Tcelna primes the immune system to specifically and selectively recognize MRTC as a pathogenic invader, thereby inhibiting further destruction of the myelin sheath and potentially enabling remyelination," Mr. Warma says, pointing out that the injected cells eventually die off due to the attenuation process. "While they are present, they prime the immune system to attack the MRTC."
"We believe Tcelna possesses a unique mechanism of action that combats the demyelination of the nerve fibers in the central nervous system, the underlying cause of MS," he adds. "The methodology is similar to receiving a flu vaccine."
According to Mr. Warma, earlier studies demonstrated that eliminating harmful MRTC led to a stabilization of the disease by preventing further destruction of myelin, and an improvement in condition by allowing oligodendroglial cells to remyelinate axons.
There are two stages of MS: relapsing-remitting MS (RRMS) and secondary-progressive MS (SPMS). Almost all patients initially are in the RRMS stage, which involves regular attack of MS symptoms, followed by recovery. Over five-to-20 years, most patients progress to SPMS, which involves fewer relapses and continuous disease progression.
Reports claim that there are approximately 450,000 North Americans with MS, of which 30% to 45% potentially have an SPMS diagnosis. There is only one drug approved for SPMS in the U.S., but it carries a black-box warning and is not suitable for chronic use because of severe side effects.
"The SPMS market in North America could exceed $7-billion and represents an area of high unmet medical need," he says.
In February 2013, Opexa inked an option and license agreement with Merck Serono, valued at up to $220 million in milestone payments. Merck Serono, which already sells the MS drug Rebif, can exercise its option at any time before and up to the completion of Opexa's ongoing Phase IIb trial. If it exercises the option, Merck Serono would complete late-stage clinical development of Tcelna in exchange for worldwide rights to sell Tcelna, other than in Japan.
Opexa would be eligible for royalties ranging from 8% to 15% of annual net sales of Tcelna, with step-ups occurring when net sales exceed $500 million, $1 billion and $2 billion. In addition to the Japanese rights to Tcelna, Opexa also would retain certain manufacturing rights and rights to other disease indications off the T-cell platform.
Last month, Opexa reached its targeted enrollment of 180 SPMS patients in its Phase IIb Abili-T clinical trial at 35 sites in the U.S. and Canada. Each patient is receiving two annual courses of Tcelna treatment, consisting of five subcutaneous injections per year.
The trial's primary efficacy outcome is the percentage of brain volume change, or atrophy, at 24 months. Top line data is expected in mid-2016. Opexa has received fast-track designation from the FDA for Tcelna in SPMS.
In an earlier study with more active RRMS patients, Tcelna demonstrated a 55% reduction in annualized relapse rate versus placebo, an 88% reduction in brain atrophy and a statistically significant improvement in disability of patients.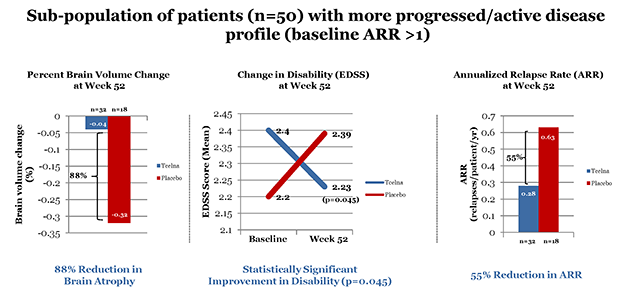 (TERMS Study: Prospective Analysis in More Active or Progressive Patients)
Mr. Warma says that in a separate open label study of SPMS patients, 80% of patients treated with Tcelna showed no further disease progression following two years of treatment.
"After these studies were completed and we had analyzed all the data, we were considering a Phase 3 study in RRMS or a Phase 2b study in SPMS," he recalls.
"A lot of people were encouraging us to continue development in SPMS because of the unmet medical need and because the scientific evidence of Tcelna's mechanism of action was very encouraging. So if we can differentiate ourselves in SPMS, it would be an outstanding development for patients and a huge score for the company."
Disclosure: I have no positions in any stocks mentioned, and no plans to initiate any positions within the next 72 hours. I wrote this article myself, and it expresses my own opinions. I am not receiving compensation for it. I have no business relationship with any company whose stock is mentioned in this article.
Editor's Note: This article covers one or more stocks trading at less than $1 per share and/or with less than a $100 million market cap. Please be aware of the risks associated with these stocks.