"What a Long Strange Trip It's Been" - Truckin (Grateful Dead)
If Linn Energy (LINE) had a theme song to describe its journey over the last twelve months, it could do worse than this classic from the Grateful Dead. This high-yielding upstream energy partnership has been rocked by a couple of articles in Barron's last summer, alleging some doubts about its accounting practices; which are pretty standard in the industry. The company also had a major acquisition delayed before ultimately being approved.
The Barron's allegations, although amounting to little in the long run, scared off income investors, and the stock plunged to under $23 a share over the summer as a result. As concerns dissipated, the shares moved back up to $34 a share.
The shares have sold off some since reaching their highs earlier this year, and appear to be giving income investors another good entry point to accumulate some shares in this high-yielding energy play. First, the stock seems like it is starting to build a base just under the current $29 a share price level (See Chart).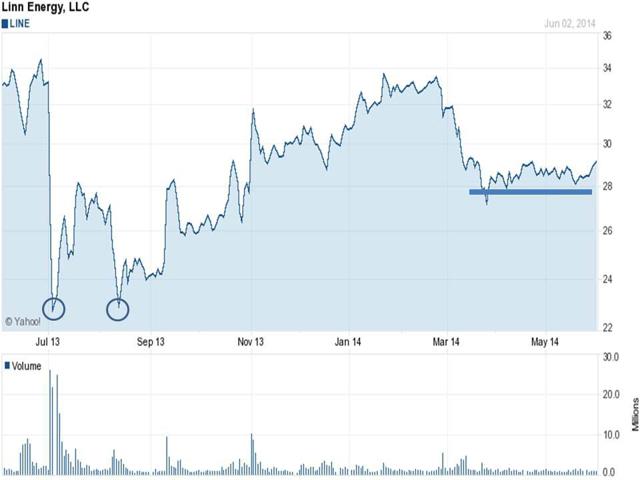 Ever since Linn Energy completed its delayed purchase of Berry Petroleum (BRY), there has been speculation about what Linn will do with the Midland Basin assets that were acquired as part of that acquisition. The other day, JPMorgan put out an analysis of two scenarios of how a swap or divesture of these assets could add significant value to the current market value of Linn Energy.
According to the piece by JPMorgan, under one scenario, the value of LINE would be $31 to $35 a share under one possible asset sale or swap, and $34 and $38 a share under another.
It is important to note that Linn Energy has become a battleground stock for analysts. UBS and Raymond James have reiterated Buy and Outperform ratings on the stock this year, respectively. Citigroup and Oppenheimer are more cautious on the shares.
I am optimistic on the shares as a high-yield play with some potential capital appreciation. Oil remains stubbornly above $100 a barrel, and natural gas prices are lingering near four-year highs. Oil, natural gas and liquids production revenues rose 27% year-over-year in the company's last reported quarter.
In addition, Linn's 10% distribution yield, paid in monthly payments, should provide a solid floor under the shares, and the stock is slightly below the levels, as a couple of insiders made several purchases totaling $750K last summer.
Earnings should more than quadruple this year on better than 50% year-over-year increase in revenues in 2014, driven by production growth and acquisitions. Given the volatile nature of this controversial partnership, more cautious investors should put a stop around $27.50-$28 a share on this equity, in case the technical support turns out to be a false floor. Longer-term income investors should add to holdings on any dip in the market, as LINE's ten percent yield, as well as some potential for capital appreciation look attractive in the current interest rate environment. ACCUMULATE
Disclosure: I am long LINE. I wrote this article myself, and it expresses my own opinions. I am not receiving compensation for it (other than from Seeking Alpha). I have no business relationship with any company whose stock is mentioned in this article.