SanDisk's (SNDK) current valuation relative to fundamentals could be setting up a sell/short opportunity, should ANY current expectations fall short.
A Historic Run For SanDisk Corporation
Over the course of 2013, SanDisk's stock price rose 57.67% to over $70 per share. During that same year, SanDisk's revenues grew 22% and its operating margin came in at 25%. During 2014, SanDisk's price per share has enjoyed another 39% to the upside, reaching over $96 per share (as of June 2, 2014).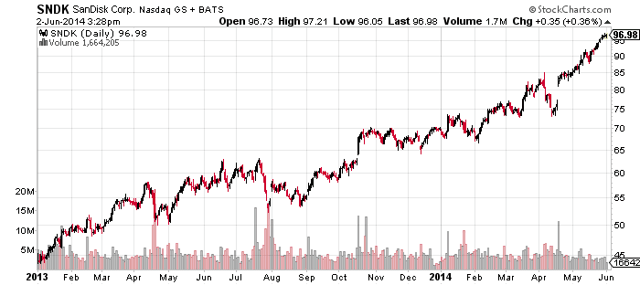 During the first quarter of 2014, revenues came in at $1.51 billion, down 12% sequentially, but still up from $1.34 billion same quarter last year. This decline in revenues is attributed to a seasonally slow quarter for the flash memory maker. Equally impressive were the gross margins, coming in at 49.7%.
So, what's the problem? In short, a closer look behind the numbers reveals a stock price reflecting little or no risk to achieving perfection going forward. In fact, based upon our research, the downside may soon be much more attractive than further price appreciation.
Valuation by the Numbers
Although recent analyst upgrades attempt to justify higher share prices, we caution investors SanDisk's current value may be priced to perfection going forward. The table below shows several valuation ratios, and suggests SanDisk could be considerably overvalued.
| | | | | |
| --- | --- | --- | --- | --- |
| Description | SNDK Current | Industry Avg. | SNDK 5-Yr Avg. | S&P 500 |
| Price/Earnings | 20.0 | 18.6 | 15.9 | 18.0 |
| Price/Sales | 3.6 | 1.9 | 2.3 | 1.7 |
| Price/Book | 3.1 | 2.8 | 1.8 | 2.6 |
| Price/Cash Flow | 13.0 | 7.3 | 13.5 | 11.0 |
* Data as of 5/30/2014
Virtually every metric shows the valuations are stretched. SanDisk's current ratios demonstrate elevated levels when compared to industry averages, 5-year historical values, and even S&P 500 corporate data. Perhaps these ratios have created an irrational exuberance toward future expectations.
Annual earnings estimates for 2014 average $6.24 a share, giving SanDisk a growth rate of approximately 44%. Using this average estimate, SanDisk's forward PE ratio is 14.4. While that number may seem achievable, considerations for a number of outlying risks may not be accounted for. In other words, the current price per share assumes virtually zero adverse effects from changes among SanDisk competitors, as well as any deterioration in flash memory pricing.
Risks for Consideration
Given the fact the NAND flash memory industry is commodity-like in nature, SanDisk competes against numerous companies with significant scale, most notably Samsung (OTC:SSNLF), Micron (NASDAQ:MU), and Toshiba (OTCPK:TOSBF). Should pricing wars heat up, SanDisk's gross margins would certainly be in jeopardy. In fact, early evidence suggests competition within the NAND market could soon tilt supply in a way that would ultimately drop prices up to 20%, and even negatively impact demand. This scenario would be very similar to the environment in 2012.
Although numerous analysts have recently upgraded price targets exceeding $110 per share, we believe current price levels have created a "big risk-little reward" scenario. Insiders seem to agree. They have been net sellers of the stock all year, and have increased in numbers during April and May (Vickers Stock Research). Institutions have also been reducing their position with net selling.
Bottom Line
Considering SanDisk five-year average price to earnings ratio of 15.9 (see previous table for averages) and current earnings estimates of $6.24 a share for 2014, we believe SanDisk would be fully valued at $100 per share (if not overvalued). This would also assume the industry environment and growth expectations are either met or exceeded.
Given the increased competition and scale among manufacturers, we believe price wars and technological evolution over coming quarters will put pressure on memory prices, ultimately reducing earnings per share for SanDisk to a range between $5.25-$5.35/share. Therefore, using a PE multiple of 15.9, we target fair value around $84/share.
We are not the only research group coming to this conclusion. S&P Capital IQ currently has SanDisk's 12-month price target at $86/share. And according to Argus Research Company's April 21st report on SanDisk, the price target for April of 2015 was set at $92/share (even with a Buy rating).
In closing, we recommend stockholders sell shares at current levels, or at least hedge their positions with long-term puts. Should SanDisk go north of hundred dollars per share, we would certainly consider a short position in the stock.
Disclosure: I have no positions in any stocks mentioned, but may initiate a short position in SNDK over the next 72 hours. I wrote this article myself, and it expresses my own opinions. I am not receiving compensation for it (other than from Seeking Alpha). I have no business relationship with any company whose stock is mentioned in this article.