One of the world's staple blue chips, General Electric's (NYSE:GE) stock seems to have reversed fortunes from its new-year correction that affected most of the market at-large. Since early February, Edison's storied company has demonstrated predictable price movements with highly significant technicals. Fueled by positive news, including a $16.9 billion bid for French giant Alstom S.A. (its largest deal ever), the recent FDA approval for its Technetium 99M generators, as well as the purchase of Cameron Inc.'s Reciprocating Compression business, the company has seen relatively tame returns in a trading period marked by substantially low volatility.
Each tranche of GE's business must be analyzed in order to discern an accurate fundamental valuation. GE Capital, its largest division, carries extra weight due to its relative size in comparison to the rest of the company. Secondary equipment and service divisions, including power and water, healthcare, aviation, and oil and gas industries also play an important role in terms of cash flows.
In terms of global risk exposure, certain macroeconomic factors could affect profitability and financial health in the coming year due to imminent domestic and international policy decisions. An increase in government health spending will likely fuel GE's healthcare equipment revenues, which account for its third highest source of revenue. The Affordable Care Act will be a key driver in GE's sustainable growth, but any possible benefits may fall victim to political turmoil associated with the upcoming 2014 midterm elections. The end of quantitative easing will see an increase in U.S. interest rates, increasing domestic capital outflows, and subsequently debt issued in foreign markets.
GE Current Debt
Click to enlarge images.

Source: GE Financial Statements.
This opens up GE's balance sheet to much currency exposure, with the lack of cheap U.S. financing hindering GE's capital division, as the company finds itself leveraged over 50%. Near-term economic uncertainty will see a decrease in demand for lending, which along with the current interest rate outlook implies flattened portfolio returns in the coming year.
A weak outlook for EBITDA growth in its power and gas division could also adversely affect stock price. As one of the highest sources of revenue, the EBITDA of this division has a significant effect on GE's overall cash generation ability and profitability. Recent advances in energy extraction have caused availability of natural gas supplies to rise, in turn causing demand levels to do the same. As this continues, the low natural gas prices of the past five years could possibly see upward movement, pressuring GE in this line of business, as they have been previously relying on cheap raw materials to maintain their current EBITDA margin. All of these factors considered, along with analyst consensus estimates, an intrinsic price target of $27.62 seems fair given our discounted cash flow model. The output of our model is detailed below.
Discounted Cash Flow Analysis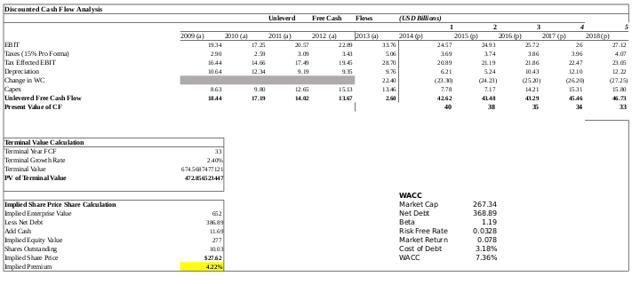 Source: Matoaka Capital LLC.
In order to better forecast short-term price movement, we also analyzed how GE is trading relative to its peers.
A Relative Valuation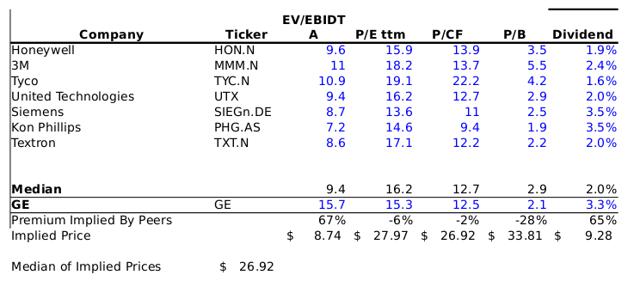 Source: Matoaka Capital LLC.
GE's EV/EBITDA ratio, trailing price to earnings, price to free cash flow, price to book, and dividend yield imply a discount relative to competing firms. Based on this figure, GE seemed to be trading at almost a 70% premium to its competitors at first glance. Arguably, one of the most important valuation ratios, EV/EBITDA provides a rough snapshot of how much cash the company is generating based on its enterprise value. This figure could be alarming, initially, because of its high ratio; however, it can be attributed to the company's high leverage. Since GE runs a very capital intensive business, with a company leverage over 50%, enterprise value consequently will be inflated in comparison to its peers.
GE Key Metrics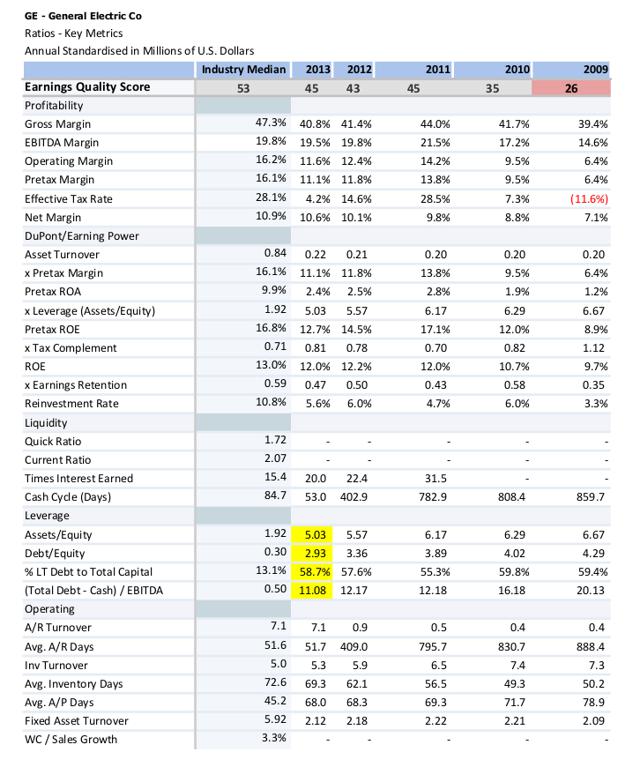 Source: Thomson Reuters.
In terms of other metrics, GE is a bit more attractive. Its P/E and P/CF ratios trade at a few percent discount, an important point, as earnings and cash are considered king on Wall Street. Interestingly, GE also has a 65% higher dividend yield than its industry competitors. All things considered, a relative valuation of the company yields an attractive fair value of $27.97.
Examining its year-to-date chart, January signaled the start of a minor downtrend for GE, which viewed from a grander scheme, amounts to only a minute retracement in an overall bullish movement. Clearly visible in the following chart (10-year aggregated monthly), the banking crisis and subsequent global recession of 2007 pummeled GE to a 20-year low of $5.73.
Source: ThinkorSwim.
Since then the stock has accelerated forward, insinuating a higher price target than today's, given a long-term outlook. Future concerns could be possible retracements in the overall trend, as seen in 2009-10 and 2010-11 period. Those should be viewed as possible buying opportunities and should not discourage the long-term investor.
Taking a closer look at recent trading, specifically performance year to date, we see a short retracement at the beginning of the year, which some analysts attribute (boldly, albeit) to weak manufacturing data and other macro concerns (GDP, cold weather). From a year high of $28.09, the stock's price underwent a correction characterized by high volatility -- both actual and implied (Mean Volatility Index) -- as well as high trading volume. More recently, the stock's action has been on par with our current intrinsic valuation. Volatility has also declined significantly and is forecasted to remain this way (the model in question is a multi-factor ARIMA model with GARCH components).
That said, any anomaly in implied volatility should be mean-reverting, as clearly seen in the graphics post-April 21. This opens great opportunities for options trades, with the most profitable strategies being Delta-neutral, speculative time-spreads (short Vega), or for the more risk-averse, Delta-hedged dynamic arbitrage trades. Due to the nature of these windows, transaction costs should be a determining factor in any entry decision. In conclusion, all fundamentals point to a neutral rating for GE stock, as long as volatility remains low.
Disclosure: I have no positions in any stocks mentioned, and no plans to initiate any positions within the next 72 hours. I wrote this article myself, and it expresses my own opinions. I am not receiving compensation for it (other than from Seeking Alpha). I have no business relationship with any company whose stock is mentioned in this article.
Additional disclosure: The information contained herein is not necessarily complete and its accuracy is not guaranteed by Matoaka Capital L.L.C., its operating entity or the principals therein. Principals of Matoaka Capital L.L.C may or may not hold or be short of securities discussed herein, or of any other securities, at any time. Graphics are courtesy of TD Ameritrade's ThinkorSwim Application.