We have been going over our portfolios the past week or so and adding new names to our buy lists while looking for ways to offset some of the risks we have seen creep up in the markets since the beginning of the year. It is not our belief to be strict with allocations, as we feel that one should ride their winners and reposition losers when the market dictates it, so five months into 2014 we are overweight in a few sectors and looking to add to certain ideas that just have not played out thus far. We are holding back on fixed income and instead focusing on high quality dividend paying blue chips.
Chart of the Day:
Another market that has seen some volatility this year and is now in another downtrend is gold. The sell-off appears to have stalled in the last 24 hours, and now it seems the bears and bulls are content to let it trade between the $1,242-1,248/ounce range.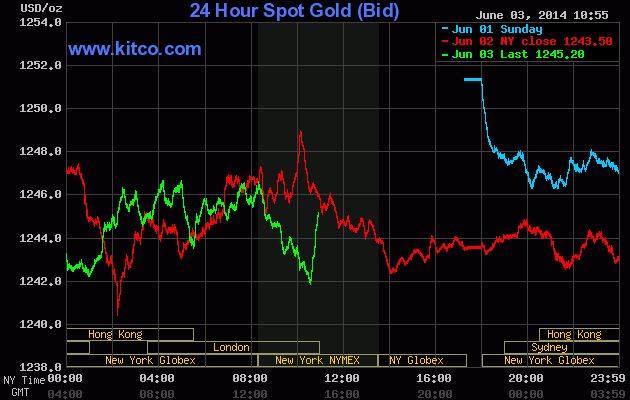 Source: Kitco
We have economic news today, and it is as follows:
Factory Orders (10:00 a.m. EST): Est: 0.5% Act: 0.7%
Auto Sales (2:00 p.m. EST): Est: N/A
Truck Sales (2:00 p.m. EST): Est: N/A
Asian markets are mixed today:
All Ordinaries -- down 0.70%
Shanghai Composite -- down 0.04%
Nikkei 225 -- up 0.66%
NZSE 50 -- down 0.28%
Seoul Composite -- up 0.33%
In Europe, markets are lower this morning:
CAC 40 -- down 0.21%
DAX -- down 0.29%
FTSE 100 -- down 0.56%
OSE -- down 0.17%
Gradual Rotation
At the beginning of the year, everyone, including ourselves, was looking for "The Great Rotation" to kick off. Instead, we have seen a "Gradual Rotation" thanks to some geopolitical events and a continuing fear in the market about a potential pullback. As we look at the market today, we think that we are in an interesting place as certain equity indices are at all-time highs and bonds are near their highs for the year (looking at the 10-year specifically).
The news out of Pimco continues to be bad and indicates that they are experiencing a rotation among their Pimco Total Return mutual fund investors. Due to the size of the mutual fund and the expenses, we tend to favor the Pimco Total Return ETF (BOND), which is much smaller and allows management to make moves with the entire portfolio without moving markets. Regardless of how you look at the total return funds, investors are exiting the longer duration bond funds in favor of either junk bonds or shorter duration bond funds. Our preference would be for shorter duration funds, especially for those who need to keep a certain allocation within their portfolio in bonds.
We highlight all of this because even with bonds rising in price, it appears that the trend is to allocate funds towards ETFs such as the SPDR S&P 500 (NYSEARCA:SPY) and SPDR Dow Jones Industrial Average (NYSEARCA:DIA) or comparable mutual funds. With 13 months of outflows (see story here) and Jeffrey Gundlach's DoubleLine Capital teaming with State Street (NYSE:STT) to launch a new total return ETF, the outflows should continue. This is going to raise competition and probably cause further outflows, but our thinking is that everyone in the bond space will be fighting for a smaller piece of the pie in the next few years.
Financials Look Attractive
We are up marginally from the start of the year, but we think adding exposure with bond yields at their current levels will lead to significant gains 6-12 months down the road.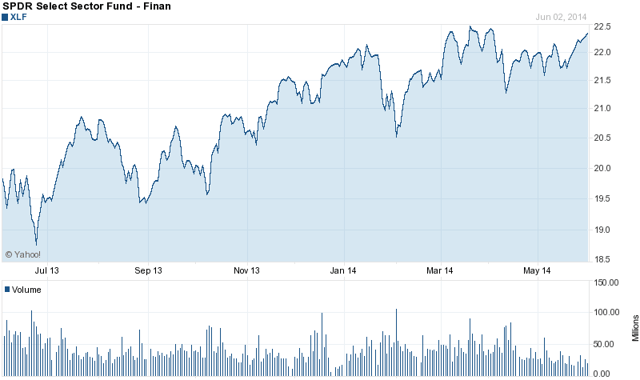 Click to enlarge
Source: Yahoo Finance
For those who have tried to trade the financials this year, it has been rough to this point. That is assuming that one used a general financial fund or focused on the banks because they have greatly underperformed the insurance companies over these first five months of 2014. The fact that bond yields have been falling is one key aspect, and right now we think that when one looks at the current situation that the risk/reward mandates that more capital be allocated towards financials via ETFs such as the Financial Select Sector SPDR (NYSEARCA:XLF). This has been one of our worst performers in 2014, but with the remaining downside in yields and the potential upside that could be seen on good GDP numbers, it strikes us as one of the more compelling sector trades out there.
Disclosure: I have no positions in any stocks mentioned, and no plans to initiate any positions within the next 72 hours. I wrote this article myself, and it expresses my own opinions. I am not receiving compensation for it (other than from Seeking Alpha). I have no business relationship with any company whose stock is mentioned in this article.
Additional disclosure: SPY and XLF have previously been recommended.