The following is a list of the top 10 most and least shorted S&P 500 stocks, based on the short ratio. The short ratio expresses the total number of shorted shares as a multiple of the stock's average daily volume. In other words, the ratio gives you can idea how many days of volume are needed to cover all short positions.
Short ratio data sourced from Finviz.
Sector Overview: Average Short Ratio By Sector
By averaging short ratios across each sector, we can find out which sectors the short-sellers are targeting. Surprisingly, the utility sector has the highest short ratio, followed by the Services sector. Conglomerates and Tech are the least shorted industries.
Basic Materials: 2.55 (based on 56 stocks)
Conglomerates: 2.47 (based on 6 stocks)
Consumer Goods: 3.33 (based on 60 stocks)
Financial: 3.40 (based on 80 stocks)
Healthcare: 2.96 (based on 43 stocks)
Industrial Goods: 3.47 (based on 41 stocks)
Services: 3.49 (based on 101 stocks)
Technology: 2.59 (based on 78 stocks)
Utilities: 3.65 (based on 35 stocks)
Top 10 Most Shorted S&P 500 Stocks
click to expand images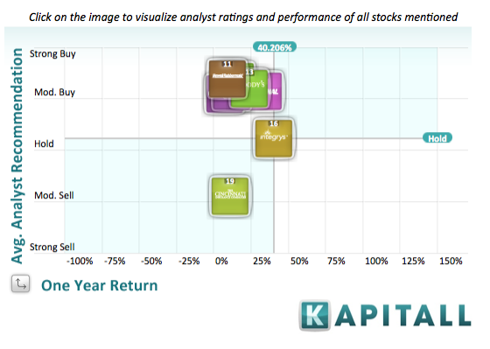 Top 10 Least Shorted S&P 500 Stocks
McAfee, Inc. (MFE): 0.38
Apple Inc. (NASDAQ:AAPL): 0.47
Tyco International Ltd. (NYSE:TYC): 0.66
JPMorgan Chase & Co. (NYSE:JPM): 0.7
Cisco Systems, Inc. (NASDAQ:CSCO): 0.71
Bank of America Corporation (NYSE:BAC): 0.72
MetLife, Inc. (NYSE:MET): 0.78
The Goldman Sachs Group, Inc. (NYSE:GS): 0.83
SanDisk Corp. (SNDK): 0.86
Republic Services, Inc. (NYSE:RSG): 0.87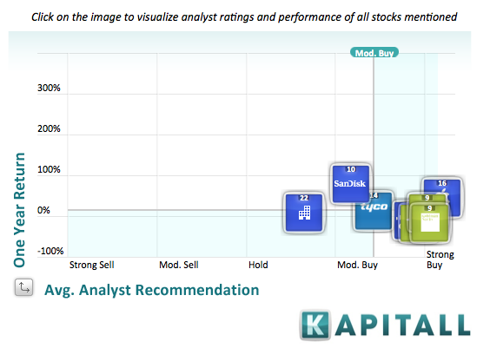 Disclosure: No positions