Dollar Tree (NASDAQ:DLTR), Dollar General (NYSE:DG), and Family Dollar Stores (NYSE:FDO) all compete in the 99c discount arena, a $54B segment of the multi-line retail sector. Retail sales have been lackluster over the past 2 quarters, but the dollar stores have been doing quite well on average comparably. During the holiday season, it seemed as if every retail CEO got together and decided to blame the poor weather for their weak sales numbers. There was resounding solidarity in blaming snowstorms and the extreme cold and the excuse seemed to make plenty of sense. But when conditions in the retail environment failed to improve for many stores in the first quarter of 2014, the weather story was getting old. The dollar store industry was one of the few pockets of retail that didn't need to rely on the lame weather scapegoat to rationalize declining revenue figures. Here's a look at which dollar store is performing the best right now.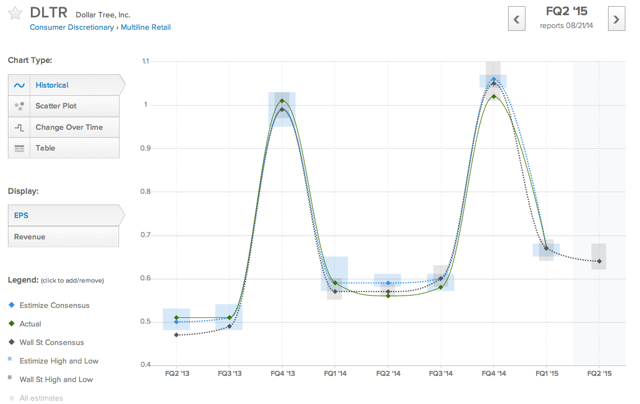 Click to enlarge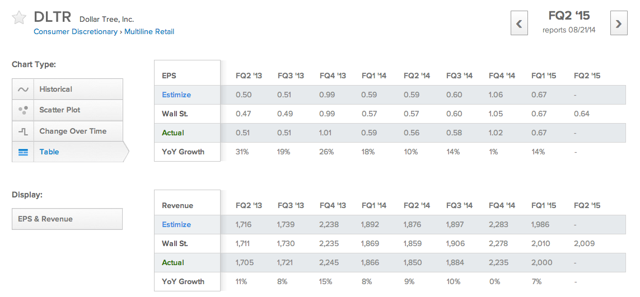 Click to enlarge
(Click Here to See Graphs and Interactive Features for Dollar Tree)
Dollar Tree, which reported its FQ1 of 2014 earnings on May 22nd, posted earnings growth of 8c per share compared to last year and year-over-year revenue growth of 7%. Compared to Dollar Tree's 14% increase in year-over-year profit, some of the bigger names in multi-line retail which compete with the dollars stores like Wal-Mart (NYSE:WMT) and Target (NYSE:TGT) didn't do quite so hot. In May, Wal-Mart reported a 4% quarterly decline in EPS, while Target saw its FQ1 earnings fall 7c per share, or 9%.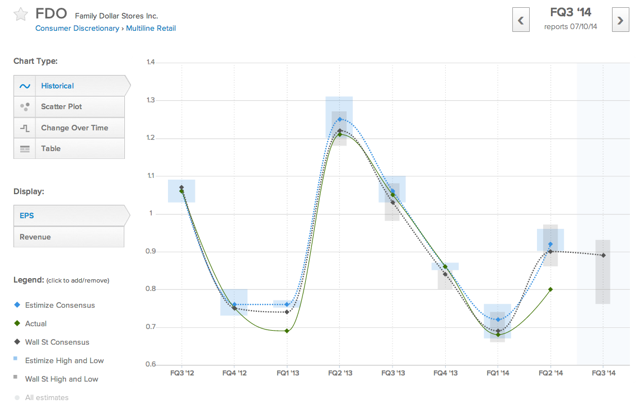 Click to enlarge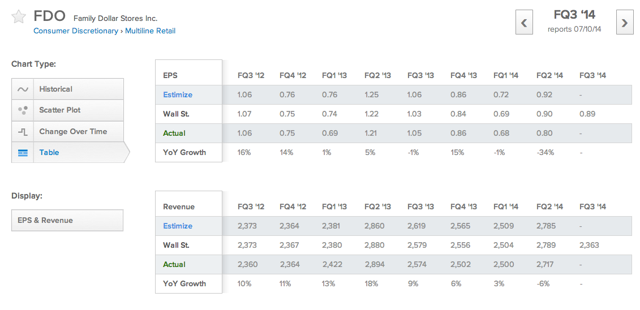 Click to enlarge
(Click Here to See Graphs and Interactive Features for Family Dollar)
On the opposite side of the spectrum from Dollar Tree's strong recent performance, we have Family Dollar Stores. Family Dollar Stores reported the weakest quarter of the 3 chains, relative to its own earnings 1 year prior, with earnings falling 41c, or 34%. Last quarter, Family Dollar Stores missed the Wall Street consensus by 10c per share and the Estimize consensus by 12c. While the dollar stores are generally outperforming the broader retail industry, Family Dollar is undergoing a restructuring and is the clear weak link among the 3 big dollar store chains at the moment. In the current quarter, the Street is expecting Family Dollar's earnings to fall 16c compared to FQ3 of last year and for sales to come in 8% lower.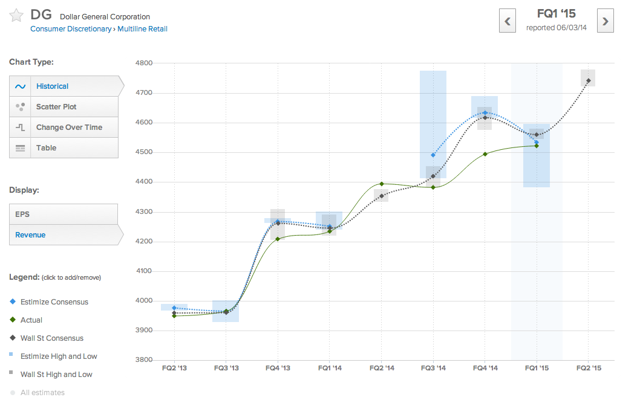 Click to enlarge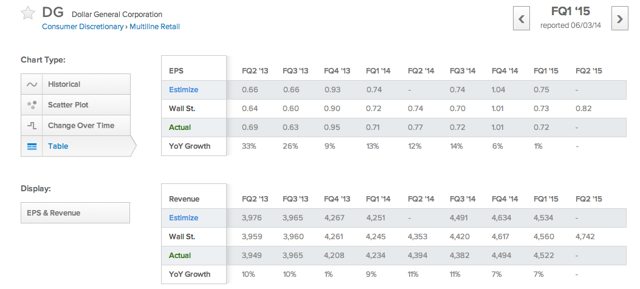 Click to enlarge
(Click Here to See Graphs and Interactive Features for Dollar General)
Dollar General reported its latest quarterly results before the market opened on Tuesday, June 3rd. After showing solid earnings gains in each of the past 8 quarters, DG only reported a 1c gain in EPS compared to the same quarter of last year. Contributing analysts on the Estimize.com platform expected more from Dollar General on the bottom line, but were not surprised by revenue coming in well below the Wall Street consensus. By tapping into a wider range of contributors, including hedge-fund analysts, asset managers, independent research shops, students, and non professional investors, Estimize has created a data set that is more accurate than Wall Street up to 69.5% of the time.
Over a 6-month stretch of general retail weakness, the dollar stores have been holding their own. Consumers may be spending less in stores across the board, but they appear to have stepped up their shopping for discount goods. Even Dollar General, who missed the Estimize consensus on both EPS and revenue, still managed to report a quarter of marginal growth with year-over-year gains of 1% on earnings and 7% in sales. After examining the most recent fundamental financial performances from the 3 dollar stores, it's clear that Dollar Tree is growing the fastest and for the moment is the dollar store to watch.
Disclosure: None