By Fathom Consulting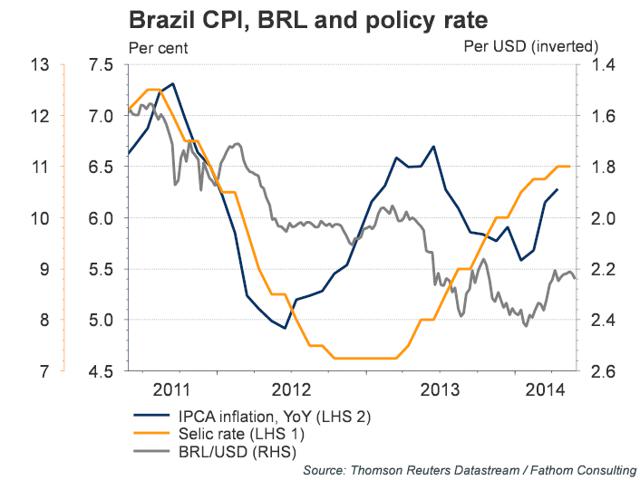 Copom, the rate-setting committee of Banco Central do Brasil, maintained its benchmark rate at 11% at its latest meeting. The lack of action follows a series of nine consecutive increases, which have taken the Selic 375 basis points higher since April of last year.
Yet, in its statement the Copom stopped short of sounding the all-clear: policymakers decided unanimously to "at this moment" keep borrowing costs unchanged, leaving the door open for more rate hikes in the future, should it prove necessary. While it is true that monetary policy operates with lags, Brazil's monetary authority also needs to take into account a persistently lax fiscal backdrop. For all the recent rhetoric involving ambitious spending cut targets, Ms. Rousseff's government has been busy prioritizing political survival - pushing through with higher welfare payments, announcing more generous income tax exemption thresholds, promising above-inflation minimum wage increases and making payroll tax cuts permanent for a broad set of industries. Only the latter measure is expected to add an annual budget cost of around $10 billion. As such, bringing down CPI inflation is set to remain a challenge through the rest of the year - particularly as the gradual phasing out of subsidies for key tradable goods should partly offset the benefits of easing food price inflation. Investors seem to agree: the two-year inflation breakeven rate has failed to drop below the 6% level since last summer.
Domestic asset prices appear to be taking a breather following an impressive surge since mid-March. At the same time, Ms. Rousseff's numbers in the polls have stabilized, although they still hover around the uncomfortably low level of 40% - insufficient for a first-round victory. At this stage, we would refrain from chasing this rally and expect a steady pick-up in volatility all the way through October, as the optimism associated with prospects of a better economic policy mix by the next government keeps getting contaminated by the wrong signals on much-needed fiscal discipline.
Disclosure: I have no positions in any stocks mentioned, and no plans to initiate any positions within the next 72 hours.
Business relationship disclosure: Alpha Now at Thomson Reuters is a team of expert analysts that are constantly looking at the financial landscape in order to keep you up to date on the latest movements. This article was written by Fathom Consulting, independent commentator and analyst. We did not receive compensation for this article, and we have no business relationship with any company whose stock is mentioned in this article.