In developing our longer-term economic forecasts, we look for untapped risks and rewards that could unexpectedly impact economic growth. For several years now, we have highlighted the combination of improving household debt ratios and easing credit constraints as a source for stronger-than-expected growth. Recent research suggests that these factors may not be as large of a potential accelerant as we thought.
Household debt levels were a key component that caused the Great Recession. Since the recession ended, debt levels have mostly returned to normal. Debt-to-income levels, which soared to nearly 120% at the start of the recession, have returned to their 1990 - 2000 trends. Meanwhile, household debt-to-asset ratios are currently well below 1970-2004 trends.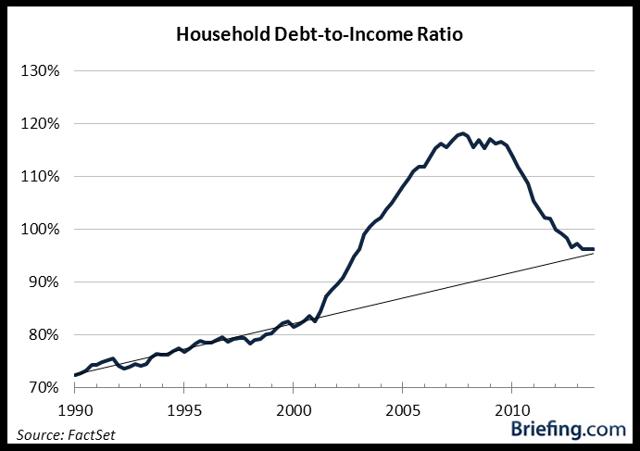 Click to enlarge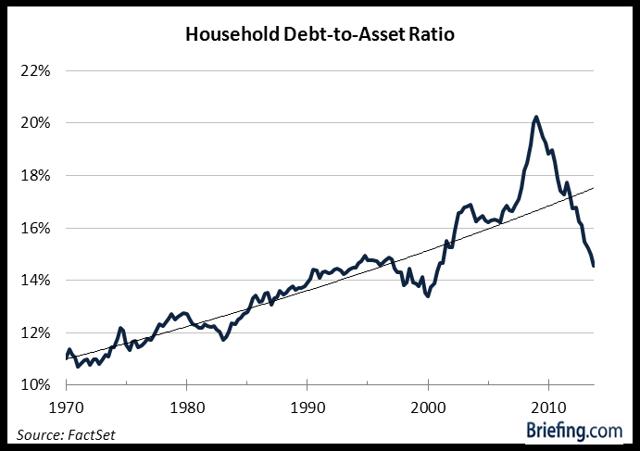 Click to enlarge
Furthermore, the financial obligations ratio - which measures the percentage of income needed to satisfy the minimum household monthly debt payments - remains near historic lows.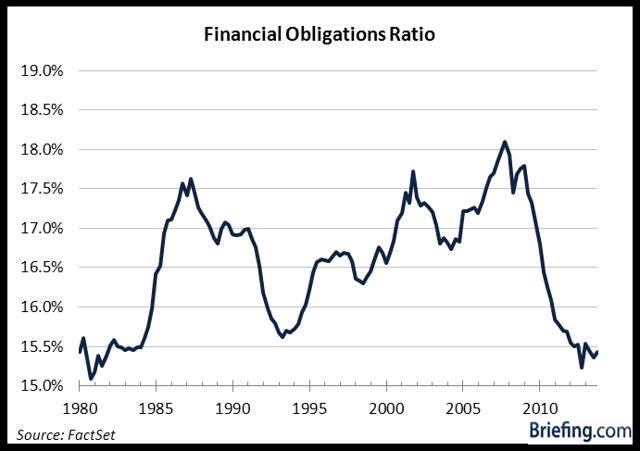 Click to enlarge
Altogether, we surmised that household balance sheets were strong enough to justify taking on more debt and to drive consumption growth.
The Story of the Banks
Banks seemed to agree with our proposition on household debt levels. The Federal Reserve's Senior Loan Officer Opinion Survey on Bank Lending Practices showed substantial improvements in the number of banks willing to make consumer installment loans.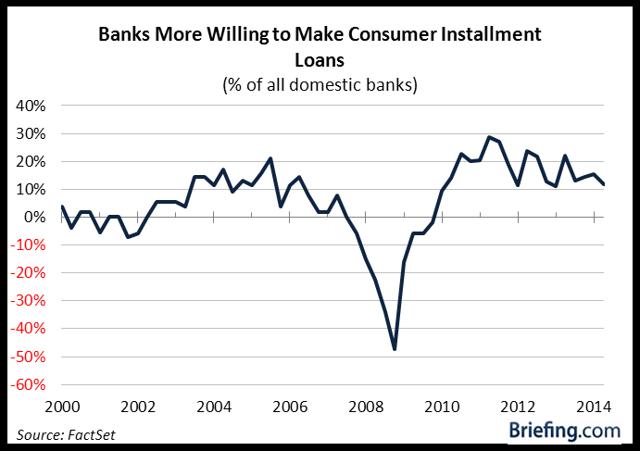 Click to enlarge
Easing credit standards and lower minimum credit scores are also the norm.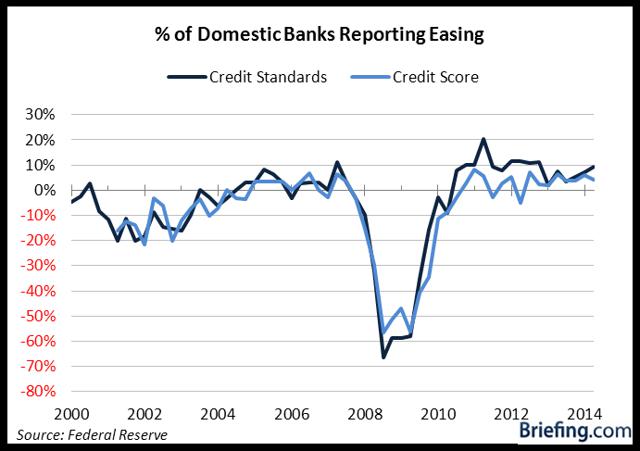 Click to enlarge
Everything seemed in place for a sudden breakout in consumption growth. Household debt levels could support stronger consumption and banks seemed willing to meet that demand. Yet, consumption growth failed to break the economic malaise.
Inequality Problems
Digging deeper into the data, it seems our expectation for accelerating consumption growth may not be viable.
Overall, the data pointed toward a picture of an improving consumer and easier bank lending. At the micro level, however, income growth was decelerating and credit conditions were extremely tight for a large number of consumers.
In our piece, "The Great Recession's Impact on Wage Inequality," we showed that medium-wage earners suffered tremendously during the last recession. To put it bluntly, $2.3 tln in total earnings lost by medium-wage workers during the recession have yet to be recovered.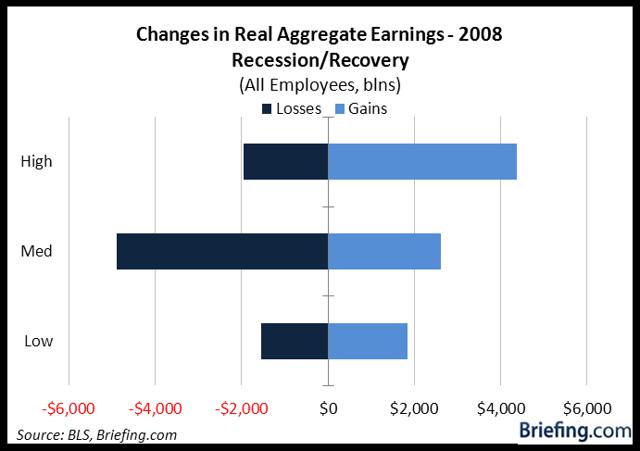 Click to enlarge
Many of these workers transitioned into lower-wage jobs, which resulted in a loss of income.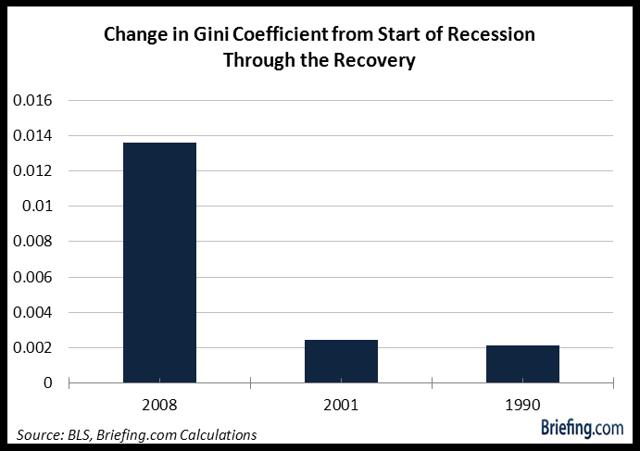 Click to enlarge
There was a marked increase in wage inequality, as measured by the GINI coefficient, during the Great Recession that did not occur in the previous two recessions.
According to the life-cycle economic hypothesis, consumers try to keep consumption growth steady over their lifetime by borrowing in bad economic times and saving during prosperous times. If this theory holds, and assuming consumers believe the increase in inequality is a temporary phenomenon, then demand for credit would be expected to increase in the current economic environment.
With banks actively easing credit conditions and increasing their willingness to lend, there should be a spike in credit activity to support consumption growth during these lean times. In reality, real revolving consumer credit, which includes credit card balances, has shown no signs of growth.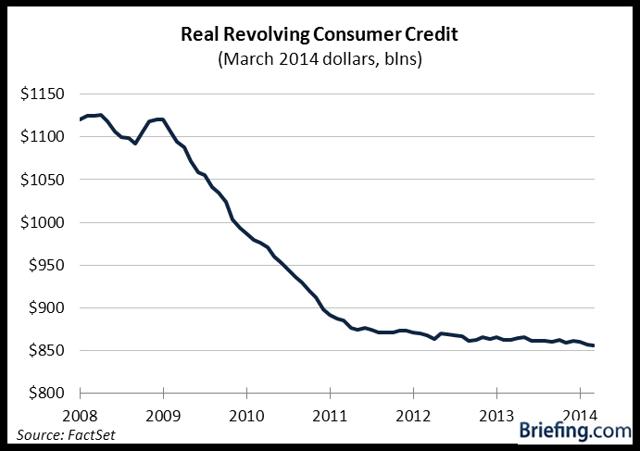 Click to enlarge
Credit Constraints
It is possible that the lack of credit growth is due to consumers not wanting to take on more debt. If consumers feel that their debt levels are still sufficiently high, they may prefer to maintain a higher savings rate and pay down debt rather than add to their credit. This so-called demand-side constraint would prevent an acceleration in consumption growth.
On the other hand, it is possible there is a supply constraint.
Banks may simply not be issuing loans at rates that are normally associated with their current level of willingness to lend. A new study by New York Federal Reserve researchers Zafar, Livingston, and Klaauw, "Rising Household Debt: Increasing Demand or Increasing Supply?" suggests a supply-side constraint is the main cause of the lack of credit growth.
Using the New York Fed's Survey of Consumer Expectations, the authors evaluated the changes in credit acceptance and rejection rates.
In May 2013, approximately 20% of all borrowers saw their credit applications rejected outright or they assumed their applications would be rejected and were too discouraged to even apply. A second survey in February 2014 showed the rejection/discouraged rate increased to 21%. Acceptance rates declined from 43% of all borrowers in 2013 to 40% in 2014.
Broken down by credit score, low credit borrowers - credit scores less than 680 - saw their rejection/discouraged rate increase from 47% in 2013 to 57% in 2014. Meanwhile, acceptance rates for these borrowers fell from 36% to 30%.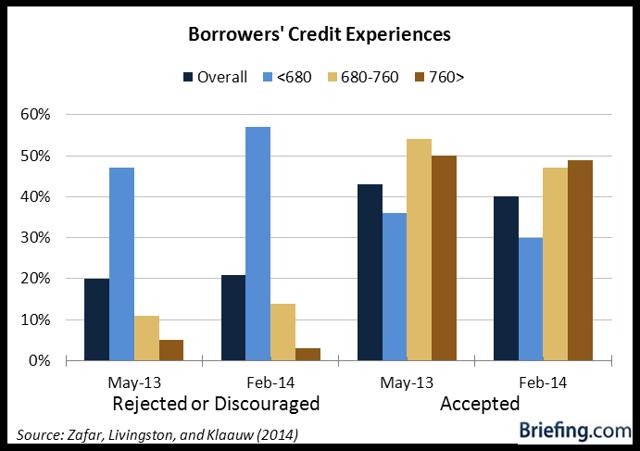 Click to enlarge
As we mentioned previously, the recovery from the recession was not equal.
Millions of medium-wage earners transitioned to lower wages as opposed to staying at their old wage level or finding higher wages. It is likely that the increase in inequality also resulted in a large movement of borrowers from medium credit score levels to lower credit scores. The proportion of all borrowers that have low credit scores is likely much higher today than before the recession.
The people who most need to increase their credit to keep consumption growth steady are also the ones most likely to see their credit applications rejected.
Unfortunately, access to credit has worsened over time.
Overall application rates for credit cards increased by about five percentage points from May 2013 to February 2014. Rejection rates, however, increased by six percentage points during that same time.
Rejection rates increased by more than 25 percentage points from mid-2013 to early 2014 for low credit score borrowers.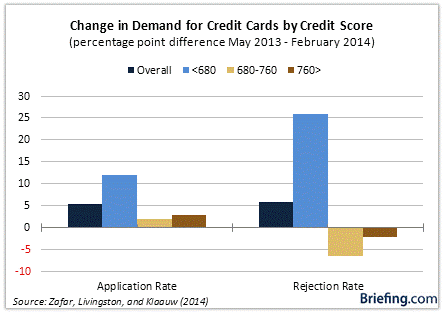 Those same low credit score borrowers do not believe credit will become easier in the next 12 months. From May 2013-February 2014, low credit borrowers increased their expectations of future credit card rejections by six percentage points. That compares with about a six percentage point decrease in credit card rejections for all borrowers.
Meanwhile, high and medium credit score borrowers have decreased their need for credit in February 2014 from May 2013.
Those who need credit do not have access to it, and those who do have access to credit are increasingly not likely to want it.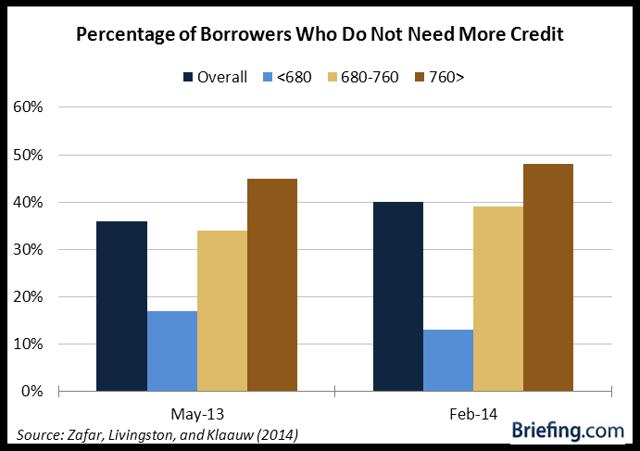 Click to enlarge
Putting It All Together
In retrospect, a credit-fueled spike in consumption was probably never going to become a reality. Yet, household debt ratios - such as the debt-to-asset level, the debt-to-income ratio, and the financial obligations ratio - are all clearly signaling that consumers have the ability to add to their debt load.
The problem stems from the nature of the unequal recovery.
Medium-wage earners, before the recession, had an easy time accessing credit. That was not necessarily due to banks giving loans to substandard or subprime borrowers, but due to the actual creditworthiness of these workers.
Now that millions of pre-recession medium-wage earners are earning lower wages, their credit scores have likely declined into the bottom range. Credit conditions for these borrowers remain extremely tight.
There is a large segment of the population that had access to credit in the past that does not have access any more. These people are unable to raise their debt load, regardless of their current asset positions. The debt ratios for these workers cannot increase.
That means the overall household debt ratios, which we used as a basis for a potential consumption spike, are almost meaningless. The only way the ratios can increase in the near term is if high-wage earners decide to take on more debt, which is unlikely to happen. According to New York Fed data, higher credit score borrowers have no desire for more credit.
The only borrowers that are actively looking to increase their debt are unable to do so. That leaves little hope for a consumption-driven advance out of the economic doldrums.
Disclosure: I have no positions in any stocks mentioned, and no plans to initiate any positions within the next 72 hours. I wrote this article myself, and it expresses my own opinions. I am not receiving compensation for it. I have no business relationship with any company whose stock is mentioned in this article.