Over the last couple of months I've stuck my neck out and called a bottom in a few key, high-yield energy stocks. On April 17th, I felt that Linn Energy (LINE) had bottomed in the high $27s. Since then, Linn has muddled along, and now sits at $29.30. On April 27th, I felt that Seadrill (NYSE:SDRL) bottomed at around $32.50. Currently, Seadrill sits at $38.73.
At the risk of tempting fate, today I will look at the Kinder Morgan family, with specific interest in the shares of (NYSE:KMI) and (NYSE:KMP), both of which I believe hit bottom in late March. Both names have since found support and have gone up modestly. Still, over the past twelve months, neither name is anywhere close to catching up with the broader market. I believe that both names will have a ways to go.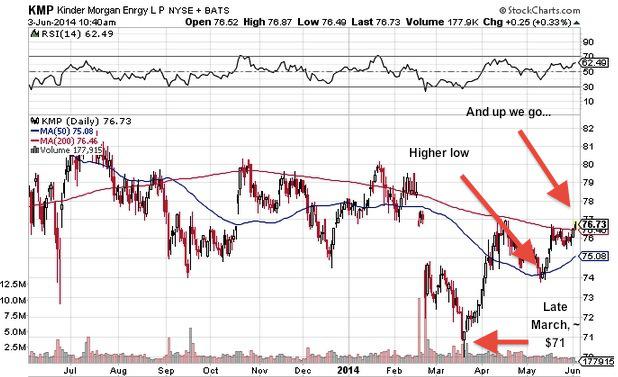 (Source: StockCharts)
Kinder Morgan Partners throttled down to about $71 in late March, but quickly recovered to $72. Since that date, partnership units have climbed to $76.88, a gain of about 6.75%. Above, we see a pretty nice pattern of higher lows and a recent break above KMP's 50-day moving average.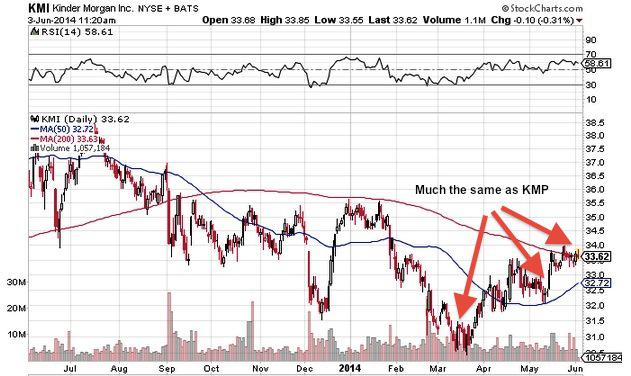 (Source: StockCharts)
The shares of KMI look much the same. We see a solid trend of higher lows and higher highs. So, what's going on? In a nutshell, both KMI and KMP have drifted downward over the last 6-9 months, while the rest of the pipeline MLP space has gone in the other direction.
Why? Largely out of concerns that growth was slowing. However, I believe that Kinder Morgan's somewhat complicated ownership structure has contributed to this underperformance. Also, Kinder Morgan's distribution coverage is much thinner than that of its peers.
But, at some point, the institutional investors decided that Kinder Morgan's relatively low price provided more than enough compensation for those factors, and the big investors finally began buying again.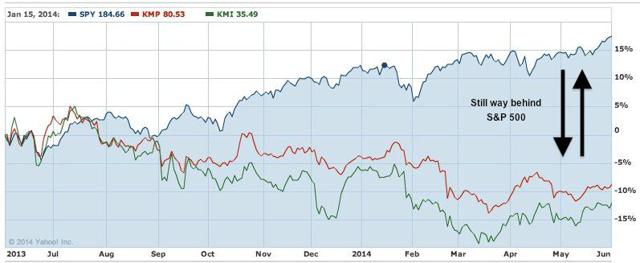 (Source: Yahoo Finance)
It's when we compare KMI and KMP that we see the "bigger picture." While both names have been climbing higher for the last six weeks or so, KMI and KMP are still way behind the S&P 500 over the last twelve months.
Why Kinder Morgan has a bright future
Kinder Morgan is the second-largest midstream business in the US, and is the largest mover of natural gas in the country. Taken as a whole business, about half of Kinder Morgan's income is derived from midstream natural gas activities.
Thanks to huge shale gas discoveries in the Marcellus shale and a few other places, natural gas is now an abundant, cheap source of energy. Because the US has very little infrastructure in which to export that natural gas, natural gas prices in the US are now the lowest in the world.
This has caused something of a chain reaction: Households are switching from propane and heating oil to natural gas. Petrochemical companies, which count natural gas as an important feedstock, are thriving all along the Gulf Coast. Mexico is importing more. In other words, the use of natural gas is steadily rising, and few are more well-positioned to take advantage of this trend than Kinder Morgan.
Supply is not the challenge; there's plenty of that. The challenge, and therefore, perhaps the highest returns, will come from moving that gas from untraditional sources and into the demand markets.
Here is just one example: Historically, gas has flowed to New England via vertical drilling basins in the Gulf Coast states. In other words, the Gulf Coast used to be the net provider of gas, and the Northeast a net consumer of it. Today, with the resurgence of the petrochemical industry on the Gulf Coast, and with the addition of huge reserves in the Marcellus Shale (in Pennsylvania), that role has been reversed, with the Northeast actually providing gas to the Gulf Coast. This change has caused a corresponding need for new infrastructure. Anecdotes like this are a microcosm of what is going on all over the country, and they illustrate how midstream players will be among the greatest beneficiaries of this long-term trend.
Kinder Morgan, specifically, has a backlog of over $4 billion in midstream natural gas projects over the next three years. On an absolute basis, few other midstream names are spending that much. Management expects 5% distributable cash flow growth from KMP and 8% growth from KMI, and much of this growth will be thanks to natural gas.
Hop in
Kinder Morgan is a great value when compared to the rest of the midstream MLPs, and it is exposed to, arguably, the strongest secular trend in North American energy today. Partnership units yield about 7.1% right now, and management expects the distribution to grow by around 5% for the foreseeable future. Corporate shares yield 5%, and management expects 8% dividend growth over the same time span. What's not to like?
Disclosure: I am long KMP, KMI, SDRL, LINE. I wrote this article myself, and it expresses my own opinions. I am not receiving compensation for it (other than from Seeking Alpha). I have no business relationship with any company whose stock is mentioned in this article.