The fiscal austerity being implemented in Greece and the other Club Med countries would soon be felt in Germany because it has been relying on exports to these countries – not China – for growth, the Angry Analyst warned. Now, German economic sentiment, as measured by the ZEW institute, collapsed in September. This is particularly significant because it leads the other key indicators produced by the IFO institute - as can be seen from the accompanying chart. And where this indicator leads, German industrial output is sure to follow.
click to enlarge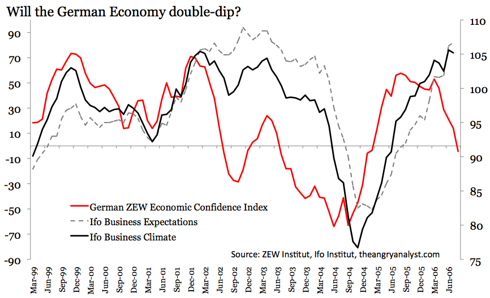 Click to enlarge
According to the ZEW institute, the collapse in sentiment reflects growing risks at the moment, such as "the slowdown in the US and the yet unresolved problems in the eurozone which are for instance reflected by the large interest rate spreads for Greek government bonds."
Sensationally, former German finance minister Peer Steinbrück admitted today in an interview with Der Spiegel that Greece will not manage to get back on its feet without restructuring its debt. As he says, this will create substantial losses for the creditors including many European and German banks – though he thinks it won't be a problem for 'many' banks.
This would explain why Deutsche Bank was so quick out of the starting blocks, and is now leading the European banking field in raising more capital. The German bank says it will raise at least €9.8bn via a fully underwritten rights issue, with the preliminary subscription price set at €31.80. It may have "first mover advantage," but given that a week is a very long time in finance these days, one wonders what the final subscription price will be when it is announced on 20 Sep – and how much more its shareholders will have to be diluted.
The suspicion must be that funding the consolidation of Deutsche Postbank is a convenient FIG leaf. The real reason why it needs the money is surely that Deutsche Bank knows that it will need as much capital as possible to weather the approaching storm in German banking.
Disclosure: No positions