Target (NYSE:TGT) has been bouncing near 52-week lows as it tries to fight back from numerous recent negative events. As the company continues to deal with the data breach that exposed tens of millions of customers' personal and financial information, it's also faced with replacing its CEO as well as dealing with disappointing 1st quarter earnings. These events have caused a great deal of downward pressure on the stock price.
With the drop in price, though, we are now seeing yields at 3%, a healthy payout for a company that has a 5-year annual dividend growth rate of over 30% and is a member of the Dividend Aristocrats, Dividend Achievers, and Dividend Champions. Using our Dividend Safety scoring system, let's take a closer look at several important metrics about Target's dividend safety.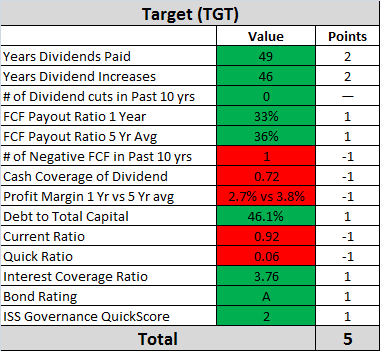 Target's impeccable dividend history, low free cash flow payout ratio, and strong bond rating make this a safer pick for income investors. The company does have several red flags that need to be investigated further. Target holds just over $700 million in cash on hand, which for the size and scale of the company seems rather low. Especially when compared to its peers, as Wal-Mart (WMT) carries over $6 billion and Costco (NASDAQ:COST) has over $7 billion. The company has also experienced a decrease in its net profit margin over the past five years, posting a recent 2.7% margin vs. a five-year average of 3.8%.
The low current ratio and quick ratio appear to be red flags as well with both being below 1.0. This is typical of the retail sector, though, as these companies tend to have high inventory and accounts payable figures, which skew these metrics.
So is Target's current dividend safe? Certainly. Will there be a dividend increase in the coming months? I can't imagine Target putting its 46-year streak in jeopardy. I would be shocked if it's anywhere near the size of its recent increases, though. With the impending litigation and likely large settlement costs for the recent data breach, management will need to conserve cash and/or use its strong credit rating to raise money through debt offerings. Considering its current low cash position and shrinking profit margins, I would assume a large portion of the free cash flow generated by the company will be set aside for these upcoming costs, leaving less cash to be put towards a dividend increase. Investors who have been spoiled by double-digit annual dividend increases may be disappointed in the coming months.
Disclosure: I am long TGT. I wrote this article myself, and it expresses my own opinions. I am not receiving compensation for it. I have no business relationship with any company whose stock is mentioned in this article.
Additional disclosure: The 4% Portfolio Retirement Service has made no recommendations on TGT.