Arena Pharmaceuticals (NASDAQ:ARNA) presented at the Jefferies 2014 Global Healthcare Conference. The company shifted slightly from previous conferences in that the initial discussion was focused on the pipeline, rather than the anti-obesity pill Belviq. The first thing that I always consider when hearing presentations such as this is that the talk will be more global in nature and will tend to look at all of the positives that are happening. This is the nature of these types of presentations. Often, it is not the presentation itself as a standalone that I look at. What I look for is distinct things that differ from information already known. What stood out for me about this presentation was the number of doctors that have scripted Belviq.
In the conference today, the company stated that 33,500 physicians have scripted Belviq 27,500 times. Aside from it being a bit odd that the data point would imply that in some cases it took two doctors to write one script, the number that stands out is the 33,500. Just a few short months ago, this same statistic was 20,000 doctors. (For the record, I believe that the slide had an error, and that it should have read 33,500 doctors have written 227,500 scripts to date - Edit... Slide now corrected). Needless to say, the error in the slide shifted the focus of many to the wrong number. What should be the topic of discussion is the growth in prescribing physicians.
Original Slide from June 3, 2014 Presentation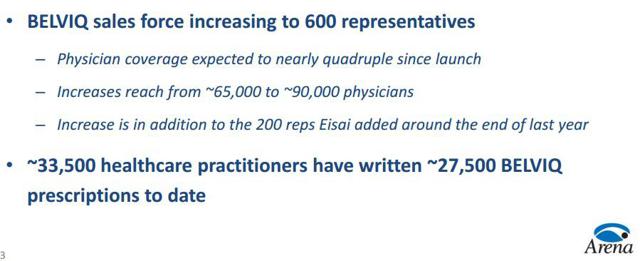 Updated Slide from June 3, 2014 Presentation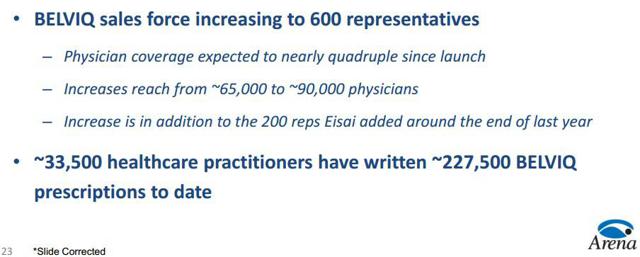 On February 11, 2014, at the 16th Annual Bio CEO & Investors Conference, that same data point was that 20,000 physicians had scripted Belviq. Essentially, in the last 3.5 months, the number of doctors willing to prescribe Belviq has gone up 13,500, or an impressive 67%. The biggest difference between now and 3.5 months ago is the addition of television advertising.
Slide From February 11, 2014 Presentation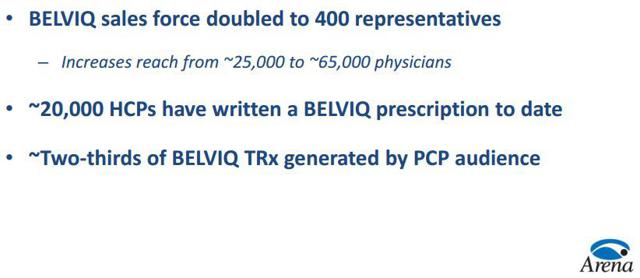 Seeing the added awareness on the physician side of the equation is a big positive. It lends credibility that television advertising is helping to create a pull effect (where consumers ask for a product), and supports the fact that adding additional sales reps will help drive future growth. Having doctors on board and willing to script Belviq will be a key driver, and by extension, could help the insurance coverage increase further and perhaps even help drive better tiers of coverage as time passes.
In my opinion, that was the biggest takeaway from the conference that can carry nearer-term impacts on the price of the equity. Longer-term items presented include the pipeline, a discussion about using Belviq for smoking cessation and the current studies of Belviq combined with phentermine.
On smoking cessation, a study is ongoing. The study seeks to measure the quite rate for patients taking Belviq. The global market is anticipated to be $2.5 billion. Belviq could carry an advantageous position in this market because of the weight-loss attributes of the drug. It is no secret that many who quit smoking gain some weight. If Belviq can keep these people weight-neutral, while allowing them to quit, it could become a compelling product. As yet, there have been no head-to-head studies against other prescription smoking cessation products.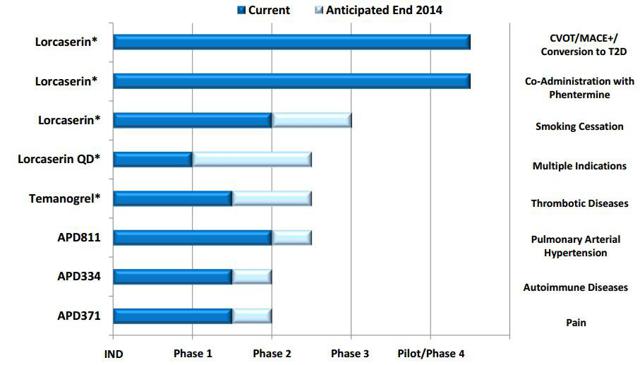 Much of the current pipeline is a longer-term prospect. APD811 is a hypertension drug that looks to have meaningful data endpoints available about 15 months from now. The near-term studies that could have results to digest are mostly related to Belviq. The study with phentermine, which included 225 patients in a 12-week study, should wrap up by mid-July. Results from the study will be presented sometime thereafter. The smoking study should wrap up in the Fall, with results published by the end of the year.
The bottom line at the moment is that Area's valuation hinges mostly on Belviq sales. Very little in this presentation was focused on this aspect of the business, but I am anticipating that Jefferies analyst Thomas Wei will be updating his models on Arena and issuing a report in the very near term. It is my opinion that Wei may lower sales projections for 2014 and likely lower revenue projections for 2015 substantially. His last report had Arena qualifying for substantial milestones in 2015, an event that is not at all likely. Wei also based a lot of previous assumptions on Belviq, with phentermine being a big catalyst earlier than what is now possible. Thus, while sales have been slower than desired or projected, physician awareness does allow for the trajectory to shift. Stay Tuned!
Disclosure: I am long ARNA. I wrote this article myself, and it expresses my own opinions. I am not receiving compensation for it (other than from Seeking Alpha). I have no business relationship with any company whose stock is mentioned in this article.