Down 22% year-to-date, PetSmart (NASDAQ:PETM) has looked like an Internet stock instead of the fat-margin specialty retailer it is. But even with a turnaround in sales growth not expected immediately, investors can look to PetSmart's record of returning cash in the form of a rising dividend and aggressive buybacks.
Plus, the love-your-dog-or-cat craze is hardly over and PetSmart is well-positioned with upscale merchandise and doggie daycare services to continue to capitalize on that trend. The service element helps PetSmart hang onto customers in the face of online competition on products from Amazon (NASDAQ:AMZN) and others.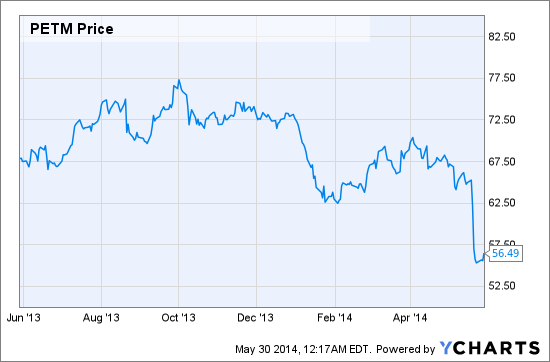 The dividend yield is just 1.4% but the payout has risen nicely since 2009, and there's room for more increases with payout ratio remaining very low.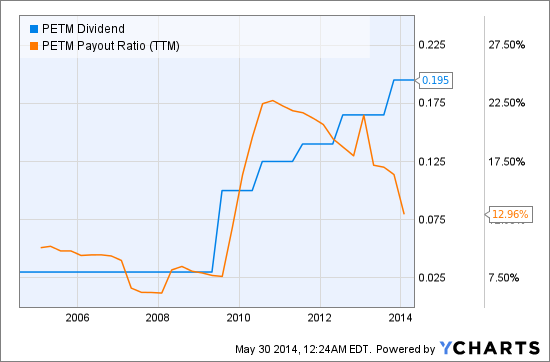 PETM Dividend data by YCharts
The bigger reward for shareholders has been through stock buybacks, reducing shares outstanding by about one third over the past decade.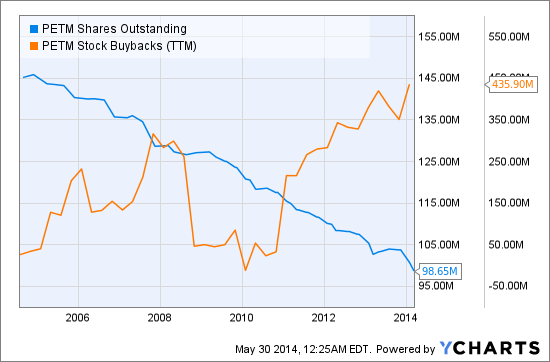 PETM Shares Outstanding data by YCharts
So, on top of the operating leverage that helped net income to rise nearly twice as fast as revenue over the ten-year span, the fewer shares magnified the gains further in EPS.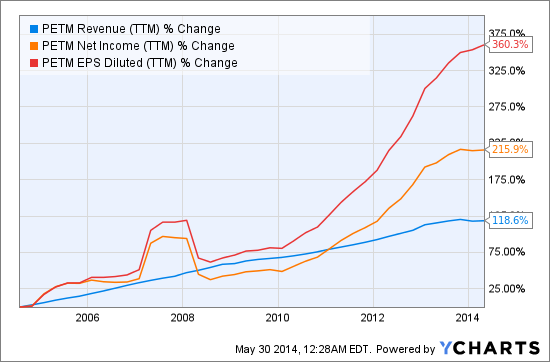 PETM Revenue (TTM) data by YCharts
The decline in same store sales in the first quarter ended May 4 was the first such decline since at least 2000, according to Daniel Hofkin, an analyst at William Blair & Co. following PetSmart. The company reduced its 2014 outlook slightly. And you saw the market's reaction. But that puts the stock at a forward PE ratio of about 13, compared to nearly 20 last fall. Hofkin's not recommending the stock and it's rated mostly hold by other analysts.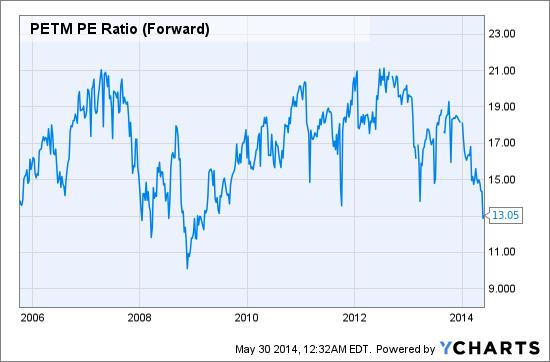 PETM PE Ratio (Forward) data by YCharts
PetSmart is working out some changes to its merchandise mix, making improvements to its online offerings and also seeking to improve in-store services. In past columns, YCharts editor Dee Gill wrote admiringly about the company but worried some about the stock's lofty valuation. If you were waiting for an entry point, despite the current chilly analysts' reception, $56 sure beats $75.
Jeff Bailey, The Editor of YCharts, is a former reporter, editor and columnist at the Wall Street Journal and New York Times.
Disclosure: None