By Ronald Delegge
Performance divergences, especially in key industry sectors, are either supportive or non-supportive of the broader stock market's move.
Although the S&P 500 and Dow Jones Industrial Average have notched new highs this year, small cap stock ETFs linked to the Russell 2000 and S&P SmallCap 600 continue to lag. The fact that higher beta/higher risk small cap stocks aren't leading the rally means that investor risk appetite is on pause mode. Is a sharper reduction in risk taking ahead?
Along with lagging small caps, stocks in the homebuilding, retailing, and regional bank industry sectors have not participated in the 2014 rally to new highs. The chart below shows how all three sectors are posting negative YTD performance compared to a gain for the S&P 500. Should it be cause for concern?
It would be a genuine mistake to discount the significance of homebuilders, retailers, and regional banks along with their lack of participation in the equity market's rally to all-time highs.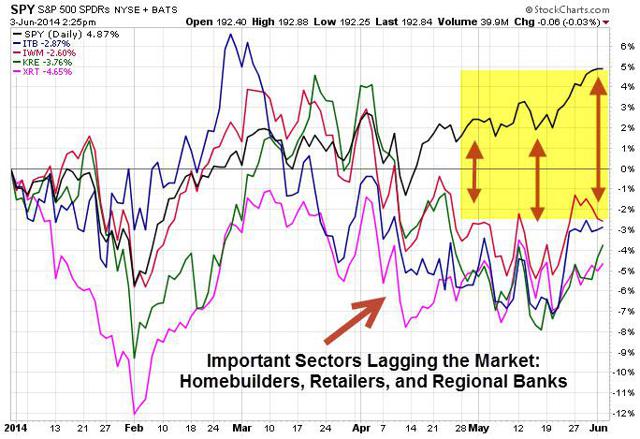 Consumer spending accounts for roughly two-thirds of national GDP and the performance of housing is central to any economy that's purportedly "growing." Regional banks are heavily represented in the small-cap finance portion of the Russell 2000 (almost 25% sector exposure) and give us a sharper glimpse of economic vibrancy at a localized level.
For Q1, the U.S. GDP was revised downwardly from +0.1% to -1%. Not only are these three sectors important to the broader U.S. economy, but they are vital to the broader stock market.
If homebuilders, retailers, and regional banks are unable to breakout of their funk of subpar relative performance, it could spell trouble for the rest of the equity market. Weak performing sectors often get weaker when the stock market starts to falter. And that's why these particular sectors could hold the key to stock market performance in the coming months.
Disclosure: No positions
Link to the original article on ETFguide.com