Investing in new companies is tricky - but that doesn't mean you can't win. In the past week, two new companies have made remarkable gains.
Molycorp Inc. (NYSE: MCP), the producer of rare earth oxides, moved into the number one spot on our IPO watch list after its stock jumped 19 percent last week. Since August 20th, Molycorp is up 75 percent and the stock continues to significantly outperform the S&P 500 and the other IPOs we are monitoring.
Molycorp's "quiet period" came to an end two weeks ago meaning that underwriters and analysts can now issue research reports, earnings forecasts, and price targets for the company and its stock.
They didn't waste much time getting to work. Last week Morgan Stanley and JPMorgan initiated coverage on Molycorp with overweight ratings. Clearly analysts following the company expect the stock to outperform the market - but I believe the entire industry is poised to rally.
There are few rare earth mining companies in the world outside of China - yet demand for the minerals that go into products from wind turbines to electric vehicles is soaring. Consider these mining companies the clean energy equivalent of oil exploration and drilling companies. If you think there's a future for clean energy, by extension you think there is a future for rare earth mining companies.
But outside of China, and a few operations in Canada, there aren't very many of these operations out there. Molycorp, the sole publicly traded U.S. based miner, is trying to make a go of it. So far, the recently public company is garnering massive attention, and the stock has been a high flyer since its debut.
Watch this company, and considering nibbling at shares on pullbacks. But be careful, these high flyers can plummet back to earth without warning - and many who got in on shares early may be ready to lock in gains.
MakeMyTrip Limited (Nasdaq: MMYT) was the other big winner last week as shares rallied 11.5 percent. The stock is now up 67 percent since going public on August 12.
The travel industry continues to receive analyst attention as last week Deutsche Bank AG (NYSE: DB) initiated coverage on Priceline.com (Nasdaq: PCLN) with a buy rating and a price target to $350. The stock was trading at $330.30 as of yesterday's close.
Deutsche Bank says the online travel industry will benefit from convenience and customer experience, and will gain market share on channels that they've already tapped into. Shares of MakeMyTrip Limited hitched a ride and moved higher on the positive news.
***The chart below shows the returns of the best-performing IPOs since July.
Click to enlarge
QLIK Technologies (Nasdaq: QLIK) dropped from the number one spot last week, as its return since its IPO date fell to 56 percent. RealPage Inc. (Nasdaq: RP) and China Kanghui Holdings American (NYSE: KH) held steady to round out the top 5.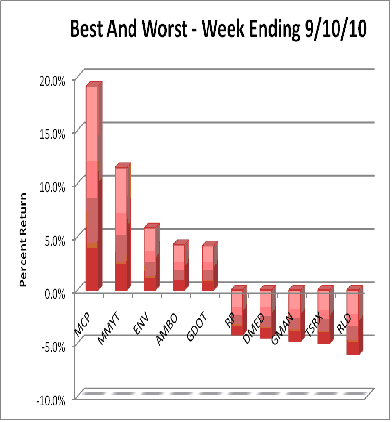 Envestnet Inc. (NYSE: ENV) moved higher last week as Stifel Nicolaus, RBC Capital Markets, UBS, and Barclays Capital initiated coverage on the firm. The company received two buy ratings, an outperform rating, and an equal weight rating, all of which helped move the stock 6.5 percent higher.
RealD Inc. (NYSE: RLD) and RealPage Inc. (Nasdaq: RP) were two of the biggest losers last week, dropping 6.1 percent and 4.2 percent respectively. But I wouldn't take my eye off RealD for too long - I think it's due for a turnaround in coming months.
RealD, a licensor of 3D technology, is teaming up with network video processor RGB Networks in an effort to test 3D services over RGB's current networks. This transition towards a 3D-viewing experience, not only at the movies but at home as well, is at the center of 3D technology in the future.
Steve Shannon, Executive Vice President of Consumer Electronics at RealD, says, "With 3D content moving to the television, our goal at RealD is to provide technology to help deliver a premium 3D viewing experience in the home similar to what viewers get in the theatre".
IMAX Corp. (Nasdaq: IMAX) also announced its plans to have 67 screens operating in China by 2014. RealD should benefit, as the company taps into expanding markets and offers its technology to other parts of the world.
***The only company scheduled to go public this week is Legacy Healthcare Properties Trust, which plans to list on the NYSE under ticker symbol LRP. The company was originally scheduled to raise $175 million by offering 8.75 million shares at $20 per share back in August, but the underwriter said a "difficult market" delayed the IPO.
Legacy is a real estate investment trust (REIT) and plans to own six senior housing facilities. The company had $18 million in sales last year.
As always, I encourage you to do your own homework on any IPO you're considering. There are a ton of them out there and not every single one is a good investment.
To help you learn more about the exciting arena of IPO investing, I recently put together a free special report: Do's and Don'ts of IPO Investing. Click here for the PDF of this free special report.