By Jeff Bailey
Software-as-a-service, also known as cloud-based software, has taken a pretty healthy pounding in the sell-off of highly-valued stocks this year, as seen in a chart of shares of Workday (NYSE:WDAY), Salesforce (NYSE:CRM), NetSuite (NYSE:N), ServiceNow (NYSE:NOW), Concur Technologies (NASDAQ:CNQR) and Splunk (NASDAQ:SPLK).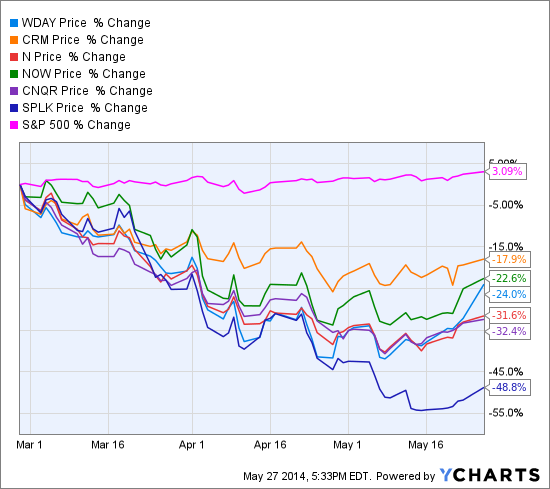 WDAY data by YCharts
A reasonable reading of the pullback, however, would seem to focus on valuation, rather than any repudiation of the companies' essential business model. After all, they're still trading at impressive price-to-sales ratios (we throw Oracle (NASDAQ:ORCL) in for comparison's sake), given that they're all still operating in the red.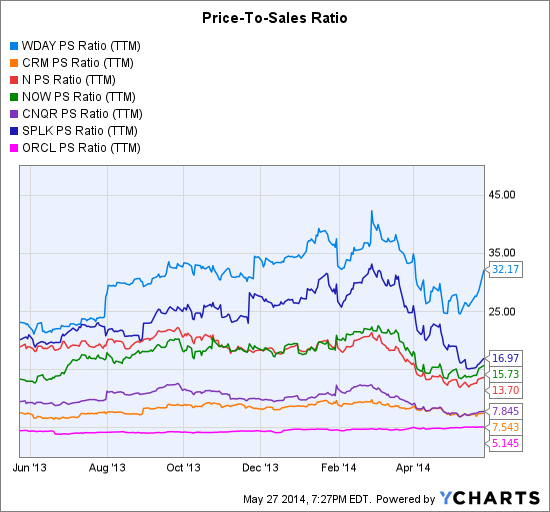 WDAY PS Ratio (TTM) data by YCharts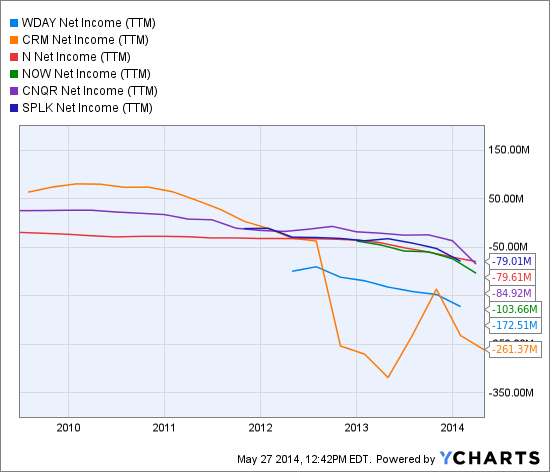 WDAY Net Income (TTM) data by YCharts
And yet, some bright minds in Silicon Valley have stepped forward to explain software-as-a-service to us because, it seems, they suspect we've been selling because we don't understand the business. We don't get it.
Andreessen Horowitz earlier this month posted a podcast, led by managing partner Scott Kupor, in which he and colleagues explain the cloud computing business model and in several instances say things like, "A lot of investors don't understand."
From the venture capital firm's web site:
"Andreessen Horowitz's managing partner Scott Kupor, corporate development operating partner Jamie McGurk, and investing team analyst Preethi Kasireddy unpack the SaaS model, describe how a16z figures out the value of these companies, and determine what makes them so 'sticky.' "
The discussion isn't all that helpful. Yes, cloud-based (it sits on the software firm's servers, not servers belonging to the customers) software sales, as opposed to traditional on-the-premises installations, have the potential to be more profitable, as centralized storage and uniform updates hold the promise of lower long-term maintenance and R&D expense.
The Andreessen Horowitz people, however, think that investors fail to appreciate that software-as-a-service companies require years of customer base building to become profitable; that booking all those costs upfront and yet recording revenue over the life of 1-to-3 year contracts means big losses early on; that once these companies reach critical mass and large market share, and thus slow down their growth, the profits will roll in nicely.
From where I sit, investors have grasped – and accepted – this proposition all too well, which is what led to the previously higher valuations for software-as-a-service stocks. And enthusiasm remains quite strong.
Tuesday, for example, Workday's fiscal first quarter results showed revenue growth a bit faster than expected, and its shares rose $9.50, or about 12%, to about $88.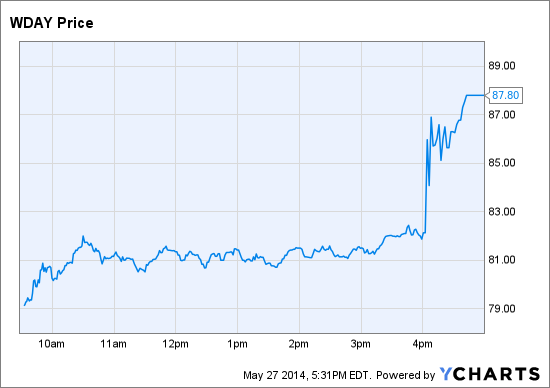 WDAY data by YCharts
Robert Maltbie of Millennium Asset Management singled out Workday as one of his fund's notable short positions in a Barron's article last month, calling it "the ultimate growth stock, unrealistically overpriced, overhyped, over-covered."
The Andreessen Horowitz people never do discuss valuation, which seems the major issue with investors. The talk, running some 25 minutes and remarkably lacking in specific data, is like so many utterances from VC types: condescending.
They assert that software-as-a-service products are stickier than old-fashioned software that's installed on the premises. They offer as reasons for this stickiness that companies that buy software have of late decentralized purchasing, and therefore, the decision makers are closer to the software and presumably are buying stuff they actually want to use, and are invested in keeping it around. They also mention that the cross-functional nature of SaaS platforms makes them stickier.
The business model suggests that customers become captive and immune to new and disruptive offerings. Seems an odd assertion given that these very companies are disrupting other established software providers. Does innovation and improvement really stop now, or only reside in the updates from your SaaS provider?
Not likely. And investors becoming skeptical of aggressive valuations – but not necessarily the underlying business model – look pretty shrewd from here. These SaaS companies may indeed build huge customer bases and become very profitable, but its doubtful all of them will. Just for kicks, one can use the YCharts Stock Screener and search for companies with market caps above $1 billion, price-to-sales ratios greater than five and net income of less than zeros.
You'll find, along with some biotech companies and others, the very SaaS stocks mentioned above: Workday, Salesforce, ServiceNow, NetSuit, Splunk, Concur Technologies and others. Not a reason to shun the stocks, but certainly a reason to beware.
The Andreessen Horowitz crew, in pleading for investor patience, warns that SaaS companies around only a handful of years aren't yet going to be profitable. "This is going to happen 10-15 years down the road," Preethi Kasireddy says at one point. As we pointed out nearly a year ago, Concur has been around since 1994, plenty of time to find its footing, one would think.
Kupor asks in the podcast, "What is it that's giving people so much angst about SaaS?"
Perhaps the knowledge, gleaned from other industries and investment cycles, that not every fast-growing company becomes profitable and survives.
Workday was founded in 2005 and sells human resources and other software, housed in the cloud, with 600 clients as of January 31, 2014, the end of the most recent fiscal year. The company was co-founded by David Duffield, a multi-billionaire and Silicon Valley legend by virtue of having founded PeopleSoft in the 1980s.
Duffield controls about 68 million common B shares, which have super voting powers, and thus controls the company.
Workday's 10-K is a model of discretion, the company keeping to itself much a curious investor might want to know about the business. We are treated to the rollout schedule of software products:
"We began offering our Human Capital Management (NASDAQ:HCM) application in 2006. Since then we have continued to invest in innovation and have consistently introduced new services to our customers, including our Financial Management application in 2007, our Procurement and Employee Expense Management applications in 2008, our Payroll and mobile applications in 2009, our Talent Management application in 2010, our native iPad application and Workday integration platform in 2011, Time Tracking and Grants Management applications in 2012 and Big Data Analytics in 2013."
But in the Risk Factors section, Workday confides: "To date, we have derived a substantial majority of our subscription services revenue from our HCM application." Not quite a one-product company, but...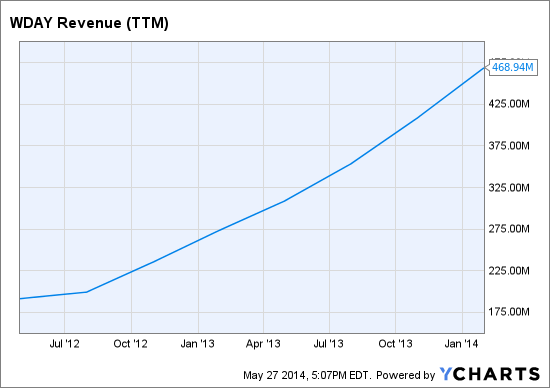 WDAY Revenue (TTM) data by YCharts
Workday revenue growth has been impressive, up 71% in the fiscal year ended January 31. But the Andreessen Horowitz crew counsels us to look beyond mere revenue growth, as SaaS companies book sales over the life of contracts and thus reported revenues may understate progress. Look at the sales backlog's growth, they suggest, as it is an indicator of future revenue growth.
That's not so helpful with Workday, as the balance sheet item known as unearned revenue rose 67%, slightly behind the rise of actual revenue. The overall backlog was $636.1 million at January 31.
And Workday has this to say about paying attention to its backlog (emphasis added):
"We expect that the amount of backlog relative to the total value of our contracts will change from year to year for several reasons, including the amount of cash collected early in the contract term, the specific timing and duration of large customer subscription agreements, varying invoicing cycles of subscription agreements, the specific timing of customer renewals, changes in customer financial circumstances and foreign currency fluctuations. Backlog may also vary based on changes in the average non-cancelable term of our subscription agreements. Accordingly, we believe that fluctuations in backlog are not a reliable indicator of future revenues and we do not utilize backlog as a key management metric internally."
Analysts expect about 57% revenue growth this fiscal year and 45% the following year. Workday says, "we do not expect to be profitable in the near future."
All of these SaaS companies spend mightily to sign up customers. We have been particularly harsh on Salesforce in past articles because its sales and marketing expense as a percentage of revenue was rising, rather than declining, suggesting that each new sale was the hardest to make. Dis-economies of scale. And both Salesforce and Workday, as they sell to bigger corporate clients, experience long waits to close deals and added costs in installation as big companies insist on top-drawer service. So, the business doesn't get easier.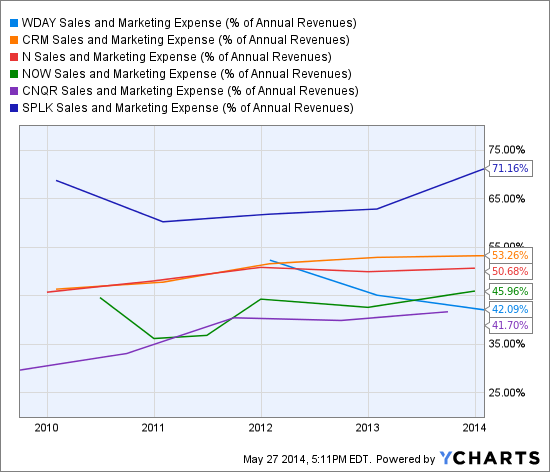 WDAY Sales and Marketing Expense (% of Annual Revenues) data by YCharts
Of the six SaaS stocks we're examining, Workday is the only one reporting sales and marketing expense declining as a percentage of revenue. Its product could be easier to sell than those at Salesforce. Its management could be showing great moderation in spending, even with $1.9 billion of cash and short-term investments sitting around.
Disclosure: None