By Todd Shriber and Tom Lydon
Pork and poultry are tasty, but when it comes to investing, meat companies are not perceived as being as exciting as biotechnology or social media stocks.
However, there is drama afoot in the packaged meat industry as at least two barbarians have come to the gate of Hillshire Brands (NYSE:HSH). Last Thursday, Tyson Foods (NYSE:TSN) offered $6.1 billion for Hillshire, topping the unsolicited $4.5 billion offer for the company recently made by Pilgrim's Pride (NYSE:PPC).
There are not many exchange traded funds that feature notable allocations to all three stocks, but Hillshire is a top-10 holding in the PowerShares DWA Consumer Staples Momentum Portfolio (NASDAQ:PSL). The three aforementioned stocks combine for 9% of PSL's weight.
Hillshire is in the midst of acquiring Pinnacle Foods (PF), another PSL holding. That deal could be scuttled if Hillshire itself is acquired.
Momentum and consumer staples may sound like an oxymoron, but PSL proves that is not the case. Rather, the ETF's lineup is proof some excitement can be had with a traditionally slow-moving sector.
Of course, no one investor should make choices based on the adrenaline factor. PSL is, however, useful when it comes to the size factor. In this case, PSL features just a 6.3% weight to large-cap stocks.
Investors looking for big weights to favored staples names such as Coca-Cola (NYSE:KO) and Procter & Gamble (NYSE:PG) should look to another ETF, but that also means PSL and its primarily mid-cap lineup can be paired with a standard cap-weighted staples ETF for broad staples exposure with a dash of growth mixed in.
PSL was one of the 10 PowerShares ETFs that were transitioned to momentum indices from Dorsey Wright & Associates in February.
What is important about that index swap is the DWA Consumer Staples Technical Leaders Index's spin on the staples sector. That is to say staples stocks account for just 58.2% of PSL's weight. The ETF features a 28% allocation to the consumer discretionary sector and even some social media exposure with a 3% weight to Yelp (NYSE:YELP).
Add Yelp to the list of PSL holdings that have been rumored to be takeover targets. Same goes for Hormel (NYSE:HRL), Post (NYSE:POST), Diamond Foods (NASDAQ:DMND) and WhiteWave Foods (NYSE:WWAV).
It is not reasonable to expect all those companies will be acquired in the near term, but it is worth noting Diamond Foods, Hormel, Post, WhiteWave and Yelp combine for about 9% of PSL's weight.
Again, buying any stock or ETF in the hopes of takeover talk can prove frustrating. And the primary benefit of PSL comes from its potential to deliver more rapid gains with a strategy in a sector rarely seen as a momentum destination.
Still, PSL's current lineup has already given investors exposure to several announced takeovers or sizable outside investments when including Coca-Cola's now 16% stake in Green Mountain Coffee Roasters (NASDAQ:GMCR). Green Mountain is PSL's second-largest holding at 4%.
Other confirmed targets among PSL's holdings include Hillshire, Pinnacle Foods and Safeway (NYSE:SWY), which is being acquired by Cerberus Capital Management.
PowerShares DWA Consumer Staples Momentum Portfolio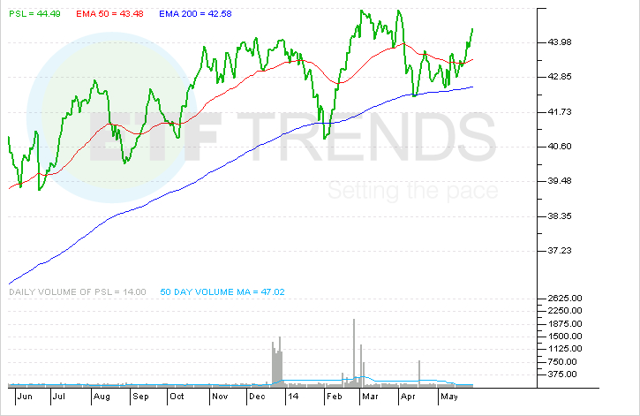 Tom Lydon's clients own shares of Coca-Cola and P&G.
Disclosure: I am long PG. I wrote this article myself, and it expresses my own opinions. I am not receiving compensation for it. I have no business relationship with any company whose stock is mentioned in this article.