It has been a long time since I covered 3D Systems (NYSE:DDD). I want to inform Seeking Alpha users that 10 analysts at BarChart rate DDD a Strong Buy. This current bullish sentiment is in spite of the latest stock dilution that 3D Systems engaged in last month.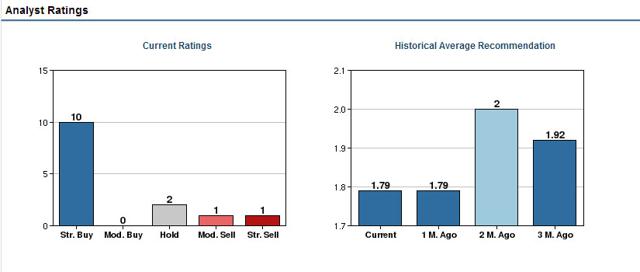 Source: BarChart
The issuance of new common stocks did not sit well with many investors who promptly dumped DDD which resulted in the stock losing as much as 11%. However, this event did not deter the analysts from BarChart from issuing their Strong Buy recommendation for 3D Systems.
Another ten analysts polled by FT.com rates DDD as a Buy. The median 12-month price target for 3D systems by 19 analysts polled by FT.com was $69, while the high price target is up by 128.1% to $115.

The 20 analysts are betting that 3D Systems is going to make a big bounce up after losing almost half of its price from its 52-week high. Despite the negative propaganda against DDD, the bullish analysts expect it to continue posting double-digit growth rate until next year.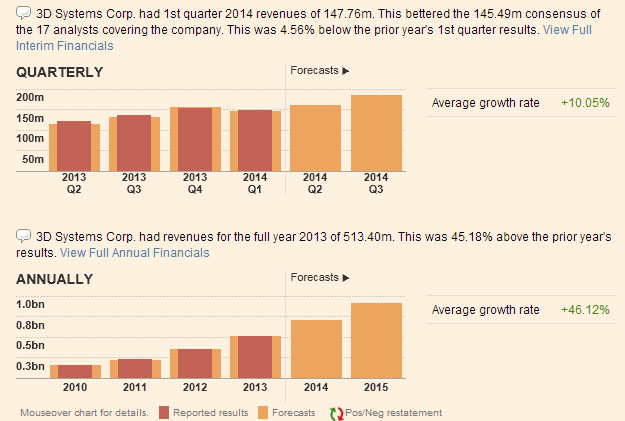 Source: markets.ft.com
The positive endorsements among professional analysts are a ray of light that should please long-term DDD believers.
Strong Industrial Metal Printing Demand
Another contributor said that long-term DDD investors should not worry about the new stock offering. The proceeds from the sale of new shares increased 3D Systems' cash position to more than $600 million. 3D Systems, judging by its rapacious M&A history, will use some of its new cash to acquire another additive manufacturing company. I have always been supportive of the company's non-organic strategy to grow its business and IP assets. Growth by Mergers & Acquisitions is still growth.
We already know that 3D Systems is enjoying overbooking over its Phenix direct metal printing products. I assume that DDD would like to increase its industrial metal printing products. Industrial demand for metal printers is definitely one of the reasons why 3D Systems' Q1 earnings report has a backlog order of $28.8 million.
Mr. Reichental ought to be eyeing metal printing-centric companies like Arcam (OTCPK:AMAVF) or privately held EOS. Arcam has a winner technology with its Electron Beam Melting (EBM). EBM is used for industrial and medical purposes, which is in line with 3D Systems' existing product lines. However, EOS is currently hot news because it helped create the SuperDraco engine for Elon Musk's SpaceX rocket. Musk tweeted last year that an EOS 3-D metal printer was being used to create the SuperDraco Inconel rocket chamber.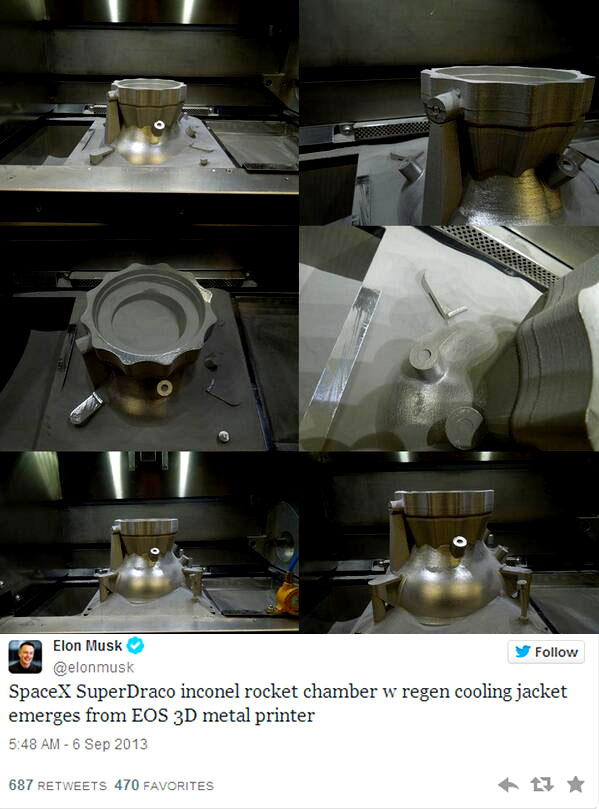 Source: Elon Musk
It doesn't really matter which new company that Reichental decides to buy soon. Arcam and EOS are two very attractive acquisition targets. My preference is for EOS because the strong cult following of Elon Musk is something that Abe Reichental does not have.
DDD, like Tesla (NASDAQ:TSLA), is heavily shorted but 3D Systems is still 45% down from its January high. A touch of the Elon magic might help DDD recruit more bulls to its cause. Getting back to the $97.28 high, which DDD set last January 3, is nearly impossible this year. However, the Strong Buy recommendations from 20 analysts suggest that 3D Systems is a momo ticker that is up for a comeback.
All additive manufacturing tickers have suffered this 2014. Market sentiment over momo 3-D printing tickers may recover in the next half of the year. 3D Systems' strong history of profitability and sales growth makes it one of the best 3-D printing stocks to bet on.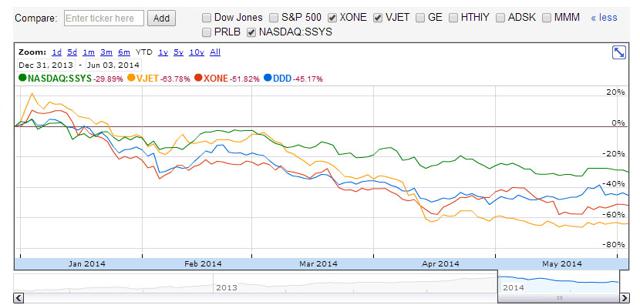 Source: Google Finance
Conclusion
3D Systems delivered a hefty 3-year return for its investors who were able to get out when the stock price was at its peaks. I believe that stronger demand for direct metal printing solutions will help DDD gain back some of its stock market losses this year.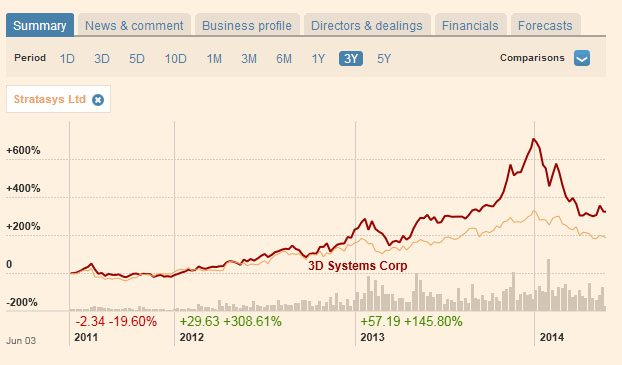 Source: markets.ft.com
I doubt if Hewlett-Packard (NYSE:HPQ) can immediately offer direct metal printing service when it starts its additive manufacturing venture later this year. It will be easier for Whitman to jumpstart HPQ's additive manufacturing venture by acquiring or merging with 3D Systems. 3D Systems has a very versatile product line but its 3-D printers could sure benefit from Hewlett-Packard's faster printing speed technology.
If Whitman is not interested in 3D Systems, there are other companies. Wal-Mart Stores (NYSE:WMT) is considering buying a 3-D printing company to fast track its entry into 3-D printers. DDD has proven itself a consistent profit-making additive manufacturing company that has more than three decades-worth of clients list. 3D Systems is therefore a good acquisition target.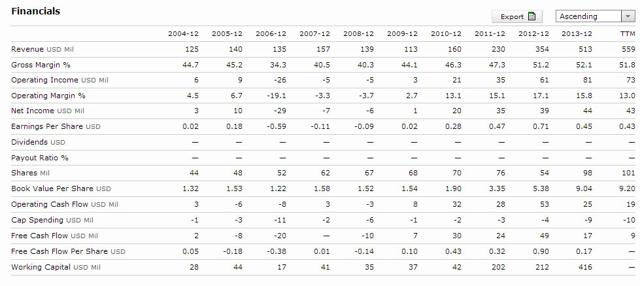 Source: Morningstar
The detractors of 3D Systems cannot refute that the company has consistently delivered double-digit revenue growth rate. It has also been profitable for the last five years. 3D Systems is a good Buy for long-term investors. The high volatility of this stock is a pain to witness. Near-term pain is inconvenient but it is a small price to pay for a long-term gain.
Disclosure: I am long DDD. I wrote this article myself, and it expresses my own opinions. I am not receiving compensation for it (other than from Seeking Alpha). I have no business relationship with any company whose stock is mentioned in this article.