In late April, KKR (NYSE:KKR) announced plans to create a new market for trading private equity fund stakes. The new market would allow investors who have more than $1 million in investable assets to own private equity fund stakes. So far, as shown by the chart below, KKR shares have not seen much of an impact, but I believe the new exchange will prove a multi-year catalyst for KKR shares.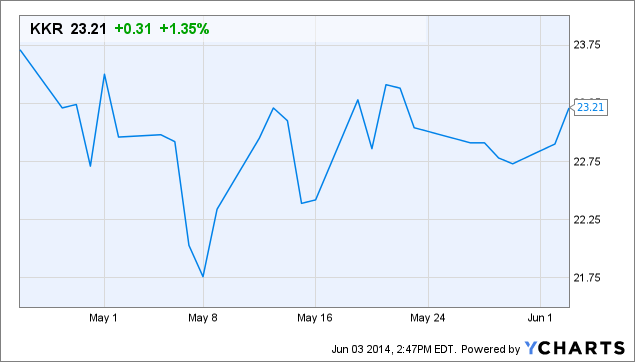 KKR data by YCharts
Why Private Equity Companies Are Targeting Retail Investors
The main reason why private equity companies are targeting retail investors is because that is the biggest growth area for the investment management business. One of the driving factors behind this is the switch from company managed defined benefit plans to contribution plans that are managed by the individual. One of the main reasons why companies are favoring defined contribution plans is because it eliminates the volatility, due to accounting, associated with defined benefit plans. For private equity companies such as KKR, Blackstone (NYSE:BX), Carlyle (NASDAQ:CG), and Apollo (NYSE:APO), the shift is significant because these companies have traditionally worked with large institutional investors such as pension funds. While the pension fund industry will not disappear overnight, especially government pension funds, the future growth opportunities are limited. Contrastingly, the growth prospects for individually managed retirement plans are strong. KKR, Carlyle, and Apollo have figured out that they need to be accessible to smaller investors to capitalize on this opportunity.
Early Attempts
So far, the leading private equity companies have tried to break through to retail investors via the mutual fund structure. KKR was a leader in this space with the launch of two mutual funds: KKR Alternative High Yield Fund and KKR Alternative Corporate Opportunities Fund. Unfortunately, neither fund was terribly successful and KKR recently announced that it was closing both funds. Part of the reason why the KKR Alternative Corporate Opportunities fund struggled was the fact that it offered only quarterly liquidity. Investors who are not ultra high net worth need daily liquidity, not quarterly liquidity. In my opinion, another reason why KKR was not successful with the launch of these funds was the fact that they were not private equity funds. The reality is that investors have a lot of choices when it comes to distressed mutual funds and a KKR high yield fund simply does not have the same appeal as a KKR private investment fund. Carlyle and Blackstone have also recently launched similar products. It remains to be seen how these products will do but, if KKR is any indication, they won't be the breakthrough the industry is hoping for.
Why KKR and Nasdaq's Private Equity Exchange Will Succeed
I believe the new exchange will succeed for a number of reasons. Firstly, the exchange will focus on traditional private equity funds and will at first, likely, provide monthly liquidity. However, I believe the longer term goal will be to create daily. More specific details will likely emerge over the next few months. The second reason why I believe this exchange structure will work is that investment advisors and brokers will likely be able to earn significant commissions when clients enter and exit private equity funds. Comparably, with mutual funds being redeemed at net asset value, the commissions are lower and thus the incentive for brokers to suggest investing is lower. Big brokerage firms such as Morgan Stanley (NYSE:MS) and Goldman Sachs (NYSE:GS) will be able to earn a significant spread when clients enter and exit private equity funds because of the limited liquidity. Finally, the new private equity exchange will succeed because there will be a lot of demand for the products. Private equity investing has proven itself as a valuable part of a well diversified portfolio. Retail investors, like institutional investors, can benefit from private equity investing.
Why KKR Is The Way To Play It
All of the major private equity shops have expanded to become alternative asset management companies. Perhaps Blackstone with its aggressive move into hedge funds and real estate has been the most aggressive. Currently, Blackstone has $272 billion in assets under management. However, just $66 billion is traditional private equity with the rest consisting of real estate and hedge fund investments. Carlyle has $199 billion in assets under management with $64 billion in traditional private equity buyout funds. Comparably, KKR has $78 billion in assets under management with $50 billion in private equity funds. For KKR, private investment has remained its primary business. KKR recently said it was closing its equities hedge fund. I think this move highlights an important characteristic of KKR which is that the company will only do what it does well. I think similar logic was behind KKR's decision to close its 2 mutual funds. The thing that KKR does best is private equity investing. For this reason, I believe KKR is the best way to play the potential boom for private equity if retail investors are able to access private equity funds.
Disclosure: I have no positions in any stocks mentioned, and no plans to initiate any positions within the next 72 hours. I wrote this article myself, and it expresses my own opinions. I am not receiving compensation for it (other than from Seeking Alpha). I have no business relationship with any company whose stock is mentioned in this article.