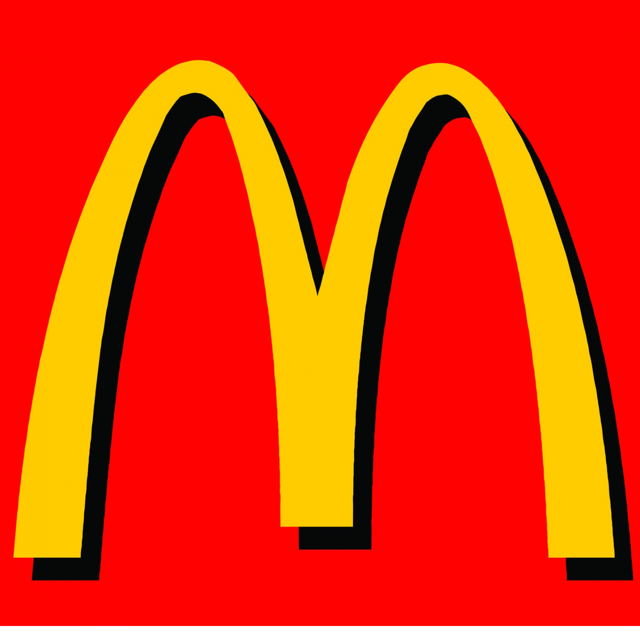 McDonald's (NYSE:MCD) is known for quality, consistency, and value. The golden arches are recognizable worldwide. In 2013, McDonald's served 70 million people every day.
The consistency in McDonald's operation has translated into consistency on the income statement. McDonald's has grown earnings per year every year since 2002. Even better, they have increased their dividend for 37 years in a row.
Current Events
McDonald's revenue comes from company owned stores (67%) and franchise owned stores (23%). The revenue does not tell the whole story. The franchise unit contributed 70% of gross profits versus just 30% for the store owned businesses.
McDonald's operates 6,719 restaurants and licenses 28,774 additional restaurants over 120 countries. The company is geographically diversified, with revenue spread relatively evenly throughout the globe. McDonald's generates more revenue in Europe than they do in the United States.
| | | |
| --- | --- | --- |
| Region | Revenue | % Total |
| US | $2,054.10 | 30.66% |
| Europe | $2,712.20 | 40.48% |
| Asia Pacific/Middle East/Africa (APMEA) | $1,618.80 | 24.16% |
| Other | $315.20 | 4.70% |
Source: 2014 First Quarter Report
McDonald's has historically grown through increasing the number of its franchises, first in the US and then globally, and by increasing same store sales through innovative offerings.
McDonald's grew constant currency revenues 3% for the first quarter 2014. McDonald's expects to add between 1,000 and 1,100 restaurants in 2014, which represents a store count increase of between 2.8% and 3.1%. The company plans to modernize about 1,000 stores in 2014 as well.
Shareholders of McDonald's can expect long-term growth of around 3% due to McDonald's increasing store count, if same store growth stays flat. The company has historically been able to increase same store sales through innovative new product offerings. Notable company innovations include breakfast, coffee, and healthier menu items.
McDonald's growth opportunity lies with the APMEA division. Emerging markets are quickly growing middle class consumers. McDonald's ability to appeal to emerging market consumers will drive future growth. Currently, the company is generating about 24% of its sales from the APMEA division. Comparable store sales in APMEA increased 2.9% compared to last year in April. Total constant-currency adjusted APMEA sales increased 7.5% for the same period.
Shareholder Return
McDonald's is a very shareholder friendly corporation. The business has returned an average of over $5 billion per year to shareholders since 2009 in the form of dividends and share repurchases.
McDonald's return will come from its dividend yield, share buybacks, and organic growth. Investors in McDonald's can expect an 8% to 10% CAGR going forward based on their dividend yield (3%), share buybacks (2%), and expected growth rate (3% to 5%).
Valuation
McDonald's compares favorably to its peers on a Price to Earnings basis:
| | |
| --- | --- |
| Company | Price to Earnings Ratio |
| McDonald's (MCD) | 18.52 |
| Burger King (BKW) | 36.14 |
| Chipotle (NYSE:CMG) | 51.74 |
| Jack in the Box (NASDAQ:JACK) | 27.58 |
| Popeye's (NASDAQ:PLKI) | 30.47 |
| Sonic (NASDAQ:SONC) | 30.74 |
| Yum! Brands (NYSE:YUM) | 31.12 |
The company trades at a 33% discount to the next closest peer (Jack in the Box) based on PE ratio. The majority of fast food chains have a PE multiple over 30.
Consecutive Years of Dividend Increases
McDonald's has increased its dividend for 37 consecutive years. A long history of consistent growth is evidence of a durable competitive advantage.
Why it matters: The Dividend Aristocrats (stocks with 25-plus years of rising dividends) have outperformed the S&P 500 over the last 10 years by 2.88 percentage points per year.
Source: S&P 500 Dividend Aristocrats Factsheet, February 28 2014, page 2
Dividend Yield
McDonald's has a dividend yield of 3.18%, which compares favorably to other businesses with 25+ years without a dividend reduction. McDonald's ranks at 24 out of 112 businesses based on this metric.
Why it Matters: Stocks with higher dividend yields have historically outperformed stocks with lower dividend yields. The highest-yielding quintile of stocks outperformed the lowest-yielding quintile by 1.76 percentage points per year from 1928 to 2013.
Source: Dividends: A Review of Historical Returns
Payout Ratio
McDonald's payout ratio of 56.90% is about average for long-term dividend growth stocks. McDonald's will likely increase its dividend in line with overall company growth. The company ranks at 74 out of 112 businesses with 25+ years of dividends without a decrease based on this metric.
Why it Matters: High-yield, low-payout ratio stocks outperformed high-yield, high-payout ratio stocks by 8.2 percentage points per year from 1990 to 2006.
Source: High Yield, Low Payout by Barefoot, Patel, & Yao, page 3
Long-Term Growth Rate
McDonald's has been able to grow its revenue per share by 7.24% per year over the last decade. The company compares favorably to other businesses with 25+ years of dividend payments without a decrease, ranking at 24 out of 112.
Why it Matters: Growing dividend stocks have outperformed stocks with unchanging dividends by 2.4 percentage points per year from 1972 to 2013.
Source: Rising Dividends Fund, Oppenheimer, page 4
Long-Term Volatility
McDonald's has a very low long-term standard deviation of only 20.14%. The company ranks at 12 out of 112 businesses with a long history of dividends based on volatility. A low standard deviation is evidence of stable cash flows.
Why it Matters: The S&P Low Volatility index outperformed the S&P 500 by 2 percentage points per year for the 20-year period ending September 30th, 2011.
Source: Low & Slow Could Win the Race, page 3
Conclusion
McDonald's is a Top 10 dividend stock and a buy based on the 8 Rules of Dividend Investing. The company's strong brand, slow-changing industry, low-priced items create a business that is highly recession resistant. During the recession of 2007 to 2009, McDonald's Corporation earnings per share increased each year.
Disclosure: I am long MCD. I wrote this article myself, and it expresses my own opinions. I am not receiving compensation for it (other than from Seeking Alpha). I have no business relationship with any company whose stock is mentioned in this article.